CMI Report "Apostles of Atheism" documents how media spread 'Gospel of Godlessness ' in 2007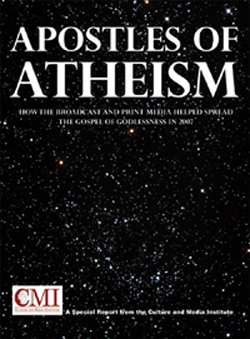 The following is the Executive Summary of the Culture and Media Institute's (CMI) special report, "Apostles of Atheism: How the broadcast and print media helped spread the Gospel of Godlessness in 2007," by Kristen Fyfe. Click HERE for the full report in HTML, and you can view the PDF Version HERE.
[Related AFTAH articles: "Chuck Norris on the Marketing of Atheism to Young People"; "Homosexuality and Atheism."]
CMI's Fyfe writes (emphasis added):
_____________________________
By Kristen Fyfe, Culture & Media Institute
Only eight percent of Americans are atheists, according to the National Cultural Values Survey,* yet atheism was the "it" religion in 2007, with just three best-selling books generating much of the media coverage. Christianity Today put the topic at No. 2 in its Top 10 list of religion stories for last year. "The Roar of Atheist Books" was the seventh biggest religion story of 2007 according to Time magazine.
Media indifference and even hostility toward religion in general and Christianity in particular has been well documented by the Media Research Center for years. With the ascendancy of atheism as a "religion" story, the Media Research Center's Culture and Media Institute wondered whether the media gave atheism the same degree of scrutiny as Christianity and other religious faiths? To assess the news media's coverage of atheism in 2007, CMI examined the morning, evening, late night and weekend news programs on all three broadcast networks, all issues of the three leading weekly news magazines (Newsweek, Time and U.S. News and World Report), and four programs aired on taxpayer-funded National Public Radio (Morning Edition, Weekend Edition, All Things Considered and Talk of the Nation).
Read the rest of this article »