If you're within driving distance of Chicago and you want to STOP "transgender" insanity like the tragic "post-op" photo below of a young women who destroyed her own body to become like a "man"–come to the AFTAH dinner-banquet TONIGHT (Friday, Oct. 28). Pro-family hero Linda Harvey–president of Mission America and a WND columnist–will speak on:
"How the 'Gay/Transgender' Lobby Promotes Gender Deviance and Body Mutilation to America's Youth"
Tickets are just $25 and you can pay at the door. Full details on AFTAH's Banquet Page here. The second photo below is a man dressing as a woman who was hanging outside the most recent "International Mr. Leather" perversion-fest, held every year in Chicago: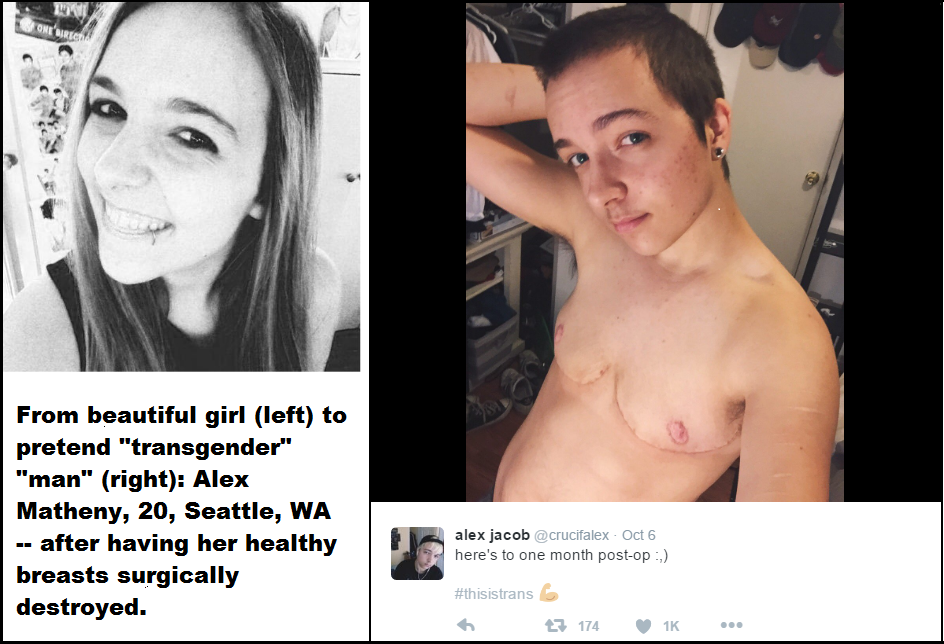 The sad reality is this: men make bad women:
____________________________________
What:  Annual Americans For Truth About Homosexuality (AFTAH) Dinner-Banquet fundraiser

When:  Friday, October 28, 2016; doors open at 5:00; dinner served at 6:30

Who:  Linda Harvey, founder of the Christian, pro-family group Mission America and WND.com columnist

Where:  Grace Gospel Fellowship church in Bensenville, IL (near Route 83 and I-290). Address: Grace-Gospel Fellowship, 4 North 220 Route 83 (Frontage Road), Bensenville, IL 60106; church phone: (630) 834-0550. The church is a red barn-like building with abortion-victim crosses in the yard: it is on the west side of Rt. 83, about a mile north of I-290. In Google Maps, the church is listed as "Grace Gospel Center."

Cost:  Just $25 per person or $250 for a Table of 10; pay online using our Banquet Form, or mail your check to: AFTAH, PO Box 5522, Naperville, IL 60567-5522  [to give a general donation to AFTAH, go here]

Questions?  Write Brad Wallace at connops@yahoo.com; call him at 312-324-3787. Or write AFTAH at americansfortruth@gmail.com.