By Peter LaBarbera
The pro-LGBT Left's "hate" game is a cynical exercise in demonization and manipulation: by smearing people and organizations that oppose homosexual "marriage" or "gay" activism as "haters," they seek to establish a narrative that delegitimizes any opposition to homosexualism as the moral equivalent of racism. The Southern Poverty Law Center (SPLC) has turned this spurious tactic into a money-making machine–see the current issue of WND's Whistleblower magazine, "The Hate Racket."
Finally people of faith are fighting back: American Family Association has created an "[Anti-Christian] Bigotry Map" in response to the heavy-handed SPLC's farcical "Hate Map," on which AFTAH and more than a dozen other pro-family organizations are listed.
Below is an example of how homosexual activists like Joe Jervis, creater of the Joe.My.God blog, play the SPLC hate card against pro-family advocates. Note Jervis' headline:
"Haters Are Thrilled that Italian Designers Dolce & Gabbana Oppose LGBT Rights":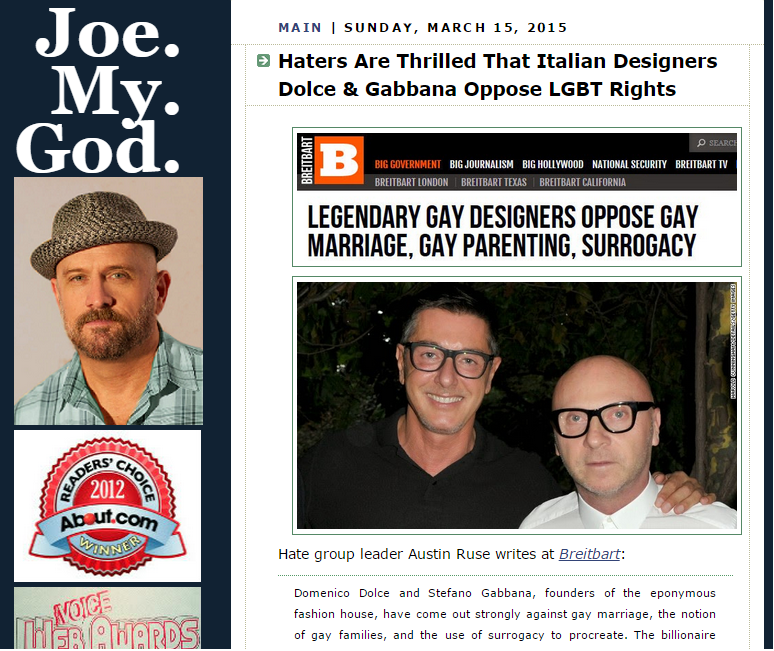 The alleged "hater" to which Jervis refers is not hateful at all. Austin Ruse is a Breitbart writer, a dedicated Catholic family man and the president of Catholic Family and Human Rights Institute, which fights for pro-life and pro-family values at the United Nations. Ruse is a smart and capable guy–but his organization, like AFTAH, has been slandered by the SPLC as a "hate group" [see the map's New York listings; AFTAH is found in the map's Illinois listings].
Read the rest of this article »