State senate candidate Obama unequivocally supported legalizing same-sex "marriage" in 1996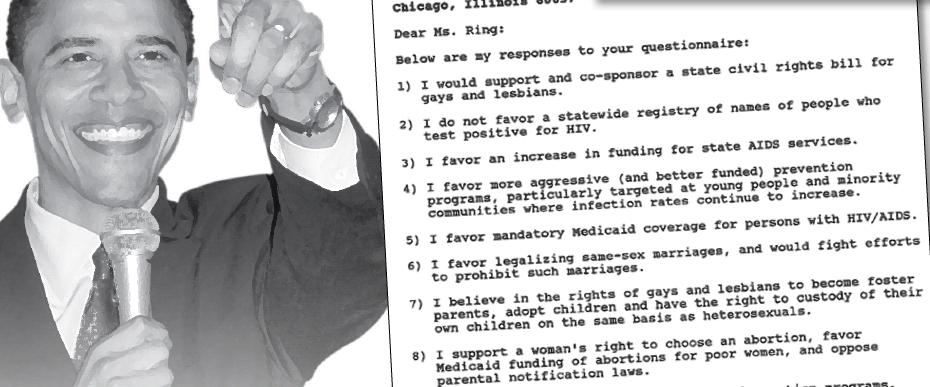 Obama Was For "Same-Sex Marriage" (and he Still Is): Above is a graphic that appeared in the Chicago homosexual newspaper Windy City Times — showing a "gay" questionnaire revealing Barack Obama's explicit support for "legalizing same-sex marriage" [point #6] as a candidate for Illinois State Senate in 1996. Obama would later adapt his position because "strategically," he understood that Republicans would use his radical support for homosexual "marriage" against him. Click on graphic to enlarge.

By Peter LaBarbera
Barack Obama sure has a strange way of showing his much-touted support for traditional "marriage." On Monday, Obama's Justice Department filed a legal brief against DOMA, the Defense of Marriage Act, which was signed into law by the last Democrat to occupy the Oval Office: Bill Clinton. Weeks before that, Obama's administration had defended DOMA, setting off a flurry of protests from his gay-lesbian-bisexual-transgender-whatever allies.
DOMA — which only Congress can repeal — passed overwhelmingly in 1996 with bipartisan consensus (a mere 14 Democratic Senators voted "No"). It protects states from being forced to recognize out-of-state "gay marriages." Its growing unpopularity among Democrats signals the near-complete moral collapse of the party of Harry S Truman, who surely would bristle at the Dems' current overwhelming support of abortion-on-demand and homosexuality as non-negotiable, litmus-test issues.
Read the rest of this article »