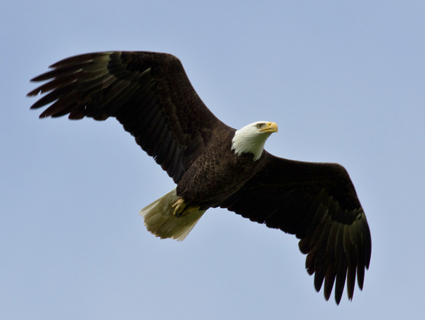 By Gary Morella
I just returned from Mechanicsburg, Pennsylvania on my trip with my son for Air Force pick-up to McGuire AFB.
On the way home, I saw something that I shall not soon forget.  It was on PA Highway 11-15 North with the Susquehanna River on my right heading for the PA Highway 322 West exit to [Pennsylvania] State College.
I was taking it easy after a long day and then, out of the blue, I saw a wonder of God's creation, a magnificent Bald Eagle in all of its majesty slowly gliding with its wingspan fully evident toward the windshield of my car.  I slowed down as there wasn't much traffic and that magnificent bird came so close before he turned slowly passing over me that I could clearly see its eyes looking at me.
It was like a message from God saying, "Stay the course, America will be all right."
What a great finish to a Sunday for me.
Morella is a retired research mathematician at Penn State University and a pro-life and pro-family advocate.