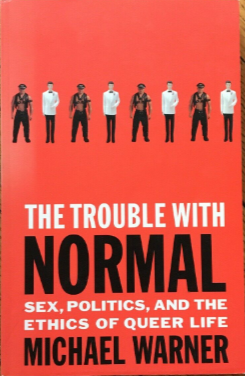 By Peter LaBarbera, April 23, 2020
Michael Warner is a Yale University professor and progressive "queer" theorist/activist who has been at war with the concept of "normal" for many years. In his book, "The Trouble with Normal: Sex, Politics, and the Ethics of Queer Life" (The Free Press: 1999), he writes about the influence of recklessly corrupt yet groundbreaking "sexologist" Alfred Kinsey. The latter's 1948 book, "Sexual Behavior in the Human Male," has in recent decades been exposed by Judith Reisman and others as the junkiest of "junk science" (it even contains heinous "data"  from a child molester documenting his crimes against children—see photo of Table 34 at bottom):
Warner writes:
"More than anyone else, Alfred Kinsey was able to exploit the confusion at the heart of normal. One of his most dramatic points was that nonnormative sexual activities are, in fact, the statistical norm. Using his (admittedly unreliable) figures for things like extramarital sex and same-sex encounters, he calculated that 95 percent of the male population had committed some illicit sexual activities punishable by law…. Kinsey almost certainly exaggerated these figures, if only inadvertently through his irregular sampling. Yet the cataclysmic cultural impact of his study depended less on any of his numbers than on his central point about the contradictory idea of the normal. The idea of normal sexuality, he argued, is too distorted by moralism to be an accurate picture of normal behavior, and if people really were willing to accept behavior norms as normal, then their sexual morality would have to be radically different."
________________________
Postscript 1) Warner's elevation at Yale, which was founded by Christian believers in 1701 for the promulgation of the Gospel of Jesus Christ, is a testimony itself to the triumph of abnormality in American institutions, mostly due to the Left's relentless pro-perversion activism. Put another way, he embodies the erosion of Judeo-Christian (biblical) norms that invariably comes when a nation strays from its more godly heritage.
Postscript 2) Although Warner is a "sex-positive" radical who is ideologically on the LGBTQueer left, he is regrettably accurate when it comes to the triumph of moral relativism. Most Americans now possess ideas of what is "normal" (and also "moral") that not only conflict with historic and biblical norms, but also with widely-accepted sexual standards from just a few decades ago. Of course, this applies to the revolutionary "normalization" of homosexuality—look at Gallup's annual poll on Americans' attitudes toward homosexual behavior: from 57 percent of Americans who said homosexual "relations [sex] between consenting adults" should NOT be legal in 1986, to 73 percent in who said it SHOULD be legal in 2019, just 33 years later.
Another example is porn-inspired sex acts: anti-porn advocates, both feminists and social conservatives, have observed that the mainstreaming and proliferation of pornography has changed expectations of sexual behavior for younger men and women. This has led to the "normalizing" of unnatural acts that are common in porn, like anal sodomy (anal sex), among straights–which I presume Warner applauds. Such deviant practices are in turn celebrated in pop culture and taught as an acceptable sexual option to children through liberalized sex-ed in schools, and the downward moral spiral continues.