Discuss web-based intimidation network that is wearing down conservatives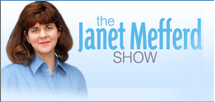 Salem Radio host Janet Mefferd interviewed AFTAH's Peter LaBarbera yesterday (Jan. 20, 2015) about Fox News' decision to request that its nightly "Special Report" anchor Bret Baier pull out as a scheduled speaker at a Legatus conference after a homosexual activist complained that Legatus, a national Catholic businessmen's group, is "very anti-gay." Baier himself is a Catholic, and defended his withdrawal from the event. Fox News is a major donor to a homosexual journalists group. Click HERE for the MP3 audio link to the hour-long interview [or click on the image at right].
It may be easier to listen at Janet's website audio player: [go HERE].
The two also discussed Hollywood's current obsession with promoting homosexuality and gender confusion.
Here is Mefferd's website description of the show:
Janet Mefferd-1/20/2alam015-Hour 1-Janet Mefferd Radio Show
JANUARY 20, 2015 BY JANET MEFFERD SHOW
Hour 1- Fox News anchor Bret Baier pulled out of a speaking engagement for a conservative Catholic group after a homosexual activist labeled the group "very anti-gay." Peter LaBarbera from Americans for Truth About Homosexuality stops by to discuss his thoughts on the effects of the LGBT Thought Police.
__________________________________
Related AFTAH Stories: