Bean gave $1 million to HRC; also founded Gay & Lesbian Victory Fund; is largest Oregon donor to Obama; envisioned and funded HRC's D.C. headquarters building; HRC finally comments on case after five days of silence
By Peter LaBarbera
Folks, once in a while a story with such sordid and shocking details breaks through the leftist media's pro-"gay" censorship to reveal the stark truth about the perverse lesbian-gay-bisexual-transgender-"queer" (LGBTQ) movement. The child-sex arrest of Terry Bean–a founder of both the Human Rights Campaign (HRC) and Gay & Lesbian Victory Fund; Obama money-man; and major Democratic power-broker–is one of those cases. Below is a TV news collage– including commentary by pro-family leaders Scott Lively and Bryan Fischer–of the story of the 66-year-old Bean's arrest last Wednesday for committing sodomy with a 15-year-old-boy.
Williamette Week reports on the charges against Bean:
"Law enforcement sources familiar with the case say Bean will be charged with two counts of sodomy in the third degree, a felony, and sex abuse in the third degree, a misdemeanor. He will be arraigned later in Lane County, where the crimes allegedly occurred in 2013."
Human Rights Campaign, the world's largest and best-funded homosexual lobby organization (Executive Director Chad Griffin makes more than $400,000 annually), took the time to condemn the grand jury's non-indictment of Ferguson, Missouri policeman Darren Wilson, and celebrate the "Transgender Day of Remembrance," among other blog posts–but has yet to post anything on its website on the sex-crime arrest of Bean, who reportedly has donated more than $1 million to HRC. Bean has been removed from HRC's Board of Directors pending the adjudication of his case.
AFTAH will carry multiple stories on this case and the twisted reality–dating back to ancient homosexuality–of older adult "homosexual" men sodomizing teenage boys. How telling is it that HRC–which routinely and recklessly castigates conservative, Christian pro-family groups like AFTAH–took five days to issue a bland, non-condemnatory statement on its predatory benefactor Bean? His arrest puts the powerful homosexual lobby group in a very tight spot: Bean, after all, is so central to the "gay" lobby's success that he came up with the idea of HRC constructing of a swank headquarters building in Washington, D.C. More details and photos showing Bean's enormous clout in Democratic circles follow the video after the jump:
Here are the arrest mugshots of Bean and Lawson, the former boyfriend four decades his junior, who was also arrested on sex-crime charges involving sodomy with a 15-year-old boy at a hotel in Eugene, Oregon. Various news and commentary links about the Bean sex-crime case follow the photo: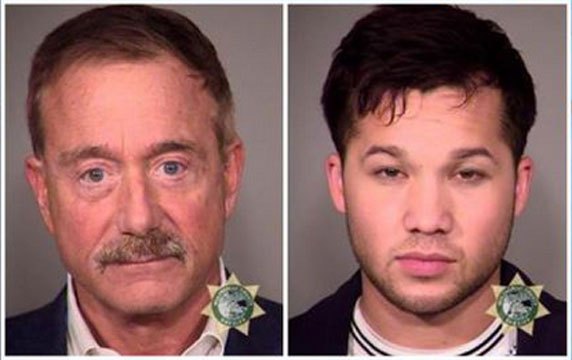 News Links: Round-up on Terry Bean arrest:
Read the rest of this article »