By Peter LaBarbera
With the efficiency of a Stalinist historian, the homosexual group Log Cabin Republicans (LCR) has purged this photograph of former Florida Rep. Mark Foley, disgraced homosexual and seducer of teenaged boys, from its website. Foley was among the politicians and pundits whom LCR proudly recorded as speaking at its 2003 national convention in Washington, D.C. But they're not so proud anymore. We apologize for the poor reproduction quality below, but clearer evidence of Log Cabin's whitewashing handiwork can be found by clicking on these links: BEFORE (scroll down three rows of photos and Foley is there) and AFTER (magic: Foley is gone).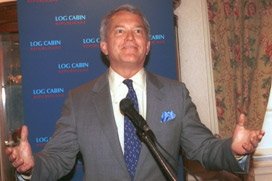 Too bad Foley's young victims and their parents won't be able to erase the effects of his twisted behavior from their minds so easily.
Log Cabin Republicans also removed Foley's name from the write-up on its 2003 convention. Foley's photo in the new, pederast-free (at least as far as we know) web account has been replaced by a second photo of political pundit Mort Kondracke.