Part One of Two on the Growing 'Gay' Threat to Freedom
It's still a free country…well, at least mostly free (for those fortunate enough to make it out of their mother's womb alive or who don't live in strong "gay agenda" states like California). Houston-area small business owners Todd and Sabrina Farber are free not to do work for a couple of men who proudly embrace homosexual behavior, which the Farbers regard as sinful and deeply offensive. And homosexuals like Michael Lord are free not to do business with the Farbers, and to tell others not to as well.
But notice how that's not good enough for some pro-"gay" activists; they think what the Farbers did by exercising their freedoms should be illegal. The truth is, many homosexual and "transgender" advocates are quite willing to place their "rights" (read: demands for government-enforced acceptance of their lifestyle) above the freedoms of religion, association and conscience of others.
There can be no doubt that the expansion of "sexual orientation" (pro-homosexuality) laws will result in the steady loss of freedom for those committed to defending healthy, Biblical sexual mores. As with the struggle over abortion, this Titanic battle between competing rights will not go away. Any American who is committed to preserving religious freedom in this great nation should understand the need for repealing all "sexual orientation" laws, lest we face a future like Britain's where the state is arresting Christians for alleged "homophobic" behavior, which includes passing out Biblical tracts at a "gay" festival.
If such an Orwellian nightmare can happen in the land that gave Western Civilization the Magna Carta, it could happen in the good ol' USA.
The First Amendment states: "Congress shall make no law respecting an establishment of religion, or prohibiting the free exercise thereof; or abridging the freedom of speech, or of the press; or the right of the people peaceably to assemble, and to petition the government for a redress of grievances."
What part of not "prohibiting the free exercise" of religion do pro-homosexual advocates and lawyers not understand? Tomorrow we will discuss a Michigan case in which a radical homosexual activist says it should have been illegal for a Catholic girls school to dismiss an employee who proudly revealed her lesbian relationship in defiance of ancient Catholic teachings.
Stay vigilant. We will not sit back and allow the (In)Tolerance Brigade to steal away our God-given American freedoms in the name of "gay rights." –Peter LaBarbera, AFT
The following is excerpted from Christian Landscaper Won't Soil Hands with Work for 'Gay' Clients, published Oct 21, 2006, by WorldNet Daily:
…Todd and Sabrina Farber have owned and operated The Garden Guy since 1991 and, like other landscape contractors, use the Internet to show the quality of their past work and to solicit future business.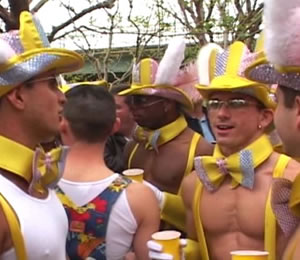 The Garden Guy was just one of the landscaping businesses Michael Lord and Gary Lackey, a homosexual couple who has been together for nine years, requested bids from earlier this week for the new home they're building in Houston Heights. Lord said he found The Garden Guy through an Internet search and liked the "before and after" pictures on the website.
"We sent e-mails to several local landscaping companies asking for quotes. Garden Guy called Michael back saying they would like to bid," Lackey told the Houston Voice. Lord called the company Wednesday morning to set up an appointment.
"Michael was asked if 'his wife would be home' when the consultation would take place. He brushed it off, but when he was asked again if his wife would be joining, Michael said, 'No, but my partner Gary will be.'
"Michael set up the appointment, but a few minutes later we got the e-mail."
That e-mail has now become the subject of a nationwide online debate.
Subject: Cancel Appt – Garden Guy
Dear Mr. Lord,
I am appreciative of your time on the phone today and glad you contacted us. I need to tell you that we cannot meet with you because we choose not to work for homosexuals.
Best of luck in finding someone else to fill your landscaping needs.
All my best,
Sabrina
Todd and Sabrina Farber
Owners, Garden Guy, Inc.
After receiving the e-mail, Lord called Lackey.
"He was in shock," Lackey said. "We just couldn't believe that had happened."
Lackey forwarded the e-mail to about 200 of his friends, asking that they not patronize Garden Guy in the future.
Had Lord looked more closely he would have seen that the Farbers were very upfront with their faith. Beneath a photo of the couple and their four children, the Farbers wrote:
The God-ordained institution of marriage is under attack in courts across the nation, and your help is needed. Go to: www.nogaymarriage.com to take action.
Ephesians 5:8 (Amplified Bible)
… For once you were darkness, but now you are light in the Lord; walk as children of Light and lead the lives of those native-born to the Light.
That stance shortly became the topic of discussion online and in the homosexual press. The Farbers quickly set up a forum on their website but it was taken down Thursday, possible because of the crude language of some posters.
"I am embarrassed for you and your husband," wrote "Chris." "Just as you choose not to do business with us, I, my friends, my family, my co-workers and everyone I meet, will not do business with you! I have sent your e-mail to over 50 people I know and work with. These people know 50 others each … was your bigotry worth it?"
…Amid the threats of boycotts and criticism of the Farber's faith, one poster found the angry messages to be the problem:
"There is more hate in these posts than in the original e-mail," wrote "Dave." "Why do you feel that we Christians MUST accept you? Don't you find it ironic that while you demand in one breath that we give up our position that homosexuality is a sin worthy of hell, that you condemn us to that very place in your next?"
A copy of the temporary forum site can be viewed here.
And while they've refused to talk with the media, the Farbers issued a public explanation for their decision:
To the Houston media
We did not refuse service with malicious intent. We do not hate homosexuals and we are sorry that we hurt Michael Lord and Gary Lackey. We meant to uphold our right as a small business owner to choose who our clients are. We are humbly sorry for the hurt that it has caused.
Respectfully,
Todd and Sabrina Farber
That may not be enough, though. Some in the homosexual community are angry that what the Farbers did was not illegal.
"That's the biggest issue. This is not against the law and that is a travesty," Jerry Simoneaux, an attorney who specializes in homosexual issues told Houston's KHOU-TV.
He noted other cities like Austin, Dallas, Fort Worth and El Paso have adopted ordinances that would prohibit similar discrimination.
"We need something like that in Houston, but we don't have it," said Simoneaux.
…Both men are listed as "hosts" for the homosexual group Bunnies on the Bayou, a Texas 501(c)3 charity that raises money for AIDS-related organizations and art groups. Bunnies was selected to serve as organization grand marshal for the 2006 Houston Gay, Lesbian, Bisexual & Transgender Pride Parade.
Continue reading in WorldNet Daily…