Excerpted from Cargill Firing Energizes Lawmakers, by Jeff Mellott, published Oct 5, 2006, in Daily News Record:
…The company fired Padilla earlier this month after it had received complaints about a sign on his personal pickup truck. The sign asked voters to support a constitutional amendment on marriage that defines the institution as a union between one man and one woman. Voters will take up the amendment on Nov. 7.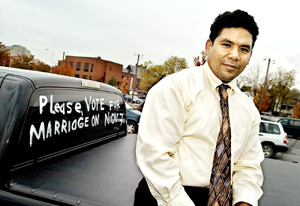 Cargill representatives said this week that Padilla, who was a human resources clerk, lost his job because of insubordination.But Padilla believes he was fired because of the sign on his pickup truck.
The company ordered Padilla to remove the sign after receiving complaints about it.
…Padilla's actions violated company policies on intolerance, the company attorney said in a response dated Oct. 17 to Rita Dunaway of the Valley Family Forum. The attorney added that Padilla had been insubordinate.
The sign Cargill ordered Padilla to remove, the attorney said in the letter, contained a message that other employees could have "reasonably construed as a show of hostility and intolerance toward homosexuals."
Virginia Attorney General Bob McDonnell] said, "When people start to see the overreach of the homosexual supporters, they are going to start thinking, 'There's an agenda out there.'"
…The amendment, [Sen. Mark Obenshain, R-Harrisonburg] said, reflects a constitutional codification of state law.
The Padilla case demonstrates that somebody is suggesting that current state law is offensive and discriminatory, he said.
And, Obenshain continued, somebody also is suggesting that someone who expresses support for current state law ought to be fired.
"To me," he said, "that's absurd."
Continue reading in Daily News Record…
Also read Pro-Marriage Message at Root of Employee's Dismissal, by Jim Brown and Jody Brown, published Oct 20, 2006, by Agape Press.