Excerpted from Gay Admirer Thanks President Ford, by Deb Price, published Jan 2, 2006, by Detroit News: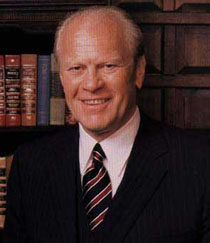 …Pleasantly surprised by how comfortable Ford was talking about gay issues — not a trait I've found in many politicians — I asked whether the federal government ought to treat gay couples the same as married heterosexuals.
"I think they ought to be treated equally. Period," Ford replied.
Trying to get a better sense of what he meant, I pressed on, asking whether he believed gay couples should receive the same Social Security, tax and other federal benefits?
"I don't see why they shouldn't. I think that's a proper goal," Ford replied.
He also told me that he supported a federal law to outlaw anti-gay job discrimination:
"That is a step in the right direction. I have a longstanding record in favor of legislation to do away with discrimination," he said.
Amazed at finding myself chatting with the former president, I told him that my first vote ever was for him and he shared with me that he and his wife had gay friends.
Ford also said that he wanted gay Americans to be part of his party.
"I have always believed in an inclusive policy, in welcoming gays and others into the party. I think the party has to have an umbrella philosophy if it expects to win elections," he said.
Not long after my column about our interview was published, the gay-friendly Republican Unity Coalition contacted Ford, and he agreed to join its advisory board, lending his name to its cause.
…Even in death, Ford, who was an Episcopalian, spread the message that gay people deserve to be treated with respect and dignity.
The Rev. Robert Certain, the priest at Ford's Palm Desert, Calif., church, pointed out in his homily that when he and Ford had discussed plans for his funeral this past summer, the former president brought up his concern about the growing rift in the denomination over allowing gays and women to take leadership roles: "He said he did not think (such inclusive steps) should be divisive for anyone who lived by the Great Commandments and the Great Commission — to love God and to love neighbor."
Continue reading on Detroit News…