There are hundreds of homosexual bathhouses across the United States. Men who frequent bathhouses contract deadly diseases which tragically cut short their own lives, the lives of their male sex partners, and the lives of girlfriends and wives. We hope this victory in San Diego will inspire many more citizens to complain and prompt prosecutors to enforce our laws.
TAKE ACTION — Write a note of thanks to James Hartline and to Deputy City Attorney Brian Ziegler (address below) to thank them for their courage in ending this public health threat.
Reported by James Hartline on Jan 4, 2007:
The James Hartline Report is pleased to announce that a four year war to shut down a San Diego gay bathhouse has been won by San Diego Christians.
According to the Gay & Lesbian Times the bathhouse has agreed to cease operations on April 30, 2007.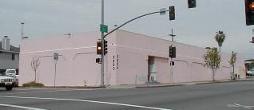 2200 Club in San Diego, formerly the Mustang Spa
Christian activist James Hartline and many other Christians have prayed, fasted and fought in the name of their God for over four years to shut down this demonic enterprise.
In January on an international broadcast of the 700 Club, James Hartline took reporters on a tour right up to the front doors of this evil place, in the hopes that more citizens would be involved in shutting its front doors. You can watch that episode by clicking HERE.
James Hartline refused to give up and God has reward him and his fellow Christian warriors.
——————————
Excerpted from Local Bathhouse Agrees to Close in April, by Anthony Baldman, published Jan 4, 2007, by Gay & Lesbian Times:
The 2200 Club has negotiated with the city of San Diego and agreed to voluntarily cease operation on April 30, according to the bathhouse's general manager, Charlie Sharples.
The sauna and steam club for men has been operating at its location at 2200 University Ave. in North Park for more than two years. Bob Smith and John Tennis Smith purchased the business in 2004.
Sharples, 2200 Club's general manager for the last year and a half, said the decision to close in April was "strictly a business decision" and that the city has been targeting their business for quite some time.
"They were going to continue to harass us in different ways," he said. "They were going to send undercover agents in and so forth and then bring criminal charges if they found anyone having sex."
According to Sharples, about a third of all 2200 Club patrons "lead heterosexual lives."
"They're married and have wives and children," he said. "Those people get scared when they read in the paper something involving the police."
…Deputy City Attorney Brian Ziegler said he could not comment about the negotiations with 2200 Club on its upcoming closure until the case is officially filed and made public record.
"We've been in the process of actively prosecuting this property for violations of the San Diego municipal code criminally, and we're in the process of filing a civil complaint for red-light abatement action against the property for sexual activity that's going on at the property," he said.
…According to California Penal Code, Ziegler said, any bathhouse where sexual activity takes place may be enjoined from operating. He said due to previous undercover operations, the police have documented that sexual activity is occurring at 2200 Club.
…The location has operated as a bathhouse primarily frequented by gay and bisexual men since 1985. 2200 Club originally opened at the old Mustang Spa site at 2200 University Ave. on Dec. 19, 2004. The building is owned by Alma Vasic, who also owns F Street Corporation.
Bob Smith and John Tennis Smith previously owned Choices nightclub and CCBC gay resort hotel in Cathedral City.
Continue reading in Gay & Lesbian Times…