Americans For Truth's Sonja Dalton offers a few thoughts on the San Francisco Chronicle story below about four "transgender" girls:
"Real women" have two X chromosomes, and they do not have a male sex organ;
Adult homosexual and "transgender" activists, like lesbian writer Chris Beam, often affirm confused "GLBT" youth in dangerous and wrong behaviors;
Nothing is sadder to see than a confused young person who has been deceived into renouncing his God-given identity and sexuality;
Churches need to prepare to intervene with vulnerable boys and girls (kids from dysfunctional, broken, or abusive homes; kids that don't "fit in"; kids that have been molested). Godly men and women need to come alongside vulnerable kids, put their arms around them, reinforce their God-given identity, and motivate them with a vision of the fulfilling life they can enjoy.
——————————
The following is excerpted from Shaking Up Transgender Assumptions, a book review by Julie Foster, published Jan 7, 2007, by the San Francisco Chronicle:
Transparent: Love, Family, and Living the T with Transgender Teenagers
by Cris Beam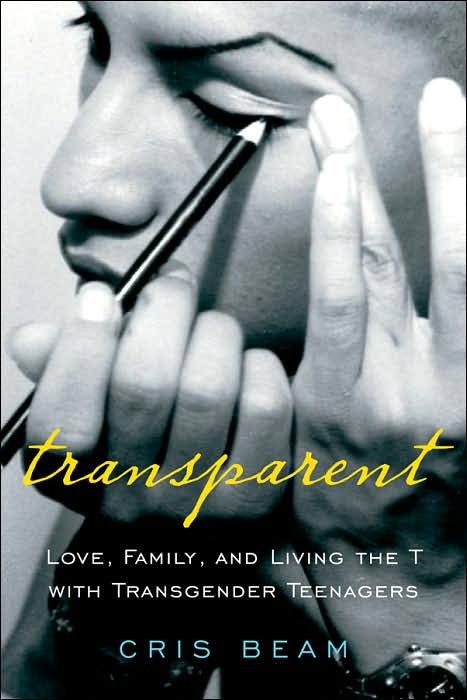 Real women can have penises. And "the brain and the heart are the only organs with a gender, and … all genital modification or lack thereof is simply a personal aesthetic choice." These are some of the titillating ideas explored in "Transparent," Cris Beam's first book.
…In 1998, [Cris Beam] was a freelance magazine writer with spare time. She began volunteering at a high school in Los Angeles for gay and transgender teens.
After 2 1/2 years Beam burned out and quit. But she loved her students, even with "their attitudes, and the occasional danger and regular tragedies," and she maintained contact with several of the kids.
"Transparent" is the result of those meetings, which occurred from 1998 through the summer of 2005. Beam found her way into this nuanced world through the lives of four transgender girls, Christina, Domineque, Foxxjazell and Ariel, genetic males living as females…
It hasn't always been so. Beam reveals the "rich history of transsexuality — or cross-gender behavior — documented back to the pre-Christian era." She cites examples from early American Indian cultures, including the Mohave, Navajo and Lakota, which seem to have not been so hung up on the male-female dichotomies. "For these tribes, there weren't just two genders posted at opposite ends of a field, with a rule against hanging out in the middle."
She chronicles the tragic homelessness, common to many transgender teens, which exacerbates their already complicated lives. She weaves in the story of Foxxjazell, "a really great drag mother," and one of the many "transsexuals who have already been living in their rightful gender and are in the position to teach their younger counterparts."…
Five years after Beam began her interviews, things changed. Beam and her partner, Robin, moved back to New York. Domineque committed a serious crime and was sentenced to time at an all-male prison. And 19-year-old Christina, who by then had become a part of Beam's family, reached her goal of getting a social outreach job with a Latino AIDS organization…
Continue reading in San Francisco Chronicle…