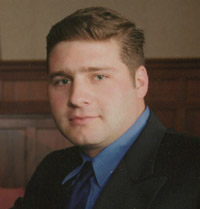 Our good friend Matt Barber (pictured right) — former Corporate Outreach Director of AFTAH and now Policy Director of Cultural Issues at Concerned Women for America — issued the following response to the sad story below:
CWA: Political Correctness Endangers Child;
Youngest Boy in History to Undergo Sex Change
A 14-year-old German boy has decided to undergo a sex change, making him the youngest patient in history to receive this extreme procedure. The young boy Tim, who prefers to be called "Kim," has wanted gender reassignment surgery since he was 12 and claims to have considered himself female since age two. Concerned Women for America (CWA) is saddened that doctors and parents have fostered this young boy's gender confusion and are allowing him to go forward with the surgery.
"This poor kid's situation really undercuts the homosexual lobby's deceptive equality-fluff and hyperbole," said Matt Barber, CWA's Policy Director for Cultural Issues. "It casts a bright light on the truly destructive, bleak and evil nature of the homosexual agenda. Has our world completely lost all sanity? That parents would allow their child to be treated like this is mind-boggling.
"Rather than addressing the emotional or chemical problems responsible for Tim's gender confusion, his parents and doctors have bought into the homosexual lobby's PC puffery hook, line and sinker. They're about to rob him of his ability to father a child, and render him horribly disfigured and further confused. It's not just a tragedy. It's a travesty."
——————————
The following is excerpted from Unhappy As a Boy, Kim Became Youngest Ever Transsexual at 12, by Bojan Pancevski, published Jan 29, 2007 by Telegraph (UK):
A boy of 12 is believed to have become the world's youngest sex change patient after convincing doctors that he wanted to live the rest of his life as a female.
The boy – originally called Tim, but now known as Kim – has started to receive hormone treatment, in preparation for the operation that will eventually complete the sex change.
Tim was diagnosed as a transsexual two years ago, when doctors and psychiatrists concluded that his claims to be "in the wrong body" were so deeply felt that he required treatment. The therapy involves artificially arresting male puberty, with a series of potent hormone injections before the administration of female hormones to initiate the development of features such as breasts.
…Kim reacted badly to the first signs of puberty, he said. "At that stage we realised that she was terrified of growing facial hair and her voice breaking."
Kim's parents consulted psychiatrists across Germany. Some condemned their support of their child's desire to undergo a sex change, or suggested that Kim be kept under observation in a closed psychiatric ward. But others agreed that the child should receive therapy, because growing up to be a man would have damaged her personality.
Dr Bern Meyenburg, the head of a clinic for children and adolescents with identity disturbances at Frankfurt University, concluded that the child was serious. He wrote in his diagnosis: "Kim is a mentally well-developed child who appears happy and balanced. There is no doubt of the determined wish, that was already detectable since early childhood. It would have been very wrong to let Kim grow up to be a man. It is rare to have such a clear-cut case."
…Should Kim change her mind before the surgery, the procedure could be reversed. [Note from AFTAH: Let us pray for this child to change his mind and stop this procedure before it is too late!] Doctors admit that the treatment involves a risk, however, and that its effects on children as young as Kim are not fully understood.
For legal reasons, the final stage – cosmetic surgery to remove the male genitalia – cannot take place until Kim is 18. Britain's youngest transsexual is Angel Paris-Jordan, who was granted an operation on the NHS at the age of 17.
Continue reading at Telegraph…