By Peter LaBarbera
One of the fascinating aspects of the Canadian and European stories on pro-homosexuality "hate speech" enforcement is the mainstream nature of the speech now being censored. In Canada, a politician is fined for saying homosexuality is not natural or normal. Wow. Shocking, hateful stuff.
Now in France, a Member of Parliament (below) is fined for saying that heterosexuality is superior to homosexuality. Horrors. Jail this menace to society!
Two observations: 1) I sure am glad to be living in the good ol' USA, where we have a First Amendment. When the American "Gay" Left tires of simply twisting the motives of pro-family advocates (e.g., comparing us to Nazis and calling Christians the "American Taliban," as is the habit of lesbian blogger and prodigious name-caller Pam Spaulding), they will grow jealous of "hate speech" prosecutions abroad and start ratcheting up calls to ban "homophobic" speech here. Mark my words.
When that happens, the "gay" cause will lose considerable support from moderates and liberty-loving Americans who despise censorship. If it doesn't, America as a free nation will be no longer. The good sign is that already, people are tiring of the creeping pro-"gay" Big Brotherism in corporations and the culture, dictating what can and cannot be said (e.g., "spouse": bad; "partner": good).
2) Where is the outcry among the American "gay" opinion-molders on the punishment abroad of Judeo-Christian "anti-gay" speech? Where is the angst over the erosion of freedom of speech in the once-"free" West? Why aren't more homosexual leaders and writers swearing off such tyranny here, perhaps recognizing that the censors might turn on them some day?
One thing is clear: our noble cause of stopping the creation and proliferation of laws granting "rights" based on homosexuality ("sexual orientation") is as much a freedom issue as it is a moral one.
——————————
The following is excerpted from French MP Fined for Using Homophobic Language, published Jan 25, 2007, by Independent (South Africa):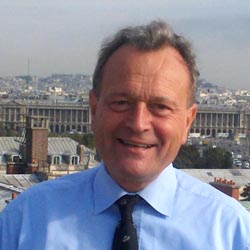 A court fined a conservative member of the French parliament €3 000 (about R28 000) on Thursday for abusive comments about homosexuals, the first time a politician had been prosecuted under a two-year-old law banning homophobic language.
Christian Vanneste, a member of the ruling UMP party, was quoted in the media as saying homosexuality was "inferior" to heterosexuality and would be "dangerous for humanity if it was pushed to the limit".
The court also ordered him to pay €2 000 in damages and costs to three gay and lesbian groups who brought the case.
Gay and civil rights groups welcomed the ruling, saying in a statement it "aimed to punish homophobic comments which should be fought because they inspire and legitimise verbal and physical attacks".
Continue reading in Independent…
According to French Politician Fined Under Gay Hate Law, published Jan 25, 2007, by the pro-homosexuality 365Gay:
…The maximum Vanneste faced was imprisonment…
Following the Douai court ruling gay activists who leveled the charge said in a statement they will continue to charge politicians who target gays, adding that hate speech inspires and legitimizes verbal and physical attacks.