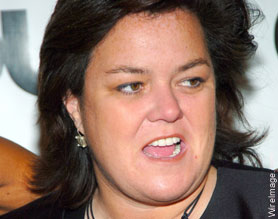 Check out this revealing account in yesterday's New York Post of an appearance by crass lesbian Rosie O'Donnell to a group of VIP women in New York City. The story here is not Rosie's mouth — the Big Apple's sewers are cleaner than that — but the lack of outrage from the assembled powerful women despite the presence of a group of high-achieving high school girls in the room. But why are we surprised: after all, most of these women probably endorse the "Vagina Monologues," a vulgar feminist play that has women discussing their private parts on stage as part of their assault on the patriarchy. (VM wants to take its subversive act from America's colleges to its high schools — another atrocity for beleaguered parents to fight.) Note how one shocked observer didn't want to give her name to the press. In other words, she was ashamed to publicly criticize O'Donnell. Meanwhile, we doubt that "shame" is even in Rosie's vocabulary — which makes her, come to think of it, the perfect spokesman for modern, pro-partial-birth-abortion American feminism.– Peter LaBarbera
http://www.nypost.com/seven/04242007/gossip/pagesix/pagesix_u.htm
April 24, 2007 — ROSIE O'Donnell's blue humor made faces red when she emceed the Matrix Awards in front of 2,000 feting New York's most accomplished women in media at the Waldorf-Astoria Grand Ballroom yesterday.
The loose-lipped lesbian dropped the F-bomb as Barbara Walters lowered her head on the dais and covered her face with her hand. O'Donnell concluded a rant about Donald Trump by grabbing her crotch and shouting, "Eat me!"
O'Donnell also said she was sad when Trump called her "disgusting" and "fat" because, "it was always my dream to give an old, bald billionaire a boner."
The annual luncheon of N.Y. Women in Communications – which honored Cindy Adams, Meredith Vieira, Joan Didion, Susan Lyne, Arianna Huffington and Lisa Caputo, among others – featured as presenters News Corp. Chairman Rupert Murdoch [See photo, facing page], Joy Behar, Nora Ephron, and Martha Stewart.
Also on hand were 17 sweet-faced high school girls who won scholarships to pursue their dreams of careers in media.
"I was offended by how vulgar and common O'Donnell was," said Robert Zimmerman, a Democrat active in progressive causes. "It was especially inappropriate with young people present."
Brandon Holley, editor-in-chief of Jane magazine, said, "I wasn't personally offended, but I thought it was fun to watch other people be offended."
"I cringed and dove under the table when she said, 'Eat me,' " said one woman attendee who declined to be identified.
Among those in the crowd were Judith Giuliani, her predecessor Donna Hanover, Judge Judy Sheindlin, Helen Gurley Brown, Sue Simmons, Geri Laybourne of Oxygen Media, Jane Friedman of HarperCollins, and Hearst president Cathie Black.
O'Donnell's publicist, Cindi Berger, told us: "When you ask for Rosie, you know what you're getting. She's not a shrinking violet. She's a stand-up comedienne. She says things that are provocative."
N.Y. Women in Communications was evidently happy with O'Donnell. The group's managing director, Beth Ellen Keyes, sent an e-mail to her handlers saying, "Rosie was fabulous. Please let Rosie know how much we appreciated her being there. She was just great." [See Cindy Adams, Page 20.]