… It's Not a Joke Anymore!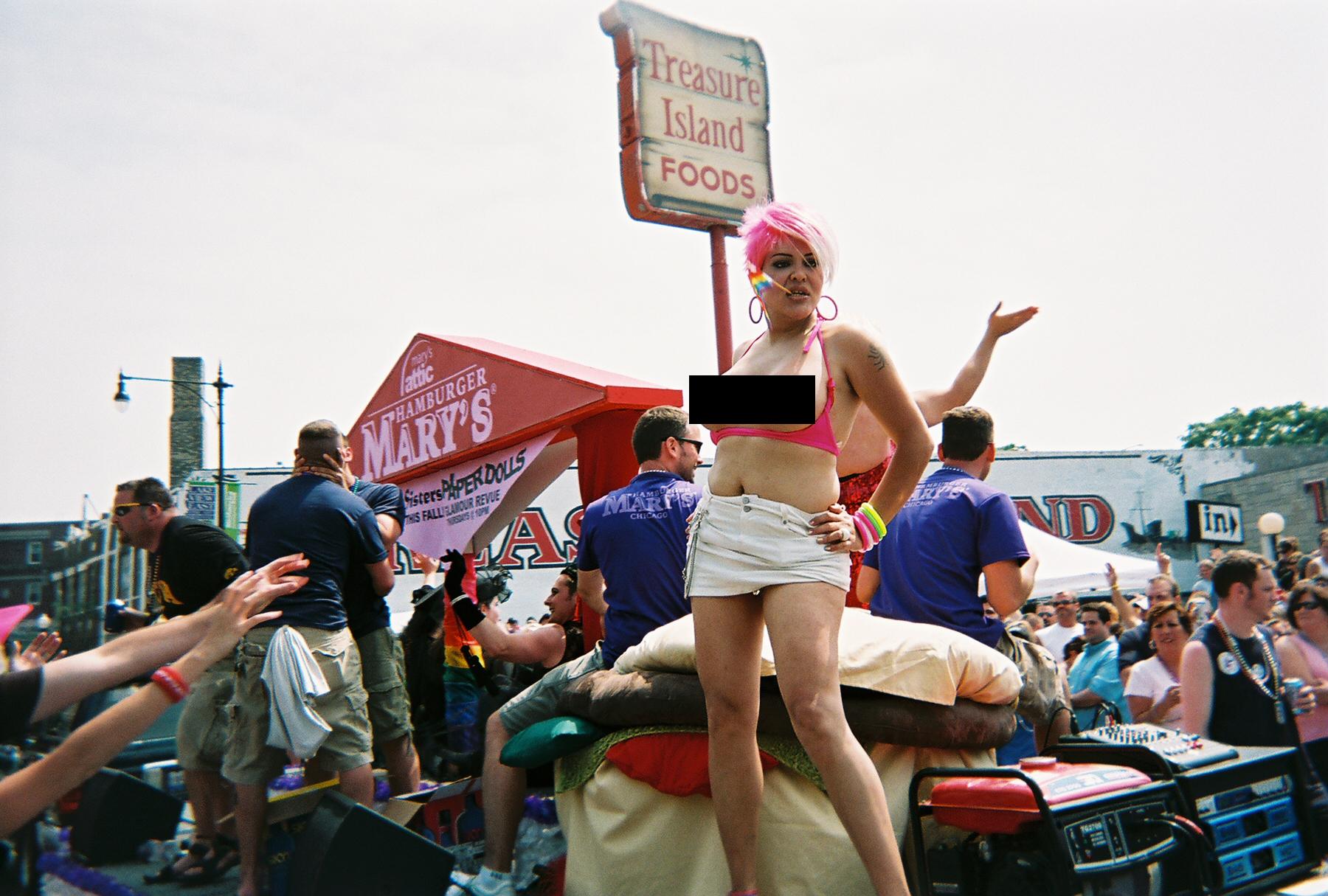 Should transsexual and transvestite (cross-dressing) men get legal "rights" based on their gender-confused "identity" and behavior? Above, a man who has become a "she-male" using female hormones rides "topless" for blocks atop a float in this year's Chicago's "gay pride" parade. Police did nothing. Photo: Americans For Truth.
When [CNN's Larry] King asked [male-to-female transgender activist Steve Stanton] if he stands up when he goes to the bathroom in a woman's restroom, he replied: "No, I don't. No, I sit down in the woman's bathroom." — Traditional Values Coalition report
By Peter LaBarbera
Remember that joke about a lesbian trapped in a man's body? … It's not a joke anymore! Folks, it just doesn't get any stranger than the "transgender" movement. We pity the men and women who struggle with gender issues and rebel against their God-given sex, but the gender-bending warriors (activist groups like GenderPAC) are serious about radically changing our culture. They're even promoting "gender nonconformity" among our youth. Do not underestimate them.
The "transgender" lobby has copied aggressive "gay" activist tactics and is on the verge of creating federal "civil rights" based on gender confusion. Their top goal? Passage of the "Thought Crimes" and "ENDA Our Freedom" bills. If these become law, we're talking about federal "rights" — and that means federal lawsuits — for "she-males" — biological men who act as if they are women and even demand to use female restrooms (see our story, "The Transg-ENDA: Man in Purple Suit Invades Ladies' Restroom in Md."). 
When gender-twisting groups are publishing papers titled, "Peeing In Peace: A Resource Guide For Transgender Activists And Allies" (click HERE for TVC's analysis of the paper), you know "civil rights" is being contorted beyond recognition.
TAKE ACTION:
Read the reports at bottom by this message by Traditional Values Coalition — a leading pro-family group on Capitol Hill opposing the homosexual- and transsexual activist movements. See the related the AFTAH links as well.
Contact your U.S. Senators and U.S. Representative (e-mail: www.congress.org; phone: 202-224-3121). Tell them to oppose the ENDA (Employment Nondiscrimination Act), which would subject businesses to lawsuits by homosexual and "she-male" ("transgender") activists;
Also ask your senators to vote against the S. 1105, the so-called "Hate Crimes" bill, which passed the House and is expected for a vote in the Senate soon. This "thought crimes" bill will make it easier for homosexual- and transgender activists — working hand-in-hand with liberal prosecutors — to harass conservative businessmen and Christian/pro-family advocates by falsely claiming themselves as victims of "hate."
______________________________  
TVC reports:
Larry King Shills For Transgender Movement
Traditional Values Coalition website
August 14, 2007 — Larry King's August 10 show featured a panel of men and women who think they're the opposite sex. Some have already undergone so-called "sex reassignment" surgery, while others have not.
King let them tell their stories about feeling like they were the opposite sex, and he interviewed two sons of a father who decided he was a woman. The teens expressed support for their father, even though he now looks like a Hollywood actress. Their father, who now calls himself Jessica, told King that he's a lesbian and dates women. He told King, "I identify as lesbian, yes, absolutely."
King also interviewed Steve Stanton, the former city manager of Largo, Florida. Steve decided he was a woman and currently dresses like one. He has not had a sex-change operation but is scheduled for one. When King asked him if he stands up when he goes to the bathroom in a woman's restroom, he replied: "No, I don't. No, I sit down in the woman's bathroom."
TVC's reports, "A Gender Identity Disorder Goes Mainstream"  and "Will Transgender Activists Come To Your School?" explain how the transgender activist movement is seeking to destroy the idea of male and female.  In addition, transgender activists are seeking to have their "gender identity" given federally protected class status under three key bills being considered in Congress: ENDA, Local Law Enforcement Hate Crimes Prevention Act, and the Clarification of Federal Employment Protections Act.
This article was posted on Friday, August 17th, 2007 at 7:47 am and is filed under
04 - Gender Confusion (Transgender)
,
Chicago
,
CNN
,
E - Praying for the Lost
,
Equality of Maryland
,
Freedom Under Fire
,
Gender 'Fluidity' (Confusion)
,
GenderPAC
,
GLBTQ Lawsuits & Retribution
,
GLBTQ Targeting Youth and Schools
,
Government Promotion
,
Homosexual Pride Parades & Festivals
,
Media Promotion
,
Mental Health
,
National Transgender Advocacy Coalition
,
News
,
The Agenda: GLBTQ & Activist Groups
. You can follow any updates to this article through the
RSS 2.0
feed.