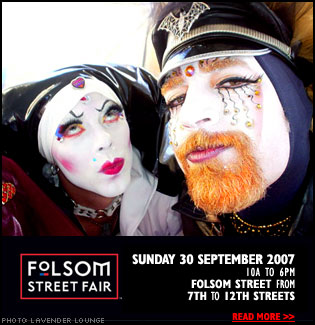 The Catholic-nun- and Christianity-mocking Sisters of Perpetual Indulgence — whose adherents sport names like "Sister Porn Again" and "Sister Roz Erection"– works closely with and benefits from the sadism-celebrating "Folsom Street Fair" in San Francisco. Folsom organizers list "The Sisters" as among the "major beneficiaries" of the event, which has drawn national attention due to its promotional poster spoofing Christ's Last Supper.
By Peter LaBarbera 
The sadism-celebrating Folsom Street Fair, to be held in San Francisco this weekend, lists the Catholic-mocking "Sisters of Perpetual Indulgence" as a "Major Beneficiary" of the event.
The Sisters of Perpetual Indulgence [Warning: very offensive content] is a band of homosexual drag queens who dress up as gaudy "nuns," with each adopting a perverted or mocking names such as: Sister Porn Again; Sister Chastity Boner; Sister Sister Edith Myflesh; Sister Roz Erection; Sister Constance Craving of the Holey Desire; and Sister Risqué of the Sissytine Chapel.
"The Sisters" is a 501(c)3 tax-deductible non-profit charity recognized by the IRS (this designation has been contested by the Catholic League for Religious and Civil Rights). On its website is this logo twisting the words of Jesus Christ: "Go forth and sin some more!"
Despite such open anti-religious mockery, in San Francisco "the Sisters" is viewed — at least in liberal and "gay" circles — as a legitimate "charity" group, raising funds for various causes in the city, mostly AIDS-related. Here is the Folsom Street Fair program's entry under "Major Beneficiaries" for "the Sisters":
The Sisters of Perpetual Indulgence, Inc., is a leading-edge Order of queer nuns. Since Easter weekend in 1979, they have been accused of "ruining it for everyone" with their injection of gaiety into serious affairs like human rights, political activism and religious intolerance. The Sisters' mission is to "ruin" all detrimental conditions like complacency, guilt, and the inability to laugh at one's self. www.thesisters.org
According to the Sisters of Perpetual Indulgence website, the group has a long and close working relationship with the perverse Folsom Street Fair:
1992…The Sisters start one of the sexiest alliances by working at the Folsom Street Fair and Up Your Alley Fair helping the organizers by acting as door divas for one California's largest events and probably the worlds largest fetish event. Folsom Street Fair attracts thousands of participants and raises thousands for charity in the process.
While celebrating Folsom, "the Sisters" takes a belligerent approach toward Bible-believers and pro-family groups. Last year, the group led an angry counter-protest against "Battlecry!," a peaceful Christian teen ministry, when the latter came to San Francisco to hold a Gospel rally. See this neat YouTube video produced by a Battlecry attendee.
Folsom Funds 'The Sisters'
A welcoming letter in the Folsom Street Fair program for this year's event discusses this year's beneficiaries, including "The Sisters," as well as the fair's sponsors — which includes Miller Brewing Company, which has now requested that its "Miller Lite" logo be removed from the promotional poster, but which has not backed off its sponsorship  — and several sex- and perversion-related businesses: 
In 2006, thanks to the record-breaking support from fair-goers and our sponsors, Folsom Street Events donated $301,512 back to local charities, far exceeding our community grants goal. This year, we hope to surpass that mark – but we'll need your help to do it. 100% of our gate donations go to charity along with the profits from our beverage sales, exhibitor booths, and generous sponsors. Our 2007 benefiting nonprofits include AIDS Emergency Fund, Berkeley Free Clinic, Black Rock Arts Foundation, Dolores Street Community Services, Frameline, GLBT Historical Society, Healing Waters, Lyon-Martin Health Services, Pets Are Wonderful Support, Positive Resource Center, San Francisco Gay Men's Chorus, The Sisters of Perpetual Indulgence, STOP AIDS Project, Tenderloin Health, Transgender Law Center, and Triangle Martial Arts Association. Please donate generously!

 

Generous support from our sponsors makes Folsom Street Fair possible. Presenting Sponsors include Miller Lite and MGD, NakedSword, and TitanMen. Premier Sponsors include RECON, Hot House Entertainment, Elbow Grease, Mr. S Leather and Maximus Vodka. Charter Sponsors include Steamworks [a homosexual bathhouse in next-door Berkeley], BigMuscle.com, Blow Buddies [a San Francisco homosexual sex club], DungeonBeds, Leatherpost, Powerhouse, and Joie de Vivre Hospitality. Media Sponsors include GLOS, LIVE 105, San Francisco Bay Guardian, and IN LA Magazine. Grants for the Arts and San Francisco Department of the Environment both support us as well.
This article was posted on Wednesday, September 26th, 2007 at 2:26 pm and is filed under
04 - Gender Confusion (Transgender)
,
Bathhouses
,
Celebrities
,
Christian Persecution
,
E - Praying for the Lost
,
Gay Culture
,
Government Promotion
,
Homosexual Hate
,
Homosexual Hate Speech
,
Homosexual Meccas
,
Homosexual Pride Parades & Festivals
,
News
,
Public Sex in Your Neighborhood?
,
San Francisco
,
Sisters of Perpetual Indulgence
,
The Agenda: GLBTQ & Activist Groups
,
The Bible, Churches, & Homosexuality
. You can follow any updates to this article through the
RSS 2.0
feed.