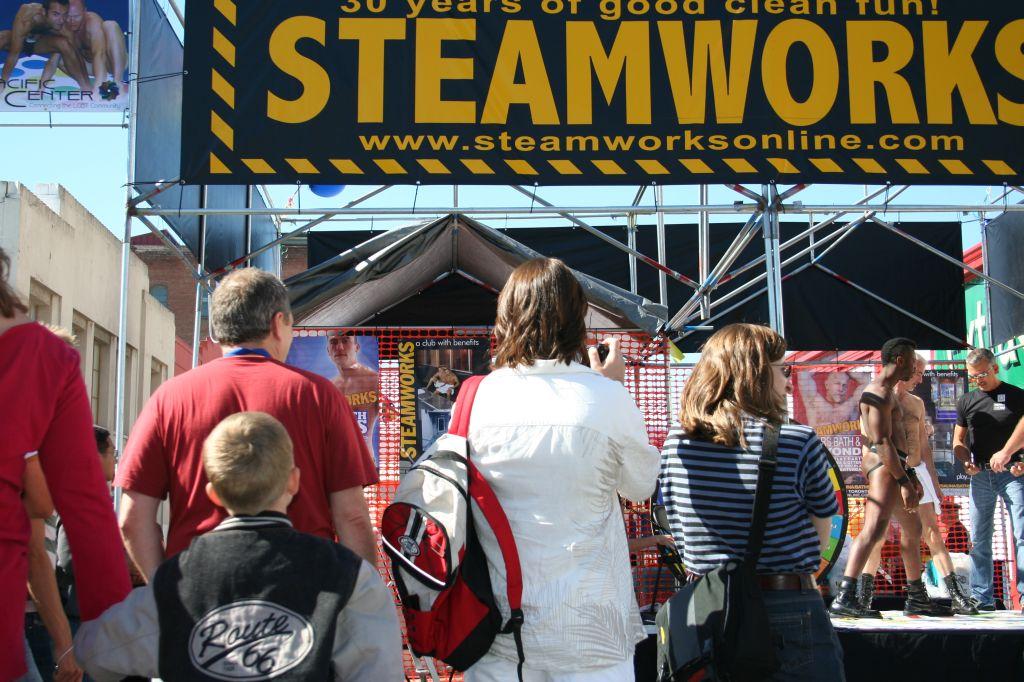 Lesbian activist Pam Spaulding chose to use the above Americans For Truth photo of a child in the midst of the unbelievably perverse "Folsom Street Fair" to bash AFTAH President Peter LaBarbera — without mentioning the child.
By Peter LaBarbera 
It wasn't tough predicting that homosexual activists like Pam Spaulding would take a look at our photo-story on the raunchy "Folsom Street Fair" in anything-goes San Francisco — in which men were allowed to walk around totally nude and even have "gay" sex in the streets — and vent their anger and ridicule at … US!
And so they did. Click here to read Pam's piece attacking our Folsom piece, complete with the usual round of bashing comments from her online fans. The most curious part of Spaulding's blog post is her attempt to slam me for my photo of a child viewing the booth for the Berkeley bathhouse Steamworks (see above). Pam writes:
By the way, Steamworks, a bathhouse that Peter has intimate knowledge of (since the Chicago branch is where he has gone undercover to report on man-on-man depravity), has an almost magnetic draw for LaBarbera ("where men go to engage in anonymous sodomies with other men") — he managed to photograph a Steamworks booth at Folsum [sic].
Now Pam, now let me explain the reason I shot and posted that particular photo: see the young boy at left in the photo, in the black jacket? He should not be there. He should not be in the middle of a street fair where men were walking around completely nude and masturbating in the streets. He should not be within 10 miles of adults engaging in public street sex, or whipping one another. He should not have to see the sickening spectacle of human beings leading around other human beings (their "slaves") on dog collars.
By the way, Pam has her facts wrong (shocking, I know): I've never gone "undercover" at the Steamworks bathhouse in Chicago. Last year, when I was at Illinois Family Institute, we held a Christian outreach outside of Steamworks, in the heart of Chicago's "Boystown" homosexual neighborhood, urging men not to go inside. Later, we held a protest outside of Steamworks during the Chicago "Gay Games," opposite pro-bathhouse forces led by the Chicago-based Gay Liberation Network. We have opposed such sex clubs because they are dangerous for men and also for women whose husbands/boyfriends go there to engage in secret homosexual sex on the side.
This article was posted on Monday, October 8th, 2007 at 4:02 pm and is filed under
AFT In the Blogs
,
Bathhouses
,
Government Promotion
,
Homosexual Pride Parades & Festivals
,
Leather
,
Mental Health
,
News
,
Public Indecency
,
Public Sex in Your Neighborhood?
. You can follow any updates to this article through the
RSS 2.0
feed.