WARNING: NOT FOR CHILDREN; GRAPHIC IMAGES — DESPITE OUR EFFORTS TO CLEAN UP THESE PHOTOS DOCUMENTING RAUNCHY SAN FRANCISCO 'FOLSOM STREET FAIR'
All Folsom Street Fair photos by Peter LaBarbera, Americans For Truth; permission to reprint given provided that credit be given to "Americans For Truth About Homosexuality, www.americansfortruth.org"; contact us at americansfortruth@gmail.com.
PART ONE
By Peter LaBarbera and Allyson Smith, Americans For Truth exclusive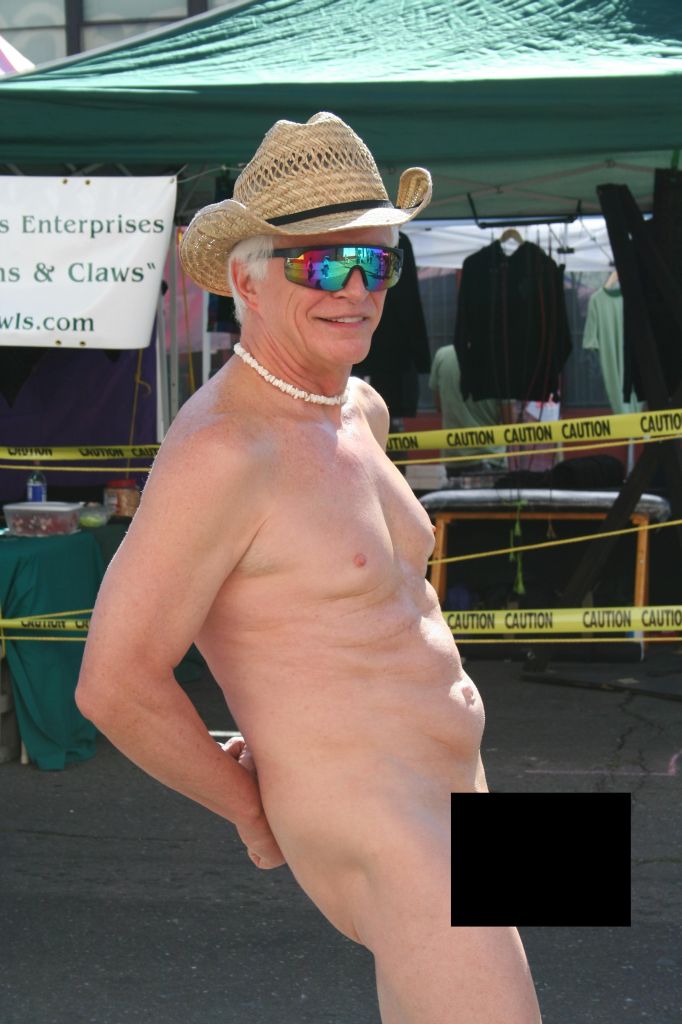 S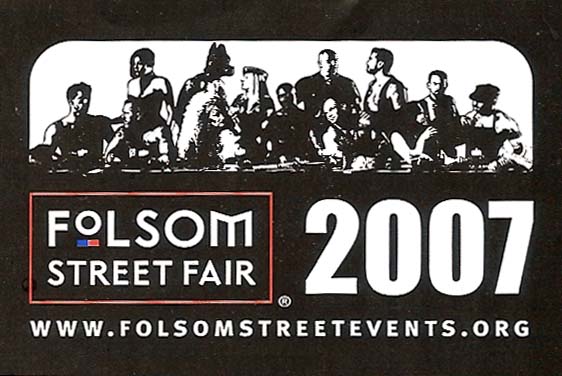 Man bares all at Folsom Street Fair (he was wearing sneakers); right, entrance sticker given to attendees (by Christianity-mocking, drag-queen "Sisters of Perpetual Indulgence") reproduces blasphemous, sadistic "Last Supper" photo that drew national attention to Folsom.
SAN FRANCISCO — How do you describe the most depraved public event in the most depraved city in America? Well, we'll let the pictures do the talking — with our strategically-placed black boxes so as not to reward the perverted exhibitionists who invaded the city's streets Sunday for the "Folsom Street Fair." The Fair is an annual street party for BDSM enthusiasts (meaning bondage, discipline, sadism, masochism — or domination/submission) held on several blocked-off city streets here, that reportedly draws hundreds of thousands of "leather" practitioners and curious spectators every year. All frontal nudity is blocked below.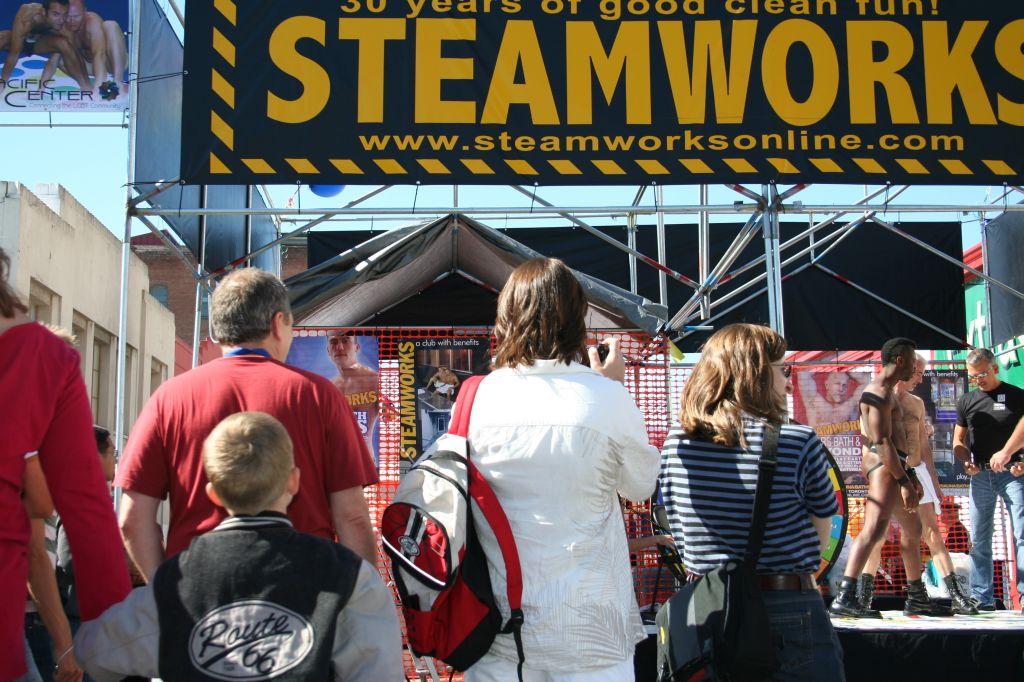 At left, a young boy looks on at a booth sponsored by Steamworks, a local bathhouse (in Berkeley) where men go to engage in anonymous sodomies with other men. Organizers warned that Folsom was an event for adults, but parents were allowed to bring their young children. Steamworks also has branches in Chicago, Toronto, and San Juan, Puerto Rico.
Keep in mind as you look at these documented public acts of perversion that San Francisco police took a very passive, "hands off" role at the Fair — despite the national outrage and unprecedented media attention on Folsom following revelations that organizers used a perverted mockery of Da Vinci's Last Supper painting as their promotional artwork. (The Last Supper rip-off adorned the small stickers given to every person who paid the $5 to get into Folsom; see photo above.)
Indeed, we watched as police standing on the street or just outside the blocked-off perimeter of Folsom did nothing as men walked by baring their genitals (only the men did this; some women bared their breasts). One extended orgiastic scene we witnessed involving several men (see photo below) took place on crowded Folsom Street as hundreds if not thousands of people walked by — yet police took no action.
We spoke with several policemen and security guards and the consensus was that rampant nudity and public sex are expected every year at Folsom Street (this was the event's 25th year) and that it is the city's politicians — from the Mayor on down — who are to blame for allowing it.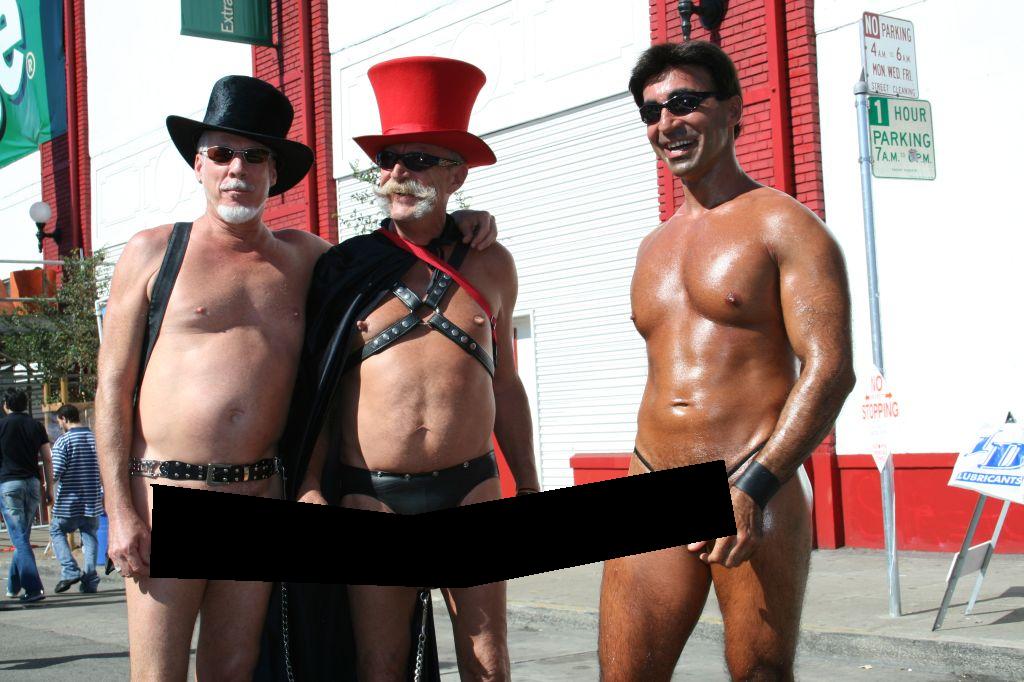 (Mayor Gavin Newsom greeted Folsom Street attendees in a letter published in the Fair's program, warmly telling them to "have a great day and enjoy this wonderful and exciting event.") It seemed to us that the police, as law "enforcers," were put in the very awkward position of overseeing sexual anarchy and general lawlessness, as clearly there was no expectation that laws would be enforced to stop the public sex and nudity — assuming such anti-lewdness laws exist in San Francisco and California.
In addition to the nudity and public sex acts, there were public whippings and spankings. Some were held at booths: the AIDS Emergency Fund was hawking charity spankings for $5 each — and others apparently occurring spontaneously, if you can say that about an act of consensual, "erotic" violence. We witnessed one man whipping his "partner" on a sidewalk, the "whippee's" back becoming a brighter red with each round of punishment — done out of love, we are told by the sadists.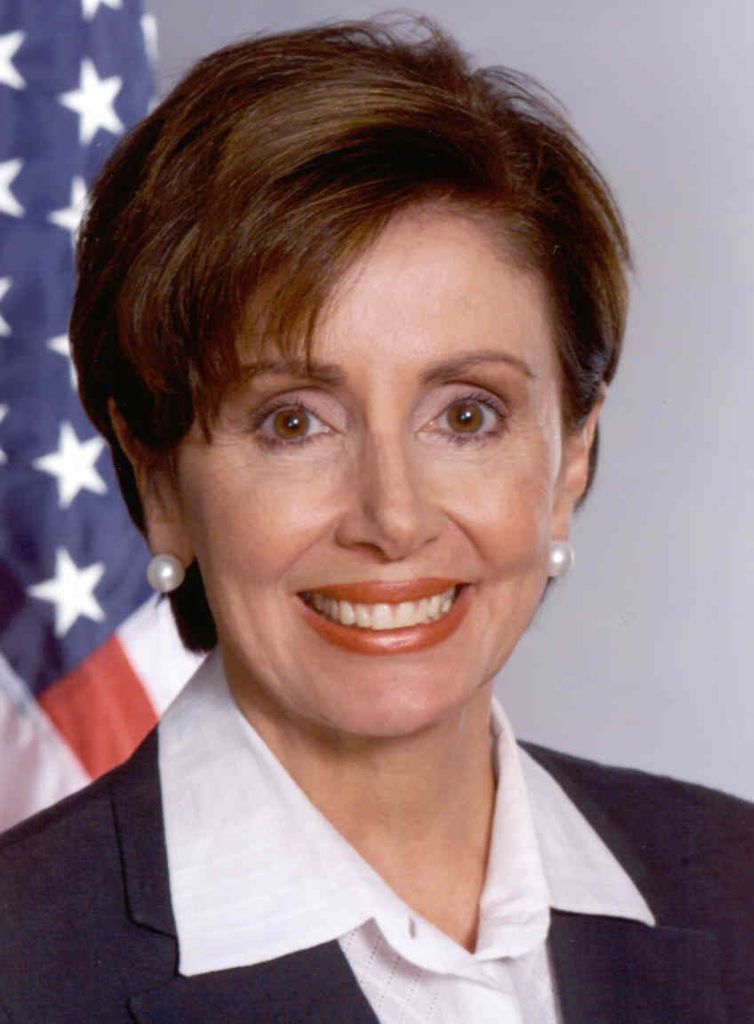 The annual Folsom Street Fair takes place in House Speaker Nancy Pelosi's (D-CA) San Francisco district. Speaking to a local "gay" newspaper through her spokesman, Pelosi refused to condemn the blasphemous Folsom 2007 promotional logo — which mocked Da Vinci's "Last Supper" painting by substituting "leather" men and women for Christ and His disciples. Click HERE to view the blasphemous ad, which was reproduced on Folsom's stickers for paid attendees. 
And we witnessed many "master-slave" "couples," one leading the other around with a dog collar, of both the homosexual and heterosexual variety. The Folsom Street Fair began as an event mainly for homosexual sadomasochists, but it now attracts many straights, as evidenced by the thousands of women visible at this year's event.
Gawkers and photo-takers were everywhere at Folsom, adding to the surrealness of the experience. Twice we witnessed people posing for photos with totally nude men, one who had been masturbating at a curb, as if the latter were celebrities. The fair/freak show was truly an exhibitionists' dream, made possible by San Francisco's moral and legal laxity.
So pervasive was the public (mostly male) nudity that it seemed the more "modest" homosexuals were the ones wearing only underwear or leather chaps exposing their behind.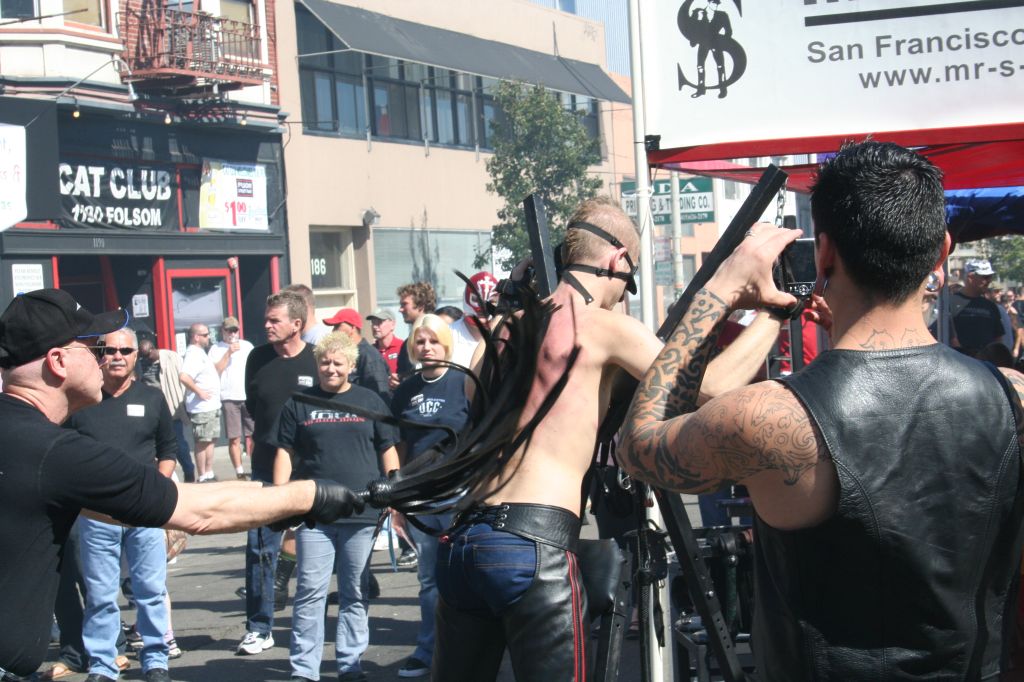 Man gets flogged at the "Mr-S-Leather" booth in the center of Folsom Street Fair as crowd watches and a man snaps a photo. Note the recipient's red back.
After a day of walking through this bizarre and hellish "fair" — with occasional "normalcy breaks" to restore our sanity — what struck us was a sense of "tolerance gone wild" in the City by the Bay. If you can tolerate men having sex in the streets, then you can tolerate just about anything. During one respite, when I (Peter) complained to a San Francisco resident about the public sex and nudity going on at Folsom just a block or two away, he grew cold and said, "To each his own."
To each his own? "I don't prefer to have sex in the streets, but if that's your thing, go for it"? San Francisco is a lesson in the evils of liberal, open-ended "tolerance." On the one hand, the city's supervisors and left-wing activists harass and condemn Christian youth who seek to promote virtue and a godly lifestyle to San Francisco teenagers. Then the same city leaders welcome with open arms — and emasculated law enforcement — the most perverted public street festival imaginable, with a strong dose of anti-Christian bigotry to boot.
More important than what Folsom says about sadomasochists — after all, those were proud perverts out on Sunday — is what it says about (mostly straight) social liberals and libertarians. Quick to bash — that is, judge — the "religious right," they are deathly afraid of criticizing or "judging" anything homosexuality-related, even heinous perversion festivals where human beings are walked around with collars like dogs! How troubled are you that Speaker Pelosi has carefully couched her words so as not to offend those who would reconfigure the Last Supper to include sex toys and deviant "fetishists"?
More photos and incredible scenes we witnessed below: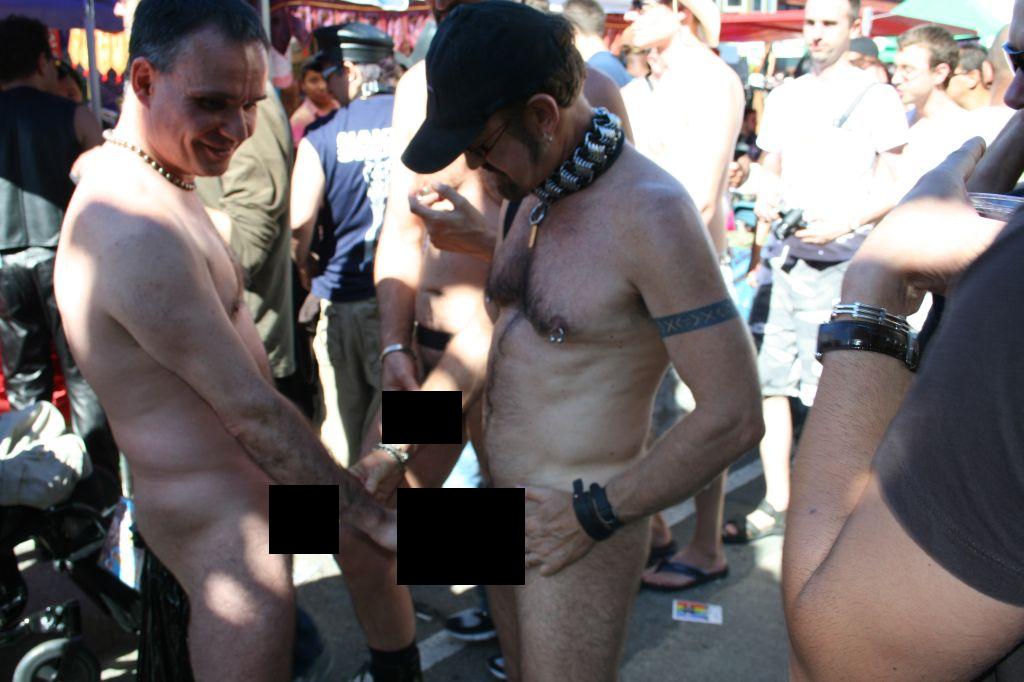 Naked "leathermen" fondle each other in a public sex scene as passers-by stop to watch and take pictures. This scene (see next photo) went on for at least a half hour, as new men would come and join in the mutual masturbation. The smell of marijuana was in the air. And, yes, that is a baby stroller at the left of the photo. It occurred on the street directly in front of Weiss Welding ("since 1930") at 1237 Folsom Street. At one point the man at left yelled out, "I'm seeing too many cameras and not enough dicks!" "Tolerance" has run amuck in San Francisco. Of course, it's one-way: the same "Sisters" (see below) who welcomed the sadomasochists into Folsom Sunday protested vehemently against the Christian teen outreach group BattleCry, which held an evangelistic rally in San Francisco last year.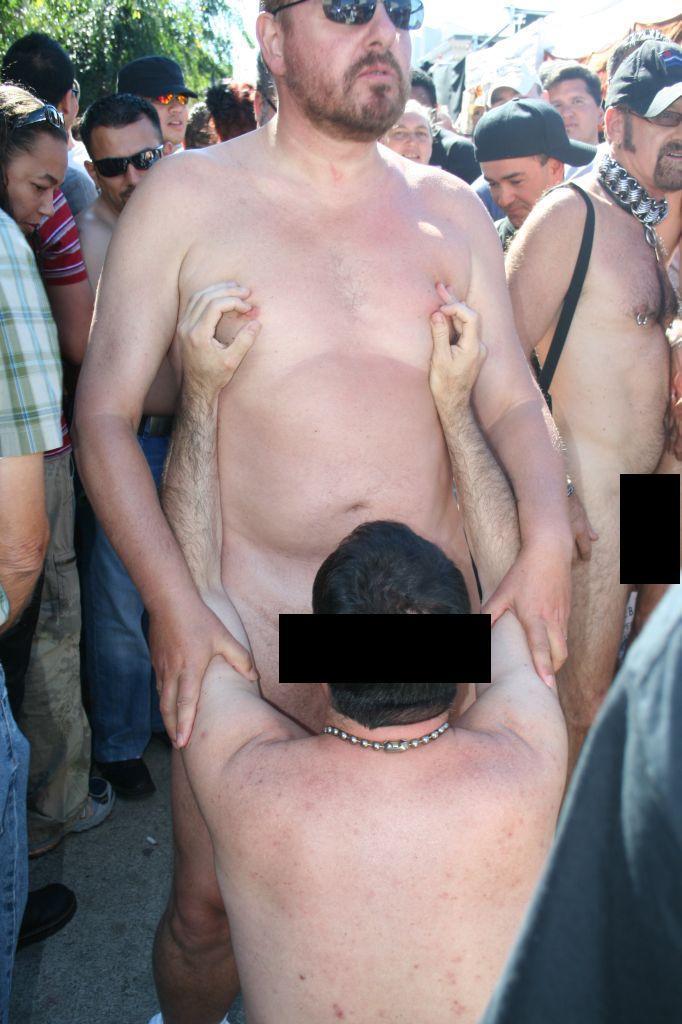 Man performs oral sodomy on another man in the same orgiastic street scene at 1237 Folsom Street above. When there is no law, perversion and lawlessness fill the void. The same principle applies toward sin and godlessness in the spiritual and moral realms. How can such open (and illegal) debauchery be allowed to go on year after year by the city supervisors and the mayor? One policeman said the city takes a laissez-faire approach just for Folsom, once a year, but other long-time San Francisco citizens said that public indecency is tolerated on other "special" days, like Halloween.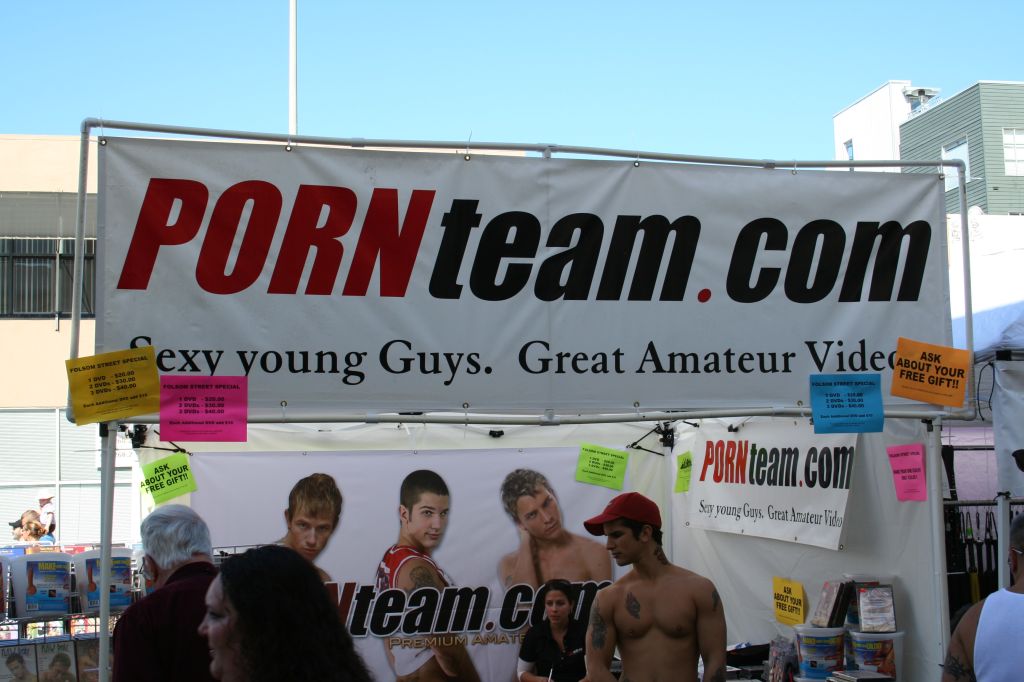 Hard-core pornography was easy to find, and buy on sale, at Folsom.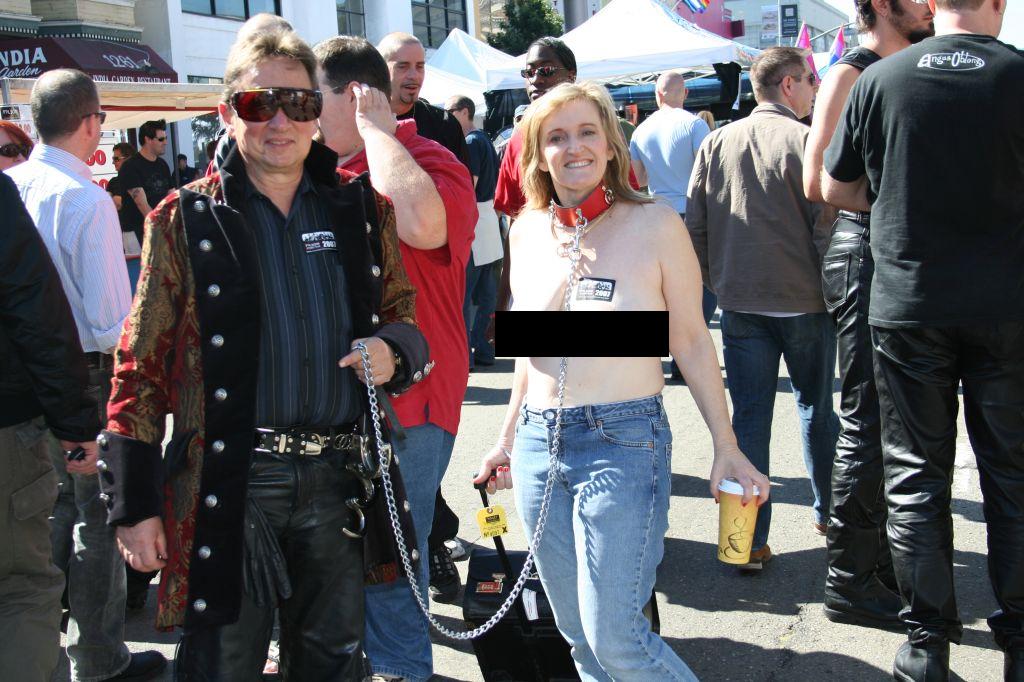 Man leads bare-breasted female slave "partner" around by a dog collar. It appears that in recent years, heterosexual perverts have joined their "gay" brethren at the "fair" in increasing numbers. Talk about a setback for women's rights … On the flip side, women were also seen leading around their male "slaves" at the twisted "fair" (see photo below).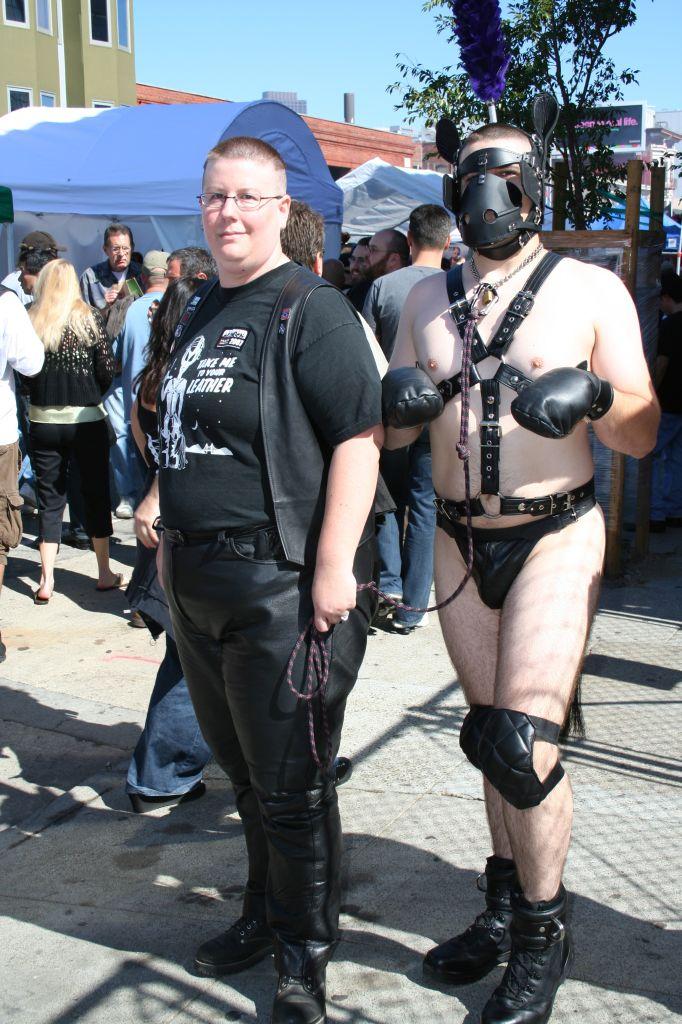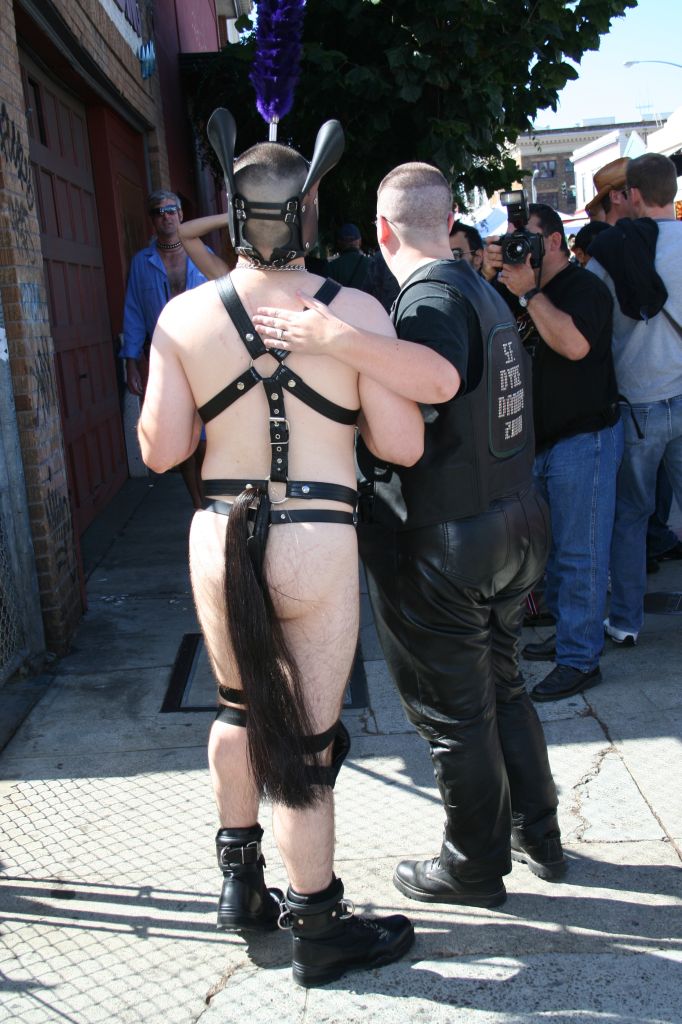 "They invent ways of doing evil" (Romans 1:30); "pony play" perversion on walking display at Folsom. What kind of movement — and city — celebrates human degradation of this sort? (And where is PETA when you need them?)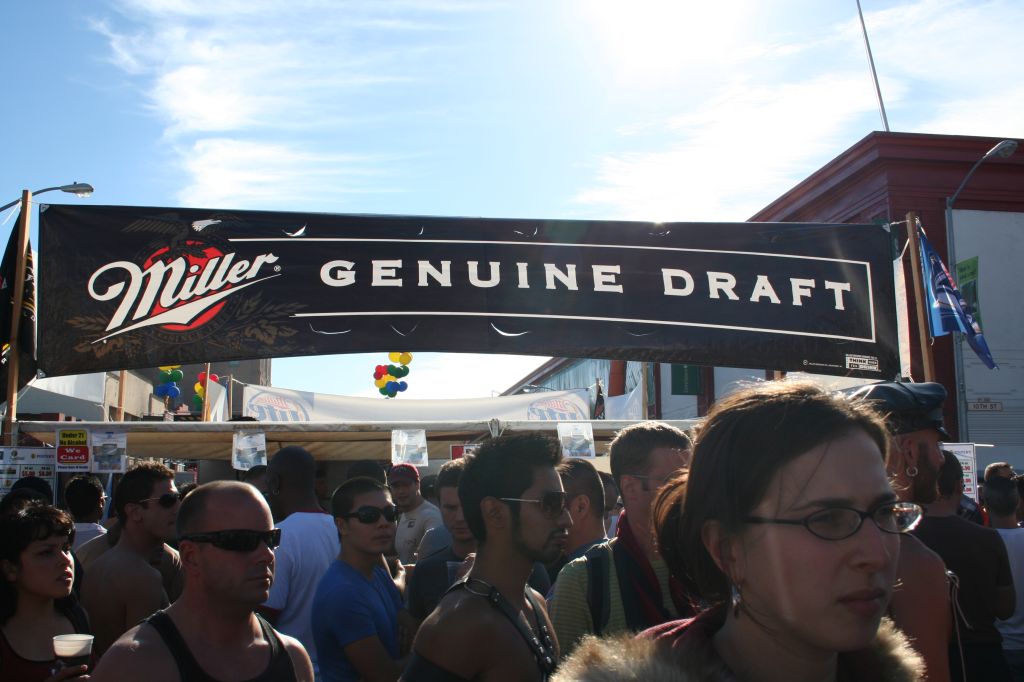 Miller's full-page ad in the Folsom Street Fair's program states: "Miller Brewing Company Proudly Sponsors the 2007 Folsom Street Fair." That was until they got caught and hit with a boycott by the Catholic League — and now the company is rethinking its marketing strategy. Miller's booth, above, was centrally located at Folsom.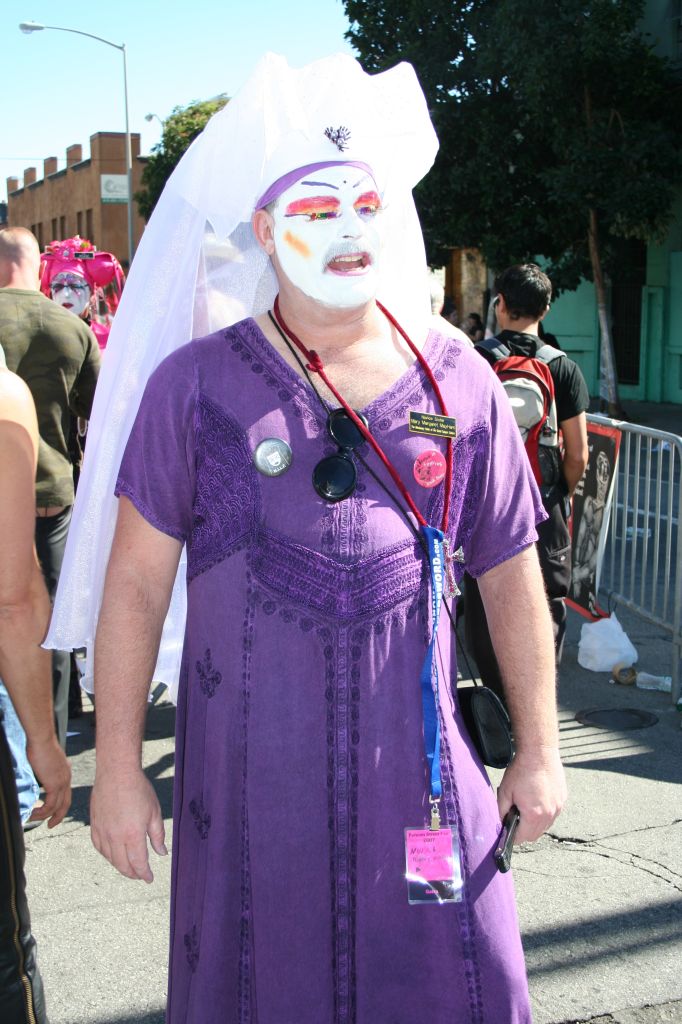 We'll end this segment with one of the "Sisters" … of Perpetual Indulgence, that is, since they greeted Folsom's comers and goers. (At least one "Sister" was at every entrance.) The rabidly anti-Catholic and Christianity-mocking group — they'd deny that but trust us on this one — was a major beneficiary of this year's Folsom Fair. The "order" of male drag queen "nuns" has now spread across America and abroad. This burly "novice" is Sister Mary Margaret MayHam of the "Missionary Order of the Grand Canyon Sisters," in Arizona. The Sisters' motto is, appropriately, "Go forth and sin some more!"
This article was posted on Wednesday, October 3rd, 2007 at 2:03 pm and is filed under
04 - Gender Confusion (Transgender)
,
Bathhouses
,
BDSM
,
Celebrities
,
Christian Persecution
,
Diversity & Tolerance Propaganda
,
E - Praying for the Lost
,
Government Promotion
,
Homosexual Hate
,
Homosexual Pornography & Film Festivals
,
Leather
,
Miller Beer
,
News
,
Politicians & Public Officials
,
Public Indecency
,
Public Sex in Your Neighborhood?
,
San Francisco
,
Sisters of Perpetual Indulgence
,
The Agenda: GLBTQ & Activist Groups
,
The Bible, Churches, & Homosexuality
. You can follow any updates to this article through the
RSS 2.0
feed.