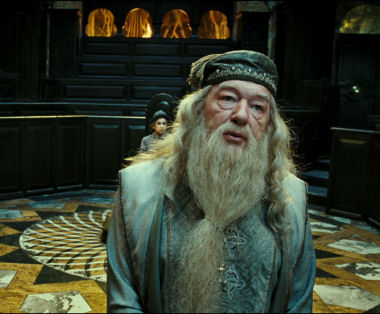 Children who love the Harry Potter series character Dumbledore now may be less inclined to oppose homosexuality, or see it as an important moral issue. Of course, the media had a field day with the "news." Here, Michael Gambon plays the beloved character in 'Harry Potter and the Order of the Phoenix.'  
Q:  How does Harry Potter author J.K. Rowling's announcement that her beloved Dumbledore character is 'gay' fit in with a larger strategy to normalize homosexual behavior in the culture — even to children — through manipulative associations?
Laurie Higgins' Answer:  In case you haven't heard, J.K. Rowling, who wrote the Harry Potter series, just announced before a large audience of fans at Carnegie Hall that one of the most beloved characters in the book, Dumbledore, is homosexual. Now some perhaps many of the children who love this character will feel ambivalent about regarding homosexuality as deeply sinful. Young children, adolescents, and even many adults fall victim to the specious syllogistic reasoning that goes something like 1. Kindness is good, 2. Homosexuals are kind, 3. Therefore, homosexuality is good. It is clearly a faulty syllogism, and yet it's wildly successful.
 
The "gay" manifesto After the Ball written in 1989 describes a number of strategies to be used to transform cultural views of homosexuality, one of which is "conversion" (how very darkly ironic). The authors Marshall Kirk and Hunter Madsen write that "In Conversion, we mimic the natural process of stereotype learning, with the following effect: we take the bigot's good feelings about all-right guys, and attach them to the label 'gay,' either weakening or, eventually, replacing his bad feelings toward the label and the prior stereotype." Whether Rowling is aware of this process or not, she is employing it.
 
This is one of the most significant problems with repeated exposure to positive portrayals of homosexuals in films, television show, plays, novels, textbooks, and speakers. Unsophisticated thinkers come to believe that somehow good behaviors or traits are inherently exculpatory in regard to others. But we should no more say that the sin of homosexuality is effaced by a homosexual's compassion, generosity, or good humor than we would say that a polygamist's sin is effaced by his compassion, generosity, or good humor.
 
The movement is afoot to include positive portrayals of homosexuals and the transgendered in all textbooks from kindergarten on up. I have no objections to textbooks including the important invention or discovery of a homosexual or transgender person so long as their homosexuality or transgenderism is not mentioned. To mention it suggests that somehow their deviant sexual impulses are connected or relevant to their discovery, invention, or contribution to learning. And supporters of subversive sexuality know this. They know that associating the deviant sexual orientation or identity with something positive will irrationally transform society's perception of the deviant sexuality. Concerned citizens must strenuously oppose the identification of the sexual orientation or sexual identity of figures discussed in textbooks.
 
Another problematic way by which cultural values are being transformed is through the exposure to the stories of suffering shared by homosexuals and those who experience the psychological disorder of transgenderism. It is not uncommon in public high schools for LGBT (lesbian, Gay, Bisexual, Transgender) students to share their stories of suffering with their peers. The result is that children, teens, and even adults who, of course, do not want to increase the suffering of others, retreat from making moral judgments. In so doing, they fail to make the critical distinction between suffering that results from harassment or abuse, and discomfort that results from an encounter with reasonable judgments about morality.
 
Parents and concerned taxpayers must be aware of and oppose these kinds of manipulative stratagems.
Laurie Higgins works full-time in a suburban public high school writing center in the Chicago area.