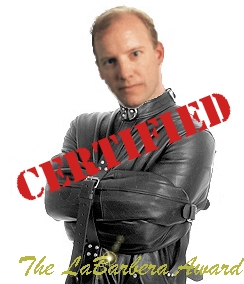 Homosexual activists are notoriously vicious and hateful, even as they accuse others of "hate" and "intolerance."  They often lie by taking our reports out of context, and resort to nasty, ad hominem attacks. Here homosexual blogger Jim Burroway mocks Americans For Truth founder Peter LaBarbera as a crazed "leatherman": because we fearlessly expose homosexual perversions like the Folsom Street Fair (in House Speaker Nancy Pelosi's San Francisco district), they say WE are the perverts.  Click HERE to help AFTAH expose and confront this evil lobby with your online gift of $100 or more today.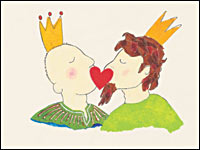 Homosexual activists now want to push pro-homosexual teachings on the very young — like this "King & King" children's book which shows two princes kissing — while keeping parents in the dark.  Help Americans For Truth stay on the front lines in the fight against this evil agenda with your online gift of $100 or more today.
A Special Appeal from Americans For Truth President Peter LaBarbera:
Dear Readers,
I'm writing today to ask you to help support Americans For Truth today with a gift of $100 or more, or whatever you can afford.  If you believe in the critical, "front lines" work we are doing, please make a tax-deductible donation using your VISA or MasterCard HERE, or a donation using PayPal (which accepts American Express and Discover) HERE.
If just 100 people were to each give $100, we would raise $10,000 toward our goal of $150,000 for the year.  Americans For Truth is as yet a small organization, but we are influential far beyond our size. Thank you for standing with us!
Americans For Truth's mission is simple: we tell the truth about the "GLBT" (gay, lesbian, bisexual, transgender) movement, without apology and without the guilt and defensiveness that plague even many Christians these days. 
The media's non-stop, pro-homosexual propaganda has worn good people down: at a time when homosexual activists have reached the zenith of their power — and are on the verge of passing legislation that would effectively criminalize Judeo-Christian morality — some are complaining that the pro-family movement is focusing "too much" on homosexuality. 
How absurd. Surrendering to an anti-Christian agenda is not the answer. At this crucial juncture — in the midst of a moral crisis in which pro-homosexuality "lessons" are being foisted even on young schoolchildren — America needs a Winston Churchill, not a Neville Chamberlain. If you are not one to give up or retreat in the fight for God's Truth, click HERE to support Americans For Truth's vital work!
The tragic reality is that the resources spent promoting homosexuality in these United States of America massively dwarf those spent opposing it.  This truly is a David-against-Goliath struggle — since most large pro-family groups spend only a fraction of their budgets fighting the homosexual lobby (because they're also fighting abortion, embryonic stem cell research, pornography, and many other necessary battles).
AFTAH, in contrast, is solely focused on the battle against homosexual activism.
Consider the following single-issue homosexual and transgender groups, which focus like a laser beam on promoting wrong and destructive lifestyles, and undermining Biblical truth:
Human Rights Campaign/Human Rights Campaign Foundation (combined 2006 revenue: $39 million)
National Gay and Lesbian Task Force
Gay, Lesbian, Straight Education Network (GLSEN)
Lambda Legal
Gay and Lesbian Alliance Against Defamation (GLAAD)
Parents, Family and Friends of Lesbians and Gays (PFLAG)
Servicemembers Legal Defense Network
ACLU Lesbian Gay Bisexual Transgender Project
GenderPAC
Transgender Law Center
National Lesbian and Gay Journalists Association
Family Pride Coalition
National Center for Lesbian Rights
Children of Lesbians and Gays Everywhere (COLAGE)
Soulforce
Gay and Lesbian Advocates and Defenders
Equality Illinois
Triangle Foundation
This is not close to being a comprehensive list!  And it doesn't include the smaller groups and homosexual bloggers like Wayne Besen — who with his comically-named "Truth Wins Out" is particularly hateful in attacking me and Americans For Truth.  Besen came up with the smear tag "Porno Pete," as if I'm the pornographer for exposing homosexual promiscuity and heinous perversions like the recent sadistic San Francisco "Folsom Street Fair",  and last week's "International Mr. Rubber" event in Chicago (done in partnership with the city's homosexual "Center on Halsted").
Americans For Truth will never be intimidated or back down in the face of such attacks. Our opponents know this and hate us for it. Here's the reality of the homosexual activism we face:
In the name of fighting "hate," pro-homosexuality activists hate and viciously ridicule and lie about people of faith — who do not hate homosexuals but merely oppose homosexual behavior as a changeable sin;
In the name of "diversity," they work behind the scenes to keep Americans For Truth and other pro-family groups off "diversity" panels and media debates; and push for corporate "awareness" programs that undermine traditional employees' religious convictions;
In the name of "tolerance," they demonize us and equate committed Christians and other moral-minded citizens with evil, racist fringe groups like the KKK; they do this knowing that Americans For Truth and other pro-family groups work hand-in-hand with African Americans and other minorities;
They imply that we're perverts because we expose perversion that the media refuses to cover honestly;
They celebrate when people "come out" as homosexuals, then deny and ridicule the wonderful testimonies of men and women who have "come out" of homosexuality, through a relationship with Jesus Christ;
In the name of "compassionate, 'gay'-affirming Christianity," they distort the Word of God beyond recognition, and blaspheme the Creator;
In the name of "safe schools," they indoctrinate innocent children with one-sided, manipulative, pro-homosexual lessons;
In the name of "pride," they distort history, falsely labeling as "gay" deceased historical heroes and icons who can no longer defend their good name — like Abraham Lincoln and the Apostle John — even Jesus Christ Himself;
In the name of "fighting HIV/AIDS," they promote homosexual behavior, while obfuscating the clear role of such behavior in spreading the disease, thus putting new generations of men and women at risk. Meanwhile, the special health risks of homosexual acts are rarely discussed;
Folks, we cannot retreat in the face of such evil. If America surrenders in the ongoing "Culture War" over homosexuality and gender confusion, we will suffer the fate of Canada and Great Britain and other countries, where the "freedom to be moral" — that is, to follow God and His teachings in the Bible — becomes illegal and the government becomes a tool to promote homosexuality, even to young children.
As a great abolitionist once said, eternal vigilance is the price of liberty: each of us has a stake in defending truth and preserving our freedoms.
We at AFTAH will happily endure the homosexual activists' childish insults and innuendos, their vindictiveness and hateful diatribes — even their violent threats — because we know our cause is just. They would make our loving Heavenly Father out to a liar, claiming that homosexual, bisexual, and "transgender" "orientations" are a "gift from God." We must expose and confront such lies, which are taking hold in the culture, especially among young people.
Will you help keep Americans for Truth  in the battle for truth and God's morality by giving a tax-deductible donation of $100 or more? We need 100 supporters to give $100 towards our goal of raising $150,000 by year's end. AFTAH is on the front lines in the struggle for the soul of this great nation that God has so richly blessed, even as we as a people stray from Him. Click HERE to make an online gift using your VISA or MasterCard, or make a donation using Paypal (which also accepts American Express and Discover) HERE. Or send a check to Americans For Truth to:
AFTAH

P.O. Box 5522

Naperville, IL 60567-5522
Thank you for standing with Americans For Truth against the cultural bullies who spend tens of millions of dollars every year on their immoral agenda. God bless you.
Sincerely,
Peter LaBarbera
President, Americans For Truth
"Be on the alert, stand firm in the faith, act like men, be strong. Let all that you do be done in love." (1 Corinthians 16:13; NASB) 
P.S.  For those of you who would like to order a DVD of Americans For Truth's banquet, speakers, please designate that information on the online donation form. Here's the ordering information:
To order a complete DVD (or CD) of both Charlene Cothran's and David Parker's outstanding talks, make an online donation of at least $25 postpaid to Americans For Truth (please use the online form to specify '2007 Banquet DVD'. You can substitute an audio CD but you must request this specifically. Bulk Orders available (all postpaid): 2 for $40; 3 for $55; 4 for $70; add $10 for each additional DVD or contact us (630-717-7631) for large bulk order pricing.