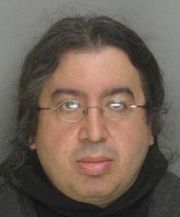 Convicted homosexual possessor of child pornography and confessed "boy lover" Nelson Garcia (see www.wikisposure.com/NG) spews lies and hate against Americans For Truth founder Peter LaBarbera.  Garcia didn't like our recent fundraising appeal.  This is Garcia's mug shot from the New York sex crimes database. 
Dear Americans For Truth Readers,
 
When you are in the business of fighting a sin-based movement, you come under attack from some pretty wicked and unsavory forces.  We're used to that here at AFTAH.  But when a "boy-loving" homosexual militant who has been convicted of possessing child pornography comes after you with lies and hateful accusations, we put that in a special category.  After our appeal Wednesday for financial help, a homosexual activist operating under his "NG Blog" attacked me and Americans For Truth with a lie-filled post accusing us of "groveling for money." 
 
Turns out that "NG Blog" is run by one Nelson Garcia, a New York City homosexual who was convicted of possessing child pornography.  Garcia is also a confessed "boy lover."  (See http://www.wikisposure.com/NG.)  'Boy-lover' is the twisted "gay" slang term used by the pederasty group NAMBLA, the "North American Man/Boy Love Association — which, by the way, once marched in big-city "Gay Pride" parades. 
 
Thanks to the good people at the Wikisposure Project — a branch of the Perverted-Justice Foundation, which exposes internet predators and pedophiles — Garcia's secret is out. Here is part of Wiksposure's post (http://www.wikisposure.com/NG) on our pedophile nemesis (emphasis added):
Nelson Garcia, aka NG, nlsngrc, and ng1260, would like the world to believe that he is merely an online gay activist. However, the reality is that he's a pedophile, and one who has been convicted of sex crimes. He has admitted to being a boylover, although he has not expressed his preferred AoA [Age of Attraction].
 
A regular poster on BoyBliss and Boylover.net, Garcia was arrested and charged following a series of online chats with an undercover police officer from New Hampshire. During the course of those conversations, Garcia transmitted pornographic images of pre-pubescent boys who were engaged in sexual acts. He was sentenced to one year incarceration with no possibility of early release and was ordered to register as a level one sex offender with the New York State Sex Offender Registry.

 

Currently Garcia spends most of his online time blogging as a gay activist, but it should not be forgotten that he is truly a boylover pedophile. [NOTE: we have removed the disturbing pedophile links from this excerpt; they can be found at http://www.wikisposure.com/NG.]

 
Talk about audacity: Garcia continues to advocate against laws restricting child pornography on his radical "NG Blog."   Moreover, he slanders pro-family advocates with outright lies, like calling me "Porno Pete" and parents rights advocate David Parker a "child abuser."  How sick is that?
 
Garcia is also part of the homosexual blogging community.  We'll see after Garcia's "boy-loving" criminal record becomes well-known how "tolerant" other "gay" bloggers will be of this unrepentant apologist for NAMBLA's agenda –who doesn't seem to have learned much from being busted on child porn charges.  We'll have more on Nelson Garcia in future posts at www.americansfortruth.org.  — Peter LaBarbera
P.S. Go HERE for more information on the anti-pedophile Wikisposure Project, including how to donate to this worthy effort.
TAKE ACTION:  Please help Americans for Truth protect children from the promotion of homosexuality with your tax-deductible donation of $100 or more  (go to www.americansfortruth.org/donate/), or whatever you can give.  Thank you to all those who have already given!  See below if you would also like to order our banquet video.
_______________________________ 
 
Order Charlene Cothran's and David Parker's Testimonies on DVD and support AFTAH!
Excellent teaching tool for young people who are being brainwashed to accept homosexuality!
 
To order a complete DVD (or CD) of both ex-lesbian Charlene Cothran's and parental rights hero David Parker's outstanding talks at the recent Americans For Truth banquet, make an online donation of at least $25 postpaid to Americans For Truth (please use the online form to specify '2007 Banquet DVD'. You can substitute an audio CD but you must request this specifically.
To order by regular mail, send your check or money order specifying "2007 Banquet DVD" (or CD) to: Americans For Truth, P.O. Box 5522, Naperville, IL 60567-5522.
Bulk Orders available: 2 for $40; 3 for $55; 4 for $70; add $10 for each additional DVD or contact us (630-717-7631) for large bulk order pricing.
This article was posted on Friday, November 16th, 2007 at 3:56 pm and is filed under
Activists
,
Authors & Journalists
,
Hateful Homosexual Attacks on Ex-Gays
,
Homosexual Hate
,
Homosexual Hate Speech
,
Homosexual Pedophilia & Pederasty
,
Homosexual Quotes
,
Mental Health
,
NAMBLA
,
New York
,
News
,
Youth and School Related Organizations
. You can follow any updates to this article through the
RSS 2.0
feed.