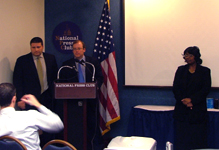 Click HERE to watch an online video of Americans For Truth's press conference in Washington, D.C., calling on Nancy Pelosi to take action against illegal nudity and perversion taking place on the streets in her district.
Our good friends at Concerned Women for America (CWA) have have graciously posted an online video of Americans For Truth's Dec. 5 press conference at the National Press Club in Washington, D.C.  At the event, we showed our video exposing the illegal behavior involved in the sadistic "Folsom Street Fair" in San Francisco — and called on House Speaker Nancy Pelosi (D-San Francisco) to denounce it and take measures to stop such illegal activity in the future. Note that our six-minute video of uncensored footage from Folsom is not included in the online video.
As we expected, the major media was a no-show at the event, although FOX's Hannity & Colmes the Michael Savage Show later covered it.
CWA's Matt Barber (an AFTAH Board Member) spoke at our event; Barber first broke the story about Folsom's anti-Christian promotional artwork, which Speaker Pelosi has refused to denounce. Also shown speaking at the Press Club event are Americans For Truth President Peter LaBarbera and Grace Harley, representing PFOX (Parents and Friends of Ex-Gays and Gays). Harley is a Christian woman who came out of "transgendered" lifestyle.  Click HERE to view the press conference.
This article was posted on Friday, December 28th, 2007 at 9:27 am and is filed under
Candidates & Elected Officials
,
Homosexual Hate
,
Homosexual Hate Speech
,
Homosexual Pride Parades & Festivals
,
Media Promotion
,
News
,
Politicians & Public Officials
,
Public Indecency
,
San Francisco
. You can follow any updates to this article through the
RSS 2.0
feed.