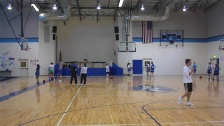 Cal Lutheran's gym: the high school was sued for expelling two alleged lesbians. Their attorney argues that the Christian school should be treated like a business, and adhere to the state's homosexual "nondiscrimination" laws.  
Note below how the alleged lesbians' attorney calls the Lutheran school a "business" that must adhere to California's pro-homosexual nondiscrimination laws. It is foolhardy to argue that such laws do not war against religious freedom — the litigious evidence is all around us. So it now becomes a battle over priorities: many "gay" activists believe their homosexuality-based "rights" — a trendy legal concept dating back a few decades, based on supposedly innate and unchangeable "orientation" — take precedence even over religious schools' faith creeds. However, religious freedom dates back to the founding of this nation. Certainly, preserving America's "first freedom" must take priority (the lesbians are free to form their own school if they wish).
Also, consider how a federal ENDA law (Employment Nondiscrimination Act) would open schools in states without "sexual orientation" laws to similar lawsuits in federal courts. — Peter LaBarbera 
WorldNetDaily.com, which is to be commended for its vigilance in covering these matters, reports (emphasis added):
Lesbian suit against Christian school tossed
'No triable issues': Academy's right to expel 2 girls in 'relationship' confirmed
© 2008 WorldNetDaily.com, Jan. 25, 2008
A California judge has ruled that Christian schools can set standards for behavior for their students, and impose penalties if they are not met.
The decision comes from Riverside County Superior Court Judge Gloria Trask, who found 'no triable issues' on claims that a Christian school discriminated against two girls because of their perceived sexual orientation, according to a report in the North County Times.
Trask recently dismissed the claims made against California Lutheran High School in Wildomar by the two girls and their parents.
The case developed in 2005 when the girls, members of the junior class, were expelled after school officials noticed behavior by the two that may have indicated a lesbian relationship.
The lawsuit filed by the girls and the parents then alleged the California Lutheran High School Association –– which oversees operation of the Wildomar school –– engaged in discrimination, invasion of privacy and unfair business practices in its handling and ultimate dismissal of two juniors.
The students were summoned into the office of Principal Gregory Bork, the lawsuit claimed, where Bork "individually and separately interrogated the (students) in a closed room, without the parents" knowledge or consent … and asked (them) inappropriate and personal questions such as whether they loved one another and were lesbians.'
"In such a manner, Bork coerced one of the (students) to admit that she 'loves' the other," a court document stated.
The next day, the parents received a phone call from Bork informing them the board had decided to expel the students. One day later, the parents confronted the principal in person and by phone and were told the two girls could not remain at school "with those feelings."
Bork also wrote a letter to the parents stating "while there is no open physical contact between the two girls, there is still a bond of intimacy … characteristic of a lesbian [relationship]. … Such a relationship is unchristian. To allow the girls to attend [Cal Lutheran] … would send a message to students and parents that we either condone this situation and/or will not do anything about it. That message would not reflect our beliefs and principles."
The students, identified in the lawsuit as Jane Doe and Mary Roe, were expelled in September 2005 for "engaging in homosexual conduct in violation of the Christian Code of Conduct, including but not limited to, posing for pictures in suggestive sexual positions."
Lawyers for the students argued the school is not a religious institution but a fee-taking organization.
But they were opposed by other lawyers, from the Christian Legal Society and the Alliance Defense Fund, who argued on behalf of the school, because the decision could affect members of the Association of Faith-Based Organizations.
"Christian schools have the right to make admissions and disciplinary decisions consistent with their Christian beliefs," said Timothy J. Tracey, a litigation counsel for the CLS. "To subject Christian schools to liability under the California anti-discrimination laws for expelling students who engage in homosexual conduct flatly violates this right."
"The 14th Amendment protects the right of parents to send their children to a private religious school that shares their religious beliefs," the arguments said. "The United States Supreme Court has long recognized the existence of parents' right to direct their children's education."
"These parents have chosen to send their children to private Christian schools because of the unique Christian mission and values espoused by the schools. Compelling the schools to condone extramarital sexual conduct contrary to their values and beliefs eliminates a primary reason why parents choose to send their children to these Christian schools in the first place – having their children educated and mentored from a distinctly Christian perspective," the court filings said.
"The state may govern the 'basic requirements' of private schools, through licensing and reporting requirements, but 'it cannot unreasonably interfere with the teaching and educational philosophies of such schools,'" the argument said.
The First Amendment's Religion Clause also prevents state anti-discrimination laws based on moral behavior from applying, the attorneys argued.
Attorney Kirk Hanson, representing the students, said he would appeal the dismissal of the case. He said he'll continue to argue the school is a business and must abide by state discrimination requirements.
"That's (appeals court) where this case would have ended up regardless," Hanson told the newspaper. "Win or lose at the trial level, the case is going to be in front of a court of appeal."
But John McKay, a lawyer for the school, said, "The First Amendment gives Christian schools the right to educate children on the [basis] of Christian beliefs. We're right on the First Amendment [regarding] free association."
On a forums page at the newspaper's Internet site, 'Edward,' supported the decision.
'It's not right to enroll in a school that has certain defined beliefs and rules, and then decide you don't want to comply,' he wrote. 'Simply enroll in a different school that closer matches your idealogy [sic]. Don't sue to try to make the existing school what you want it to be.'
'This was obviously an attack by the 'diversity' crowd on another religious institution," added 'Watch out.' "They are dead set on destroying any mention of or exercise of religious freedom."
And Peter added, 'Think, people, think …. If you as a parent sign on a dotted line accepting the rules of the private school, then disciplinary action against your son or daughter should be expected when they break the rules. Face the consequences and move on."
This article was posted on Friday, January 25th, 2008 at 12:50 pm and is filed under
A - What does the Bible say about homosexuality?
,
Christian Persecution
,
Court Decisions & Judges
,
Current State Law
,
Diversity & Tolerance Propaganda
,
Freedom Under Fire
,
GLBTQ Lawsuits & Retribution
,
GLBTQ Targeting Youth and Schools
,
Government Promotion
,
News
,
The Bible, Churches, & Homosexuality
,
Youth and School Related Organizations
. You can follow any updates to this article through the
RSS 2.0
feed.