Rush Limbaugh cites Americans For Truth; honoree's book touts 'consensual slavery'; LaBarbera calls on DNC to demand return of contribution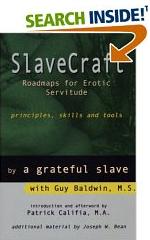 National Gay and Lesbian Task Force "Leather Leadership Award" honoree Guy Baldwin is the "co"-author (with "a grateful slave") of "Slavecraft: Roadmaps for Erotic Servitude; Principles, Skills and Tools." The book advocates "consensual slavery." Will the DNC demand a return of its at least $2,500 donation to the Task Force, whose "Creating Change" conference in Detroit honors Baldwin? Or is the party that overwhelmingly receives the most support from African Americans comfortable with the idea of celebrating and sexualizing "slavery"? This is one form of deviant play-acting that mocks Black descendants of REAL slaves whose servitude was certainly not "consensual," and trivializes an awful chapter in America's history. You can listen to the AFA 'One News Now' report on the DNC-sadomasochism story by click HERE and then clicking "Hear Report."
Well, folks, the Party of Perversion is at it again. This time the DNC (Democratic National Committee) — as a member of the National Gay and Lesbian Task Force's (NGLTF) "Leadership Council" (Advocate's Circle) — gave at least $2,500 to the Task Force, whose "Creating Change" conference in Detroit is presenting its "Leather Leadership Award" to Guy Baldwin, an advocate of "erotic" and "consensual slavery." How sick is that?
We at Americans For Truth call on the DNC to demand their money back from the NGLTF — or they are complicit with the homosexual Task Force in glorifying this disgusting, sadomasochistic perversion that belittles the forced suffering of African Americans under slavery.
The following story from our good friends at American Family Association's One News Now — based on our initial story about 2008 Creating Change — was mentioned by Rush Limbaughon the air today. More posts on the Task Force's über-deviant "Creating Change" conference will follow. — Peter LaBarbera
CONTACT THE DEMOCRATIC PARTY: through their website: www.democrats.org/page/s/contact, or by calling 202-863-8000 or 877-336-7200.
LISTEN ONLINE: You can listen to the AFA 'One News Now' report on the DNC-sadomasochism story by click HERE and then clicking "Hear Report."
One News Now reports:
Jeff Johnson – OneNewsNow – 2/7/2008 10:00:00 AM
The 20th annual meeting of the nation's second most powerful homosexual activist group is welcoming some new participants — and a very recognizable sponsor.
The National Gay and Lesbian Task Force is holding its annual "Creating Change" conference in Detroit this week. Its sponsors claim to have trained more than 30,000 activists since 1988. Peter LaBarbera with Americans for Truth About Homosexuality has reported on the event in the past. "It's essentially a grassroots training conference for homosexual, bisexual, transgender — and now, it turns out — sadomasochistic activists," says LaBarbera.
The event originally focused on homosexuals, but has expanded to include individuals who are convinced that they were born into the wrong sex. The event's handbook even addresses "transgender restroom etiquette."
"It says that, 'Each of us can decide for ourselves in which bathroom we belong,'" LaBarbera points out. "And, so, I mean, this movement is now getting so crazy that they can choose their own gender and then the restroom that matches that."
And LaBarbera says he is not sure if he is more surprised by one of the sponsors of the event or by one of the activists who will be honored. "It's incredible to me," he continues. "But the Democratic Party is endorsing an event where they're actually presenting an award for sadomasochism."
A sponsorship acknowledgement notes that the Democratic National Committee gave at least $2,500 to help pay for the event. The recipient of the "Leather Leadership Award" is Guy Baldwin, a psychotherapist who has successfully lobbied against treating sadomasochism as a mental health problem.