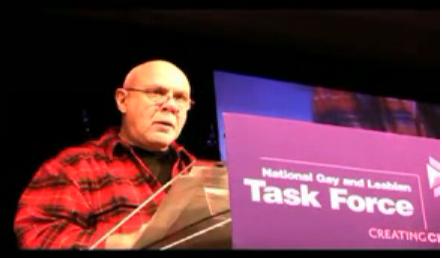 "Consensual slavery" and "leathersex" advocate Guy Baldwin addresses the National Gay and Lesbian Task Force's "Creating Change" conference in Detroit Friday, after receiving the homosexual group's "Leather Leadership" award. Baldwin is an expert on "master/slave relationships." This photo is taken from a brief YouTube video of his speech.
Just in case you thought we were making it up that the National Gay and Lesbian Task Force, one of the two leading homosexual activist organizations in the United States, presented an award for sadomasochism advocacy, here is the text of the NGLTF's e-newletter Feb. 9 on its grassroots "Creating Change" conference:
Guy Baldwin Receives Leather Leadership Award 

Guy Baldwin received the Leather Leadership Award today [Feb. 8] for his longtime work on behalf of the leather community. Mikel Gerle, International Mr. Leather 2007, presented the award to Baldwin, a Los Angeles-based psychotherapist, author and activist on behalf of "erotically uncommon people." Accepting his award, Baldwin talked about how our community needs to be united against agents of intolerance. Watch here.

In 1987, Baldwin launched the DSM Project to mobilize mental health professionals worldwide to press for changes to the official clinical definitions that had long been used to label leather people, gay and otherwise, as pathological. The DSM Project succeeded with the publication of new and substantially improved language in 1993 in the Diagnostic and Statistical Manual of Mental Disorders (DSM).