They need an office like this to offer relief when a conservative who doesn't know his place speaks out.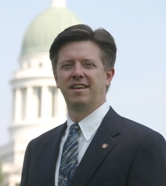 Mike Heath was accused of "hate speech" for relating Jesus Christ's warning in the Book of Matthew (18:6) of God's punishment for those who cause innocent children to sin. Heath made his comment while opposing a middle school's plan to dispense birth control pills without parental permission.
The following column ran Feb. 29 in the Portland [Maine] Press Herald. To read the entire column, click HERE. Mike Heath, in addition to being a truly Great American, is executive director of the Christian Civic League of Maine and Chairman of the Board of Americans For Truth:
By M.D. Harmon, Portland Press Herald
— The head of the state's least-known government office pushed the intercom button summoning his chief assistant.
"Raul, come to my office, would you?" he asked. "We've just been handed a very important case and I need your advice on it."
"Be right there, chief," came the reply, and a minute later the top aide to the director of the Maine Bureau of Public Censure stepped into his superior's office.
"Close the door, Raul," said the director. "I need your discretion on this one."
"What's up, boss? Usually you let me handle most things on my own."
"True, but this is a very special case. It's a 502-AS."
Raul let out a low whistle. "Gee, a Committing Christianity in Public complaint, boss? And elevated to Aggravated Status, too! We don't get very many of those these days."
With a sigh, the director settled back in his chair.
"You're right, Raul, but this came from the highest possible outside source, and it's particularly egregious. It's Designated Offender No. 1 again."
A dark look came into the aide's eyes, and between compressed lips he spat out the hissed name, "Heath!"
"Yes," his boss confirmed. "He really stepped over the line on this one, and we've really got to make an example of him once and for all."
"I assume we can dispense with the usual assumption-of-innocence-until-proven-guilty garbage with him again this time, right? Boy, I wish we were in Canada, where people like this can be fined, or forced to take re-education courses, or even tossed in jail." Continued…
Click HERE to read the rest of the column