WARNING: VULGAR OFFENSIVE LANGUAGE — UNEDITED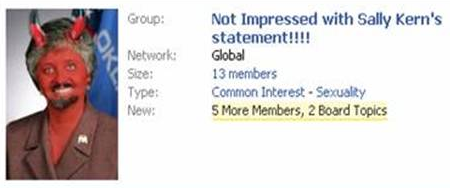 Above, a Facebook post paints Oklahoma State Rep. Sally Kern as Satan. The following are among the hate-filled e-mails sent to Kern's legislative office since a homosexual activist group published an edited speech she gave critical of homosexuality. E-mail addresses have been removed: CLICK THE LINK BELOW TO READ SOME OF THE AWFUL HATE MAIL SENT TO REP. KERN:
From: gary
Sent: Saturday, March 08, 2008 6:27 PM
To: Sally Kern
Subject: so
I heard what you said and you should be killed you stupid cunt bitch! along with George W. Bush! Christianity is the cancer in our society and should be eliminated!
* * *
From: WkngW[–]@aol.com
Sent: Monday, March 10, 2008 5:57 PM
To: Sally Kern
Subject: YOU ARE A HOMOPHOBIC DIPSHIT YOU FUCKING CUNT DIE
* * *
From: Paul Petrowsky
Sent: Monday, March 10, 2008 6:15 PM
To: Sally Kern
Subject: You are a stupid CUNT DYKE take the stick out of your old ass dumb bitch
You're a horrible person who deserves to burn in hell. Go eat ur closeted girlfriends loose old vagina, stupid bitch looking like a cheep crack whore. Go suck some dick for money or friends WHORE *kisses* you stupid dyke
* * *
From: Jackson, Gabrielle
Sent: Wednesday, March 12, 2008 6:02 PM
To: Sally Kern
Subject: I ABSOLUTELY & COMPLETELY LOVE
Importance: High
Religious hypocrites like you, especially when they have pickle-kissing offspring!!! Vaya con Dios, you stupid cunt.
Gabrielle Jackson
[Jackson of Los Angeles sent this hate mail using her corporate e-mail account; at their request, we have removed the corporation's name. The company was unaware that Jackson sent the email in this way, and was deeply embarrassed by the incident.]
* * *
From: BillL
Sent: Monday, March 10, 2008 5:30 AM
To: Sally Kern
Subject: WHAT?
What the eff is your problem??? Were you dropped on your head as an infant or are all republicans as mentally retarded as you obviously are??? You homophobic buttkiss. READ THE CONSTITUTION YOU NAZI FREAK!!!! HELLO!!! 14th amendment is calling, READ IT YOU MORON!!!!!!!!!!!!!!!!!!!
* * *
From: Ed Jones
Sent: Sunday, March 09, 2008 3:25 PM
To: Sally Kern
Subject: Your Gay Tirade
What a bigoted moron you are. You'll have to answer to your creator some day for being such a hate filled, lying idiot. You would have made a great Nazi if you'd only have been born earlier.
* * *
From: bobuddy
Sent: Saturday, March 08, 2008 5:24 PM
To: Sally Kern
Subject: We All Have Heard.
First of all,
Let me start by saying, I am thrilled to know that you are being outed publicly for your wrong doing, and closed minded state of mind. You're a disgusting human being, and you will receive no respect, from the state of Oklahoma.
I am truely [sic] ashamed that a closed minded piece of garbage like yourself represents Oklahoma.
Realize that one day, Gay's [sic] will dominate this world.
Which will be a blessing, because there will be more peace, justice, and less of pig's [sic] like yourself.
Please, go kill yourself.