Vicious activists even falsely accused her son of being homosexual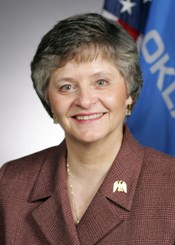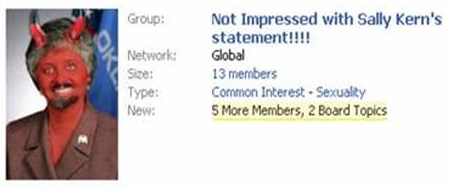 Pro-homosexual activists have targeted Oklahoma State Rep. Sally Kern (R) with a hate campaign because she spoke out strongly against the homosexual activist agenda. Above, a Facebook post paints Kern as the devil. A "Queerty" blog went so far as to accuse her son "Jesse" of being a homosexual with a sex criminal past — but the Jesse Kern in question was not her son, who would have been only 12 at the time of the crime.
TAKE ACTION: Support Rep. Sally Kern by writing [email protected] or calling (405) 557-7348; write St. Representative Chris Benge, Speaker of the House ([email protected]) or call (405) 557-7340 to defend her against the nasty hate campaign against her orchestrated by homosexual activists. Also, e-mail her fellow lawmakers to voice support for her by going to www.okhouse.gov: there is a list of Representatives with e-mails and phone numbers to the left of screen under House Membership. Share this story with your network of family and friends, and please pray for Sally and her family.
News Release, March 20, 2008
NAPERVILLE, Ill. — Peter LaBarbera, president of Americans for Truth, today condemned the unprecedented campaign of vilification against Oklahoma State Representative Sally Kern (R), which forced her to have a bodyguard and endure vicious smears against her –– and even her son's –– character based on an edited version of a speech that was put online by a homosexual activist group.
"The homosexual activist movement engages in hatred and mean-spirited attacks –– in the name of tolerance," LaBarbera said. "In the name of fighting discrimination, they are trying to destroy a good woman who voiced her Christian belief that activism based on immoral sexual conduct is destructive to America, and harmful to children. Homosexual militants have even sunk so low as to falsely accuse Kern's son, Jesse, of being a homosexual to embarrass her."
Kern said she has received 50-60 hate phone calls at her home — some at the wee hours of the night — while her husband, Stephen Kern, who pastors Olivet Baptist Church in Oklahoma City, has been falsely accused of being a Ku Klux Klan member.
About two weeks ago, the Gay and Lesbian Victory Fund published an edited video stringing together comments secretly recorded from a public talk Kern gave to supportive constituents in her Oklahoma district, in which she said, according to the (edited) recording, that:
"Studies show, no society that has totally embraced homosexuality has lasted for more than, you know, a few decades… I honestly think it's the biggest threat our nation has, even more so than terrorism or Islam. . . They are going after our young children, as young as two years of age, to try to teach them that the homosexual lifestyle is an acceptable lifestyle…. One of my colleagues said, 'We don't have a gay problem in our community'… well you know what, that is so dumb. If you have cancer in your little toe, do you just say that I'm going to forget about it since the rest of you is fine? It spreads! This stuff is deadly and it is spreading. It will destroy our young people and it will destroy this nation."
Regarding the comment on radical Islam, Kern did not call homosexuals "terrorists," as some homosexual activists have claimed, but used the comparison – as others have done regarding other societal problems – to make her point about the grave threat posed by unchecked homosexuality in the culture. (She touches on this point in her online interview with Concerned Women for America; click HERE for the interview, featuring Kern, CWA's Matt Barber, and AFTAH's LaBarbera.)
Kern told Americans For Truth that "perhaps my choice of the word 'terrorism' was not the best," but that her comments were meant to be applied to the culture (war), in this way: just as terrorists seek to destroy America, homosexual activists are destroying the moral fabric of this nation. Kern herself has proposed popular legislation in Oklahoma that would assert parental control over the distribution of pro-homosexual "children's" picture books in public libraries and student involvement in after-school pro-homosexuality clubs.
Said LaBarbera: "Rep. Kern is addressing a grave societal crisis caused by the ongoing, aggressive campaign to market destructive homosexual and gender-confused behavior as normal and good – especially to children. Many millions of Americans share her concerns, as do many Oklahomans – as evidenced by the state's overwhelming 75.6% vote in 2004 to protect marriage as between a man and a woman.
"How shameful for Oklahoma's journalistic community that they have allowed themselves to be used by the state's homosexual activists," LaBarbera said. "Imagine: cross the "gay" lobby's agenda rhetorically and within days reporters are quizzing you on your son's or daughter's sexuality. Only a movement that self-identifies as 'queer' would miss the irony in their vicious mistreatment and demonization of this woman, all in the name of 'tolerance.'"
[See story HERE where Kern's son Jesse denies reports that he is homosexual. Go HERE to see a vicious "Queerty" post defaming Kern's son, which mistakes him for another "Jesse Kern" (with a different middle name) who was charged with a sex crime — in 1989, when her real son would have been 12.]
In a radio interview, Kerns defended her statements as follows:
"To put this simply, as a Christian I believe homosexuality is not moral…you have the right as an American to choose that lifestyle, but I also have the right to express my views and my fellow Oklahomans have the right to debate these issues….

"A vigorous debate on an issue is not 'hate speech' – it's free speech. I have made clear my opposition to the agenda of homosexual activists, but I have never endorsed or supported any hateful action targeting individuals…"
Said LaBarbera:
"Rep. Kern clearly intended to educate her audience on the dangers that aggressive and escalating homosexual activism poses to this nation and her children. She and her family are now feeling this threat firsthand. Regarding her statement that "no society that has totally embraced homosexuality has lasted for more than … a few decades," Kern told AFTAH that she misspoke and meant to say 'generations' rather than 'decades.' Her view is consistent with that of the late, popular historian and philosopher Will Durant (an atheist), who cited Americans' growing acceptance of homosexuality as evidence that ours is a civilization in decline. And Durant died over a quarter of a century ago, in 1981, when the homosexual activist movement was much smaller than today, and homosexuality far less accepted in the culture."
More points on the Kern controversy:
No complete tape or transcript of the speech has been produced; why has the Oklahoma media relied on an edited video brought forth by a homosexual group out to destroy Sally Kern? Yesterday (March 19), a reporter told Kern that he received a transcribed copy of the full speech, but she still has not seen it;
Rep. Kern told AFTAH that she gave the (public) speech four times in her legislative district and never received a constituent complaint for its content;
Kern said that was surprised at the end of an interview on KOCO-TV (Channel 5) with the question of whether her son was "gay"; blind-siding a legislator with hearsay-based questions about her son's alleged homosexuality –– using false "leads" provided by homosexual activists eager to destroy her reputation –– cannot be within the bounds of ethical journalism;
On March 11, after her legislative seat-mate saw a hostile e-mail to Kern vaguely threatening physical violence against her, the Oklahoma Department of Public Safety assigned a bodyguard to protect her;
As of March 13, Kern had been inundated with more than 22,000 e-mails, most of them negative, and many hateful and/or vulgar; click HERE for a sample of the hateful, threatening emails sent to Rep. Kern. Homosexual activists also got a hold of her home email address and sent hundreds of hostile messages there as well;
In the edited YouTube (complete with pro-homosexual activists holding "We are listening" signs), Kern says she is not "gay bashing," yet the Gay and Lesbian Victory Fund (GLVF) outrageously sent the Oklahoma legislator an open letter noting the murders of Matthew Shepard and Lawrence King and stating that "your words give aid and comfort to those who would hurt, maim and even kill people who are different from you." We at AFTAH regard the GLVF's mistreatment of and false allegations against Sally Kerns as hateful in the extreme;
The Oklahoma legislator offered that if she ever learned that one of her children was homosexual, she would not stop loving him; in fact, she told Americans For Truth that in her near 20 years as a teacher, she loved students feeling confused about their sexuality more, not less, because she knew they would be more vulnerable to mistreatment than other students;
Kerns told AFTAH that when she said, "I honestly think it's the biggest threat our nation has, even more so than terrorism or Islam," she was speaking singularly and directly to the threat of radical Islamic terrorism. Ironically, many American Muslims share her viewpoint of organized homosexuality as a serious threat to marriage, children and natural family values, here in America and abroad. Many committed Muslims resent the promotion of homosexuality and other decadent values promoted by social liberals, secularists and libertarians in America –– immoral values that, sadly, are marketed to the world and which fuel depictions of the United States as a "godless" nation.
"Obviously, Sally Kern used the terrorism analogy to illustrate how grave a threat she believes the well-funded and highly organized pro-homosexual agenda poses to our culture — just as a pro-life leader might suggest that abortion threatens more American babies each day than the terrorist network," LaBarbera said. "Whether or not you agree with her on that point, she is correct in seeing the huge growth of homosexual activist power — and the promotion of homosexuality and gender confusion as the basis for healthy "identities" to impressionable children — as dangerous and destructive to this country."
He laid out some aspects of the homosexual/transsexual political, cultural, and sexual agenda that threaten our culture:
The GLBT (Gay, Lesbian, Bisexual, Transgender) movement is attempting to radically re-define marriage to accommodate immoral relationships; in Massachusetts, where they succeeded, public school teachers now are more aggressively teaching pro-homosexual lesson plans, even to the very young;
Some homosexual activists are crusading to allow "men who have sex with men" (and women who have had sex with such men) to give blood – as part of their crusade for "gay rights" – despite the warnings by FDA that this would pose a "small but definite increased risk to people who receive blood transfusion if the policy were changed";
Homosexual activists are waging a legal/political/cultural war against the Boy Scouts of America, demanding that Scouts allow homosexual scoutmasters against their moral creed — and smearing this noble organization while seeking to cut off all government support for the Scouts nationwide;
"Gay" groups and activists have encouraged the practice of promiscuous, unnatural — and even sadomasochistic — sex (e.g., by promoting the notion that anal sex can be "safe" and by failing to call for the closure of disease-spreading homosexual bathhouses in major cities). In doing so, they have helped spawn a modern plague (HIV/AIDS) that has prematurely cut short the lives of hundreds of thousands of men, while also placing women and other innocents at risk. "Men who have sex with men" continue to be at a grossly disproportionate risk for HIV and STDs like syphilis relative to their tiny population. Matt Foremen, outgoing Executive Director of the National Gay and Lesbian Task Force, admitted what most of the rest of the country knew already when he said, "HIV is a gay disease" –– yet homosexual activists would cry "Discrimination" if this same message were taught to schoolchildren, especially if students were taught to avoid homosexual acts to protect their health;
The GLBT "youth" movement – through organizations like GLSEN (Gay, Lesbian, Straight Education Network) — promotes homosexuality, bisexual and transsexuality as harmless "identities" to young people, thus putting children at tremendous risk. The result is widening youthful experimentation with "GLBT" behaviors and a plummeting of the average "coming out" age (when people publicly declare their homosexuality): some children now are even claiming that they are "gay," lesbian, "bi" or "transgender" before they become teenagers — while homosexual activists encourage the formation of "gay-straight alliance" clubs in middle schools across the nation. At present, we simply cannot know the effects of this unprecedented and reckless social experiment on our children and on society in general;
Even worse, the GLBT movement promotes homosexuality and transsexuality to our nation's very youngest students – toddlers and kindergartners included — equating homosexuality with "love" in the minds of the most impressionable, grade-school children. Meanwhile, these groups are working to break down children's natural opposition to homosexuality and establish "gay" activists as curricular role models in the classroom, while they simultaneously work to undermine parents' rights and ability to keep their kids away from such lessons;
The GLBT lobby has misappropriated changeable sexual misbehavior ("sexual orientation") as the basis for "civil rights," thus ripping off America's real, noble civil rights movement. According to their demonizing lexicon, even African Americans who oppose the homosexual agenda are classified as "prejudiced" "bigots" and "homophobes." The latter term especially illustrates the GLBT lobby's practice of stigmatizing morality advocates by equating their reason-based, historic Judeo-Christian belief system with irrational fear ("phobia") and reactionary "bigotry";
The upstart "Transgender" activist movement promotes gender confusion in the culture– including calls for corporate- and government- (taxpayer-) funded "sex-change" operations ("gender reassignment surgery"). More importantly, the "T" lobby works diligently to market its confused agenda to impressionable youth: In 2001, AFTAH President Peter LaBarbera witnessed a "transgender youth" conference in which 20-something women showed off their flat chests — f0llowing "chest surgery" operations that removed their healthy breasts to make them appear like the "transmen" they wanted to be. Liberal educationists and teachers — working with desperate and often naive parents — are bending to "transgender" advocacy, e.g., by allowing very young boys to come to school in female clothing. This further disrupts the classroom and helps corrupt and confuse normal students exposed to the activist gender anarchy;
The GLBT church movement s in the vanguard of the Left's assault on traditional Biblical sexual ethics, reinterpreting clear Biblical teachings to be pro-homosexual and labeling as 'haters, bigots and homophobes' Christians like Rep. Kern who dare to defend Judeo-Christian sexual morality in the public square. Homosexual theological revisionists avidly promote blasphemous historical absurdities such as that Jesus Christ was "queer" — or that Jesus and the Apostle John were "same-sex lovers" — while advance similarly preposterous and baseless fictions such as that homosexual "orientation" is a "gift from God";
GLBT legal and political groups are in the vanguard of pushing back Americans' religious, moral and speech freedoms to accommodate their "sexual orientation/gender identity" agenda (see point on the Boy Scouts). Through expanding "sexual orientation" laws – which essentially place the state in an enforcement role for one side of the moral debate over homosexuality – they and their judicial and political allies are slowly criminalizing the right of Christians and other traditionalists (including nonreligious defenders of morality) to act on or voice their opposition to homosexuality in the public square. The escalating oppression against Christians in nations like Canada and Great Britain is a harbinger of things to come in the United States if this agenda continues to achieve its goals.
This article was posted on Thursday, March 20th, 2008 at 9:57 am and is filed under
A - What does the Bible say about homosexuality?
,
Books & Required Reading in Public Schools
,
C - Heroes for Truth
,
Christian Persecution
,
E - Praying for the Lost
,
GLBTQ Targeting Youth and Schools
,
GLSEN
,
HIV/AIDS
,
Homosexual Hate
,
Homosexual Hate Speech
,
Media Promotion
,
News
,
Sodomy
,
The Bible, Churches, & Homosexuality
. You can follow any updates to this article through the
RSS 2.0
feed.