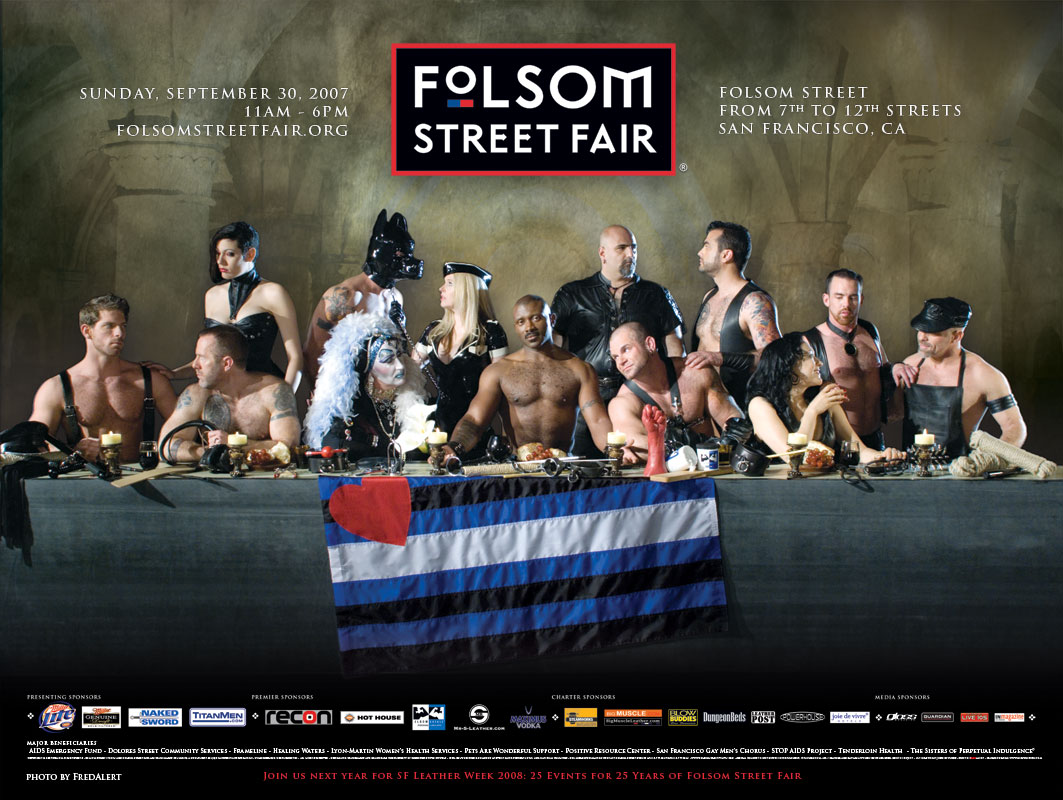 CLICK ON GRAPHIC TO ENLARGE. Unfortunately, this Folsom Street Fair Program Guide cover from last year is for real. House Speaker Nancy Pelosi (D-CA), who represents San Francisco, refused to condemn this Christianity-mocking artwork substituting sadistic "leathermen" and fetishists for Christ's 12 apostles in Da Vinci's Last Supper painting. Note that "sex toys" have replaced the traditional Last Supper dinner objects. The black-and-blue flag is the official "Leather Pride" flag — again, no joke.
On this day, April 1, we can't resist toying with the decidedly "queer" organizers who put together the annual sadism spectacle known as the "Folsom Street Fair," held in — where else? — America's own Sodom-by-the-Bay, San Francisco. (You can see a copy of their actual e-mail soliciting ads for their 2008 Folsom program at bottom.) For more on Folsom, see our photo-story exposing rampant public nudity and even homosexual orgies on the crowded streets at last year's Folsom event HERE.
And because we know that dedicated perverts (homosexual, bisexual, straight and [INSERT DEVIANT IDENTITY HERE]) are very serious about their perversions, we emphasize that the following ad rates are only an April Fool's Day joke.–Peter LaBarbera:
NEW FOLSOM ADS?
Nancy Pelosi "See No Evil, Hear No Evil" Panderer's Special 2/3 page ad — $600
Special "Crimes Against Nature" 1/2 pager — $400
4″ by 6″ ad attacking the Catholic Church — $200 or 3 for $500
4″ by 6″ ad poking fun at the Fundamentalists — $100 or 3 for $250 (bashing Catholics still draws more attention)
4″ by 6″ ad mocking Radical Muslims — UNAVAILABLE (what, are you crazy?)
Work your company's logo into our blasphemous Program Guide cover (guaranteed to ignite controversy, enrage decent folk and get you in the news) — $500
Half Off for Haters ad (you supply the hate, we supply the space); half page ad — $250
Taboo-Busting special: 5″ by 7″ ad featuring perversions heretofore unknown to mankind (must not copy previous year's perversions) — $550
Pure Evil Full Pager — $1,000
Corrupt Your Family Special: 4″ by 6″ photo of you and the kids – publish a snap shot of those cute little tots watching their first flogging (see children in photos from last year's Folsom HERE; idea courtesy of notorious homophobe Matt Barber of CWA) — $200 or 3 for $500
FREE AD CONTEST: How many religions (except Islam), traditions, and standards of decency can you offend in one ad? Most offensive entry gets FREE full-page ad
_________________________________
See below for actual Folsom e-mail:
Actual Folsom E-Mail:
This e-mail from the Folsom Street Fair organizers is real:
—–Original Message—–
From: Folsom Street Events [mailto:fse-pr@folsomstreetevents.org]
Sent: Monday, March 31, 2008 11:10 AM
Subject: Advertise in the Official Folsom Street Fair Program
Folsom Street EventsT has opened advertising sales for its full color,
80-page, magazine-style Official Folsom Street Fair Program Guide. The Guide
serves as a popular source of information, editorial and promotion for the
adult alternative lifestyle community. This coffee table collectible
functions doubly as a comprehensive guide to San Francisco Leather Week and
day-of-fair events, featuring photo pictorials, entertainment line-ups,
lists of local area leather/fetish venues and events, plus, of course, our
Fair Map.
The Guide has a considerable amount of advertising space available and
boasts a distribution that extends out of San Francisco to over 50 national
and international affiliates. The Guide promises premium visibility and the
highest quality of design. For 2008, our publisher is committed to upholding
this quality while further enhancing content and copy. See the Order
Form/Rate Sheet for pricing, graphic specifications and ordering
information. All Exhibitors receive a special discount!
The order form and rate sheet is available now on the web at:
http://folsomstreetevents.org/fair-program.php
Thanks,
Program Guide Committee
Folsom Street Events
This article was posted on Tuesday, April 1st, 2008 at 2:00 pm and is filed under
E - Praying for the Lost
,
Homosexual Hate
,
Homosexual Hate Speech
,
Homosexual Meccas
,
Homosexual Pornography & Film Festivals
,
Homosexual Pride Parades & Festivals
,
Leather
,
Mental Health
,
News
,
Physical Health
,
Public Indecency
,
Public Sex in Your Neighborhood?
,
San Francisco
. You can follow any updates to this article through the
RSS 2.0
feed.