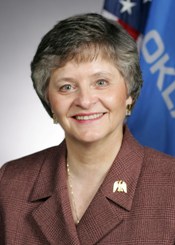 By Peter LaBarbera
It will be my privilege to stand tomorrow with Oklahoma State Rep. Sally Kern (R) at a grassroots "Rally for Sally" at the state capitol — to defend her against the vicious homosexual activist onslaught unleashed by those who confuse opinion with "hate speech":
DATE: Wednesday, April 2
TIME: 12:00pm Noon
WHERE: Rotunda of the Oklahoma State Building
2300 N. Lincoln Blvd., Oklahoma City Oklahoma
Dozens of pro-family groups and leaders outside of Oklahoma have come to Kern's defense, and she has not backed down, while demonstrating grace toward those who seek to destroy her.
Incidentally, the Gay and Lesbian Victory Fund — which launched the web campaign against Kern and alleged in a public letter that she is somehow partly responsible for the murders of homosexuals ("your words give aid and comfort to those who would hurt, maim and even kill people who are different from you") — conveniently edited out the part of her speech where she said that, "the book that I base my life upon is God's word. And it says to love everybody and I try to love everybody."
You can see below in this portion from the full Kern speech transcript where the GLVF stripped out that phrase — highlighted in red — from the half-sentence (in blue) that followed it, and which was used in the online "hit-recording" against Kern:
Now, I don't know about you, but the book that I base my life upon is God's word. And it says to love everybody and I try to love everybody but not everybody's lifestyle is equal. Just like not all religions are equal. Okay. All money isn't equal. You know, we have this dumb idea now days, that tolerance means that everything is equal. Well, everything is not equal. We see that in many areas of our lives. You know, all things are not equal. All religions are not equal.
So, you blind-side a public official with charge that her speech is of the sort that leads to heinous murders, but you leave out the part where she tries to follow God's command to love everyone? (Of course, the media engage in this type of selective editing all the time to make Christian conservatives and others look bad.)
Tomorrow's "Rally for Sally" rally begins at noon; after that I will be addressing the Oklahoma Conservative Political Action Committee. Pray for Saly and the rally's success. You can reach Rep. Kern at [email protected].
CWA Press Release, March 31, 2008
Free Speech Rally for Sally; over 50 Pastors organize rally to support besieged Oklahoma Rep. Sally Kern
DATE: Wednesday, April 2
TIME: 12:00pm Noon
WHERE: Rotunda of the Oklahoma State Building
2300 N. Lincoln Blvd., Oklahoma City Oklahoma
Washington, D.C. — On Wednesday, April 2, Concerned Women for America (CWA) will join over 50 pastors in Oklahoma City, Oklahoma, to rally support for State Representative Sally Kern (R-Oklahoma City) and her right to free speech. Recently, Rep. Kern has been under attack from radical homosexual activists and their followers over remarks she made regarding the homosexual agenda. Rep. Kern took a Biblical stand against homosexual activism and has refused to back down from her statements despite receiving death threats.
CWA applauds Rep. Kern for continuing to be steadfast and resolute in this fight against the homosexual agenda and for shedding light on the threat it poses to our nation. Rep. Kern has been quoted as saying that the homosexual agenda is dangerous "because it destroys the basic moral fiber of this nation, which is traditional marriage and the traditional family." She couldn't be more right.
Matt Barber, CWA's Policy Director for Cultural Issues, said, "There are certainly those who hate Rep. Kern. They've made that perfectly clear with vicious personal attacks and even death threats. But millions of Americans proudly stand alongside Sally Kern and say, 'Thank you. Thank you for boldly standing your ground and for unapologetically defending Biblical Truth.' They intended to make an example of her. They have, but not in the way they had hoped. She has set an example for millions of believers around the world. Her courage and refusal to deviate from God's unequivocal condemnation of sexual immorality is serving to galvanize and embolden others. People say, 'Well Sally Kern wasn't intimidated, why should I be?'"
CWA of Oklahoma State Director, Linda Caswell, said "Rep. Kern has exercised her right to free speech and has spoken boldly about the effects of homosexuality on our families and on our nation. We strongly encourage everyone to come to the rally and show your support for Rep. Kern. Let others know that we will not back down from taking a Biblical stand on the moral issues facing our state and our nation today."
Concerned Women for America is the nation's largest public policy women's organization.
–30–
This article was posted on Tuesday, April 1st, 2008 at 3:59 pm and is filed under
A - What does the Bible say about homosexuality?
,
Bullying & Victimhood
,
C - Heroes for Truth
,
Candidates & Elected Officials
,
Christian Persecution
,
Diversity & Tolerance Propaganda
,
Freedom Under Fire
,
GLBTQ Targeting Youth and Schools
,
Homosexual Hate
,
Homosexual Hate Speech
,
Media Promotion
,
News
,
Politicians & Public Officials
,
Sally Kern
,
The Agenda: GLBTQ & Activist Groups
,
The Bible, Churches, & Homosexuality
. You can follow any updates to this article through the
RSS 2.0
feed.