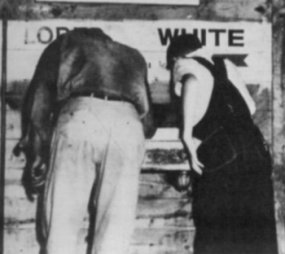 'Transgender' revolutionaries have joined their homosexual activist allies in ripping off the real civil rights movement. At left is a photo depicting Jim Crow racism. Racially segregated restrooms should never be compared to keeping gender-confused men wearing dresses out of public female bathrooms.
The following is excerpted from a report titled, "Peeing in Peace: A Resource Guide for Transgender Activists and Allies," produced by the Transgender Law Center, based in San Francisco (where else?). What an insult to the genuine civil rights movement that ended the institutionalized racism of Jim Crow (emphasis added):
C. Historical Bathroom Activism
Bathrooms have long been a place where people with authority, power, or wealth have denied access to other people. Over 150 years ago, only wealthy people could afford bathrooms in their homes and poor people were forced to use insufficient, non-hygienic public toilets. For far too long, public bathrooms here in the United States were segregated between "white" and "colored" facilities. "Colored" bathrooms, along with colored sections of restaurants and buses to name only two more instances, were less sanitary and convenient than "white" bathrooms. One of the hard fought victories of the Civil Rights Movement was the elimination of these "colored" bathrooms because it was determined that "separate" was never equal. Women working in the construction trades struggled in the 1970's to create women's bathrooms on job sites where before there had been only men's rooms. After decades of struggle, people with disabilities succeeded in passing the Americans with Disabilities Act in the 1980s, part of which included guidelines for the creation of accessible public bathrooms.

Despite all of the great work mentioned above, bathrooms continue to be unsafe for some people. Because of this, the work described in this guide is a continuation of the work of each of these past movements. One important thing that can be learned from past bathroom activism is that, unless we work on this issue with a variety of needs in mind the bathroom revolution will never work for everybody. [p. 3, "Peeing in Peace," Transgender Law Center, 2005]
This article was posted on Tuesday, April 22nd, 2008 at 4:10 pm and is filed under
04 - Gender Confusion (Transgender)
,
Bathroom Controversies
,
E - Praying for the Lost
,
Gender 'Fluidity' (Confusion)
,
Government Promotion
,
News
,
San Francisco
,
Stealing Civil Rights
,
Transgender Law Center
. You can follow any updates to this article through the
RSS 2.0
feed.