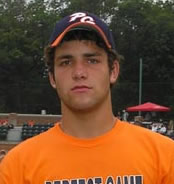 Brett VanAsdlen
WorldNetDaily in its story, "Teen facing 'hate crime' count over spat," picks up on our story yesterday on the "hate crimes" prosecution of Parkland College student-athlete Brett VanAsdlen. Click HERE to TAKE ACTION on this case. From the WND story:
Rona Lee VanAsdlen told WND in an interview today that she's been asked by legal counsel not to talk about the specifics of the case.

But she said the case is a trial for the family.

"We're just getting persecuted here, I guess, and we have to fight," she said. "I just ask for prayers. My son will really have to fight and prove his innocence."

She identified the state's "hate crimes" as the problem.

"This would never have even been an event if this was another heterosexual male and he had a conflict with, and that's just unfair," she said. "I am a conservative Christian, and my son is. All we are doing is asking for prayers and support from people that may be opposed to this sort of thing happening.

"This has just uprooted our whole life, and I don't know that it'll ever be the same. I don't know that, even if everything is dropped, that it'll ever be the same," she said.
This article was posted on Thursday, May 8th, 2008 at 9:19 am and is filed under
Christian Persecution
,
Freedom Under Fire
,
Government Promotion
,
Hate Crimes Prosecution
,
Media Promotion
,
News
,
The Bible, Churches, & Homosexuality
. You can follow any updates to this article through the
RSS 2.0
feed.