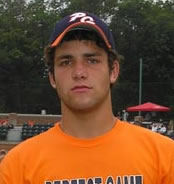 Concerned Women for America writes: "An altercation on a college campus leads to federal hate crimes charges against student Brett VanAsdlen despite the fact that all other charges stemming from the event were dropped. Matt Barber, CWA's Policy Director for Cultural Issues discusses this incident with Pete LaBarbera, President of Americans for Truth and Bob Knight, Director of the Culture and Media Institute, an arm of the Media Research Center."
Click HERE to listen online to the CWA broadcast, and HERE to download it. Click here for AFTAH's original story on the case: "Illinois Teen Faces Three Years Jail Sentence for Potentially Fraudulent 'Hate Crime.'"
In the interview, Knight calls Champaign TV station WCIA-3's initial story on the incident — in which reporter Amanda Evans interviewed only one side of the dispute — a "classic case" of media bias. More from Knight:
The message here is that there's a special class of victim. If a homosexual is involved in this equation at all, the media and the legal system are supposed to presumably come to the aid of the homosexual every time. And it's that selective victimization that you're talking about, Matt, that's so frightening.
This article was posted on Monday, May 12th, 2008 at 2:17 pm and is filed under
CBS
,
Christian Persecution
,
Current State Law
,
Diversity & Tolerance Propaganda
,
Freedom Under Fire
,
GLBTQ Lawsuits & Retribution
,
Government Promotion
,
Hate Crimes Prosecution
,
Illinois
,
News
,
Pro-Homosexual Media
. You can follow any updates to this article through the
RSS 2.0
feed.