By banning gay rights, Maine could allay the harm done to society by men with ties to our state.
by Michael S. Heath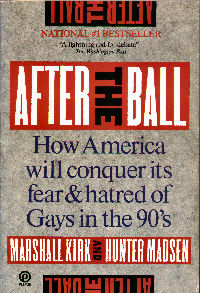 'After the Ball' put forth in 1989 a marketing plan to equate opponents of homosexuality with irrational and hateful bigots. Sound familiar?
The following column by Mike Heath, executive director of the Christian Civic League of Maine and Chairman of the Board of Americans For Truth, appeared in the Maine Sunday Telegram April 13, 2008:
The largest of rivers begins as a small stream. That small stream tumbles and rushes down from the heights, joining other streams and tributaries, until together, they form a great torrent that sweeps away everything in its path.
The ideas that change the world are like rivers. They begin in well-trained minds and merge with other ideas until they become an irresistible force for change – and sometimes, revolution.
One such idea began in the First Parish Church in Brunswick, Maine. There, Harriet Beecher Stowe conceived the idea of a book about the miserable lives of slaves in the South. The novel she went on to write, "Uncle Tom's Cabin," spread her ideas far beyond Brunswick, inspiring an entire nation to take up arms against slavery. In the hands of a quiet woman, writing in Maine, a simple idea grew into the cataclysm of the Civil War.
Another earth-shaking idea can be traced back to Maine, and that is the sexual revolution. This idea has proven as deadly as Harriet Beecher Stowe's idea was wholesome and life-giving.
The sexual revolution takes its name from a book written by Wilhelm Reich in 1929, called "The Sexual Revolution." Another title for Reich's book was "Sex in the Culture War."
Reich maintained that the ills of the world could be cured by eliminating conservatism, love of country and respect for authority. The best way to do this, Reich believed, was to undermine sexual morality. For Reich, and many others on the left, the sexual revolution was only a way station on the road to real revolution.
In later life, Reich spread his ideas from his 200-acre estate in Rangeley[, Maine]. The Wilhelm Reich Museum, dedicated to his work and teachings, is located in Rangeley, where it still attracts dedicated followers. It is a pity that Reich's ideas are not better understood, since they have done the world an enormous amount of harm.
Less well-known than Reich, but just as influential these days, is Marshall Kirk, a Harvard-trained researcher who was born in Norway, Maine. Kirk, who died [at the tender of age of 47–Ed.] in 2005, helped change society's perception of homosexuality as harmful – a perception based on common sense, reason and science – to a vague opinion that homosexuality is merely an alternative lifestyle.
A book co-authored by Kirk in 1989, "After the Ball: How America Will Conquer Its Fear and Hatred of Gays in the '90s," sets forth the strategy used to alter society's perception of homosexuals. According to this strategy, the media should "desensitize" the public to the perceived threat posed by homosexuals by "inundating the public in a continuous flood of gay-related advertising, presented in the least offensive fashion possible."
In addition, Kirk and Hunter Madsen recommended stigmatizing the opponents of gay rights as "bigots and homophobes." Kirk's and Madsen's ultimate goal was – in their own phrasing – "conversion." Conversion, as defined in this book, meant that society would finally accept homosexuality as normal.
Kirk, Madsen and their allies did convert much of society with their strategy of unrelenting propaganda and deception. The "gay-related" advertising envisioned by Kirk and Madsen is now part of the public school curriculum, and children as early as kindergarten are told that the homosexual lifestyle is healthy and normal.
Where great reformers like Harriet Beecher Stowe shone a spotlight on real injustice, men such as Reich, Kirk and Madsen relied on psychological manipulation and pseudoscience to lead the public into a shadow world lying somewhere between truth and falsehood, reality and unreality.
But no deception, no matter how skilled or sophisticated, can hide the devastation caused by the sexual revolution and its radical wing, the gay rights movement. Broken homes, child abuse, abortion and AIDS are the inevitable result of a false view of sexual morality.
The people of Maine must act quickly before the last phase of the revolution – "same-sex marriage" – is complete. If they fail to act now, the pandemic of sexual immorality would prove incurable, and the damage would be irreversible.
To that end, the Christian Civic League of Maine will address the homosexual rights agenda in a comprehensive manner, by initiating a referendum to ban same-sex "marriage," gay adoption, special rights and the interference of the gay rights movement in the public schools. I hope you will join with me in this noble effort to protect our families, our state and our nation.
Michael S. Heath is the executive director of the Christian Civic League of Maine.
This article was posted on Thursday, May 15th, 2008 at 12:33 pm and is filed under
A - What does the Bible say about homosexuality?
,
Government Promotion
,
Maine
,
News
,
Sexual Revolution
,
Stealing Civil Rights
,
The Bible, Churches, & Homosexuality
. You can follow any updates to this article through the
RSS 2.0
feed.