LaBarbera says Jay Bakker needs to repent for undermining the Word of God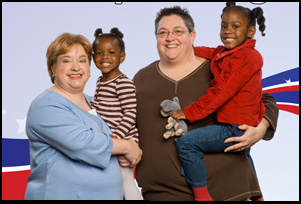 This lesbian couple traveling with Soulforce — the "Rasmus-Ford family" — says, "God created us [as lesbians] exactly as we are with purpose and intention." They are taking that false message to mega-churches across the country.
Press Release, Americans For Truth about Homosexuality
June 8, 2008; Contact: Peter LaBarbera: 630-717-7631; [email protected]
NAPERVILLE, Illinois — Americans For Truth President Peter LaBarbera today accused the homosexual activist group Soulforce of intimidating mega-churches like Willow Creek Community Church into a bogus "dialogue' to further its goal of persuading faithful Christians to reject age-old Biblical teachings that homosexual behavior is a changeable sin.
Soulforce activists are leading a pro-"gay" campaign called the "American Family Outing" in which they seek "peaceful dialogue" (on their terms) with five mega-churches across the country each Sunday between Mother's Day and Father's Day. This weekend they are targeting Willow Creek in South Barrington, Illinois.
LaBarbera said he was confident that Willow Creek and its pastor Bill Hybels would present Biblical truth in love to the visiting Soulforce contingent, but questioned the manipulative nature of Soulforce's tactics and their continued use of incendiary rhetoric – e.g., accusing Christians who defend ancient Biblical teachings against homosexual practice of "spiritual violence" against "gays."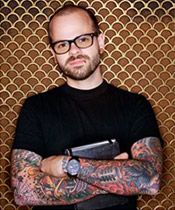 He said Jay Bakker (left) –– son of Jim and the late Tammy Faye Bakker –– who is traveling with Soulforce, needs to repent for promoting revisionist "queer" theology that runs directly counter to Holy Scripture. Bakker claimed in 2006, "I felt like God spoke to my heart and said [homosexuality] is not a sin."
"The truth is, Soulforce and Bakker are the ones guilty of doing violence — to the Word of God by using loaded words and false 'revelation' to argue that God does not oppose homosexual behavior," LaBarbera said. "Soulforce is wrong: you cannot be a faithful Christian and proudly 'gay.' However, many 'ex-gay' men and woman have left the homosexual lifestyle through the grace and power of Jesus Christ."
LaBarbera pointed to the words of one lesbian couple – the "Rasmus-Ford family," who apparently adopted two African-American children — traveling with Soulforce (emphasis added):
Fortunately, we didn't buy into the idea that being gay was wrong or would somehow make us displeasing in the eyes of God. We found each other knowing that God created us exactly as we are with purpose and intention. We now belong to Metropolitan Community Church of Austin and are showing our children that nothing they do could separate them from the love of God or from our love. … As mothers and as Christians, it is of paramount importance the Soulforce message is spread around the globe. The violence must stop. There are gay and lesbian people who believe they must choose between following Christ and living authentically in the truth of their being. We want to make sure our brothers and sisters in Christ know they were created in the image of the Creator. We are loved and cherished children of God. Nothing can change that fact.
"This statement is filled with so many falsehoods and anti-Biblical claims that it's difficult to know where to start," LaBarbera said. "First, God did not create women to be lesbians – or why would His Holy Word speak so clearly (in Genesis) about united man and woman in marriage and (in Romans) against lesbian behavior? Homosexuality is not the "truth" of anyone's being. Practicing sins like homosexuality DOES separate a person from God. And yes, people practicing homosexuality must choose between whether to go deeper and deeper into that sin or believe in the life-changing Gospel of Jesus Christ and leave it behind."
This article was posted on Sunday, June 8th, 2008 at 6:34 am and is filed under
A - What does the Bible say about homosexuality?
,
Activists
,
Adoption & Foster Parenting
,
B - Ex-Homosexual Testimonies
,
Bible
,
Biblical Truth
,
Christian
,
D - GLBTQ Pressure Within Churches
,
E - Praying for the Lost
,
Gay and Christian?
,
Homosexual Parenting
,
Homosexual Quotes
,
News
,
Queer Theology
,
Stealing Civil Rights
,
The Bible, Churches, & Homosexuality
. You can follow any updates to this article through the
RSS 2.0
feed.