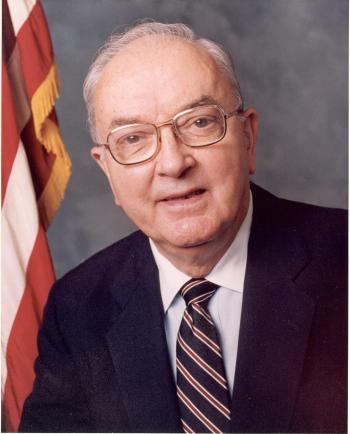 We're behind in our postings, including this and other tributes to the late, great American Senator Jesse Helms (R-North Carolina), who — like great patriots before him — passed into glory on the Fourth of July. The haters on the Left loved to hate Sen. Helms — homosexual activists even covered his Washington, D.C.-suburban home with a giant "condom" in one childish protest (more on that later) . But he was a better man than they could ever hope to be, as evinced by his sunny demeanor, which never matched their evil caricature of him. We will miss you, Senator Helms. — Peter LaBarbera
Marc Rotterman, senior fellow at the John Locke Foundation and a GOP consultant, writes:
Jesse Helms: American Hero
From Human Events, July 5, 2008
One of my fondest memories of Senator Helms was election night 1990 — when Senator Helms just defeated former Charlotte Mayor Harvey Gant.
Let me set the scene…
All the major networks had just "called the race" in Helms' favor. My wife and I, along with other Helms loyalists and aides, were in a hotel suite in downtown Raleigh watching the returns with the Senator and his wife "Ms. Dot."
Helms' supporters had gathered in the first floor ballroom along with all the NC press corps and other media from across the country and the world. As Dan Rather of CBS reluctantly "called the race" for Helms — I recall seeing a big grin coming over the Senator's face.
By now, the time had arrived to exit the suite and head downstairs so Senator Helms could once again graciously accept another six year term and thank the people for their supported. We all crowded into the elevator.
When we disembarked and we were immediately swamped by a phalanx of reporters and cameras. I, along with several members of Helms staff, formed a cocoon around the Senator and his wife — working to get them through the crowd to the stage and the awaiting microphones. The crowd was at "fever pitch" crying Jessse, Jesseee!
Helms — who understood the art of seizing the moment" better than almost any other public figure I have been associated with — paused after getting to the stage. He waited for the crowd to quiet down. Then, at precisely the right moment, Senator Helm's said in his Southern drawl…"I'd have been down here sooner — but I was watching the grieving face of Dan Rather as he announced my re-election to the United States Senate."
The crowd in the ballroom went nuts.
Click HERE to read the reast of Marc Rotterman's tribute, "Jesse Helms: American Hero"
This article was posted on Friday, August 1st, 2008 at 10:28 pm and is filed under
C - Heroes for Truth
,
Candidates & Elected Officials
,
Christian Persecution
,
Congress
,
Conservative Leaders
,
GLBTQ Lawsuits & Retribution
,
HIV/AIDS
,
Homosexual Hate
,
News
,
The Bible, Churches, & Homosexuality
. You can follow any updates to this article through the
RSS 2.0
feed.