OK for Denmark, but not for the United States of America
[Note to AFTAH readers: click HERE to watch the Congressional testimony of Elaine Donnelly of the Center for Military Readiness]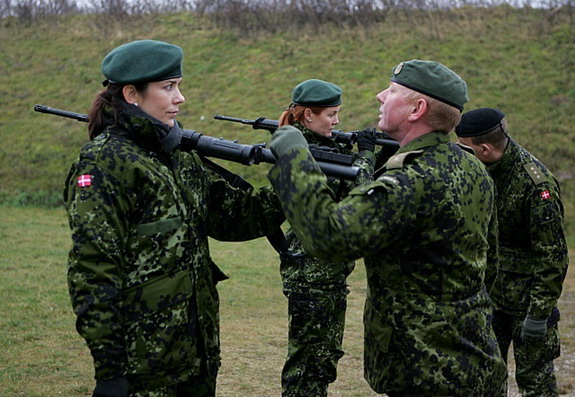 Crown Princess Mary of Denmark is shown here training with the Danish Home Guard (59,000 strong). Unlike Denmark, America's armed forces (1.43 million active duty members; 1.46 million in reserves) protect freedom the world over — and cannot afford the problems and distractions caused by politically correct social experiments like open homosexuality in the military.
By Jack Roeser
I'm a business owner now, and I was a private in the Combat Engineers, having volunteered in 1942 and served over three years at the bottom of a big army in a big war.
All this patty cake about "don't ask don't tell" or of just accepting homosexuals in the army doesn't take into account how that affects military life.
First of all, the army is not a democracy, it is all about accepting orders without a vote. Promotions or assignments are the prerogative of sergeants and officers. This power must be used with some restraint and fairness or the cohesiveness of the unit suffers. As a soldier you have to work together, perhaps with a lot of gripping, but you know there are unpleasant or dangerous things to do that someone must do, hopefully not you. Put a homosexual into that mix and you get trouble when he or his homosexual buddy get into the command structure. Thereafter promotions and assignments will be seen as affected by weird sexual influence. Fairness and respect suffer. Retribution of a very unfair sort may result.
Also, an army must inflict less than luxurious living conditions including sleeping in double deck bunks, in a barracks, showering en masse, eating from a mess kit, etc. In a peace time army conditions may be more effete, but we can't forget that armies are all about knocking the other guys down and destroying their stuff while they try to do it to you. Unit cohesiveness and a certain manly toughness need to be cultivated.
I once saw a picture of a Danish army squad. They looked more like bellhops. The joke about it was they could be conquered by a telephone call: "We're coming, do you surrender?"
A photo of a German platoon coming down a muddy road gave the conviction that these guys could be real trouble. That is a deterrent.
You don't fool around with John Wayne or the Marines. That is the deterrent we pay for in having an army. Homosexuals are a problem better left out.
The businessman in me must say that the whole concept of someone basing their identity on how they do sex, is repulsive. Adding the concept of "gay pride" to it is beyond rationality; that the schools and media try to tell us that the homosexual lifestyle is OK, is nuts. No one looks at their baby boy and says, "How wonderful, he can grow up to be a homosexual." That destructive path leads to diseases and a short life for the homosexual, and no grandchildren for the parents of a misguided sexual extrovert.
Yours truly,
Jack Roeser

Jack Roeser is an entrepreneur in business and politics. He is Chairman and founder of Otto Engineering Inc., in Carpentersville, Illinois which manufactures electronic control and communication switches for aerospace, medical and industrial uses. Previously, he started three other successful businesses which are now owned by large corporations.
In 1991, Jack was selected as "High Tech Entrepreneur of the Year" in Illinois. He was also chosen as an Outstanding Alumnus of the University of Illinois in 1996. A Pi Tau Sigma honors graduate of the University of Illinois in Mechanical Engineering, Jack holds over 50 patents in Electrical, Mechanical, Machinery and Marine products.
Jack enlisted in the Army in 1942 and served in the Combat Engineers in the South Pacific.
In 1994, he ran for Governor in the Republican primary, receiving 26% of the primary vote. He also served by appointment on Governor Edgar's Education Transition Team and Lamar Alexander's Education 2000 in Illinois.
For the past 25 years, Jack has been an advocate of education reform through the application of free market principles and of school choice. He lives in Barrington, Illinois with his wife Jeannine. His sport is sailing; he has won the Chicago to Mackinac race among many others.
After working as an engineer for several other reputable firms, Jack began his own engineering manufacturing company in 1961 with $5,000. He operated the business in Morton Grove for several years before moving it to Carpentersville.
Today, Otto Engineering is housed in a beautifully renovated campus on the east and west banks of the Fox River. Last year, Otto had over 500 employees and annual sales of over $79 million. Otto's success is marked by the high precision and quality of its products.
This article was posted on Tuesday, August 5th, 2008 at 12:22 pm and is filed under
Conservative Leaders
,
Denmark
,
Gay Rights vs. Others' Rights
,
Government Promotion
,
Military
,
News
,
Not with MY Tax money!
,
Pending Legislation
,
Sodomy
. You can follow any updates to this article through the
RSS 2.0
feed.