Will Speaker Nancy Pelosi push San Francisco Democrats to put an end to this law-breaking in her own district?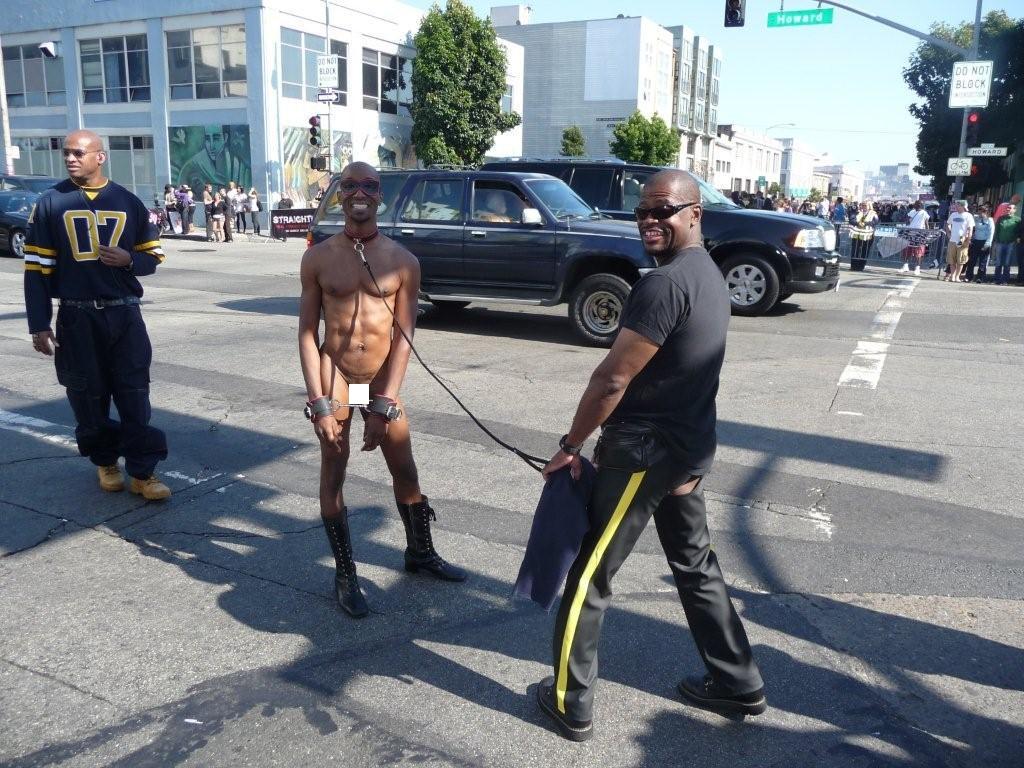 SLAVERY IS BACK — IN "PROGRESSIVE" SAN FRANCISCO (click on photos, twice, to enlarge). The "partners" in an African-American "master-slave relationship" mug for the camera (genitalia is covered up) outside the Folsom Street Fair in San Francisco Sept. 28, 2008. Note the leash and collar allowing the hand-cuffed "slave" to be led around like a dog. And the homosexual lobby and its leftist enablers call this return to (consensual) slavery "progressive"? (The second-largest homosexual organization, the National Gay and Lesbian Task Force — which has given large amounts of money to defeat the Prop 8 amendment to restore traditional marriage in California — gives out a "Leather Leadership Award" at its "Creating Change" conferences.)
Note that this public nudity occurred outside the police-protected boundaries of Folsom (see metal fence in background, blocking the street at an entrance point). San Francisco police — hence law and order — are totally compromised in this "queer" Mecca, where outlandish behaviors and various human degradations — including men urinating on and in one another — are celebrated as mere "orientations." Apparently it's no big deal in House Speaker Nancy Pelosi's (D) congressional district to see men strutting around the city completely naked — and Pelosi won't denounce it (or help to stop it) for fear of alienating her powerful homosexual constituency. We were told that there are other public events in San Francisco that "tolerate" full nudity — but Folsom alone joins that with its pornographic promotion of homosexual sex clubs and depraved, promiscuous behaviors (e.g., orgiastic "pig sex"), which constitute a public health hazard and help spread disease worldwide.
Folks, this year we thought it would be beneficial for other pro-family leaders and advocates to join Americans For Truth in venturing to the world's most famous "queer" Mecca, San Francisco, to observe the incredible goings-on at the annual "Folsom Street Fair." Folsom is a sadomasochistic street celebration occupying 13 blocks — featuring rampant full public nudity and public whippings — all countenanced by city officials and the SFPD, which also recruits at the "fair." Like last year, we witnessed sex acts on the streets, but a Folsom spokesman assured us that they are cracking down on that. Folsom is also the third largest outdoor event in California — drawing homosexual, heterosexual and bisexual people who are into various sexual "fetishes," such as the "master-slave" duo above.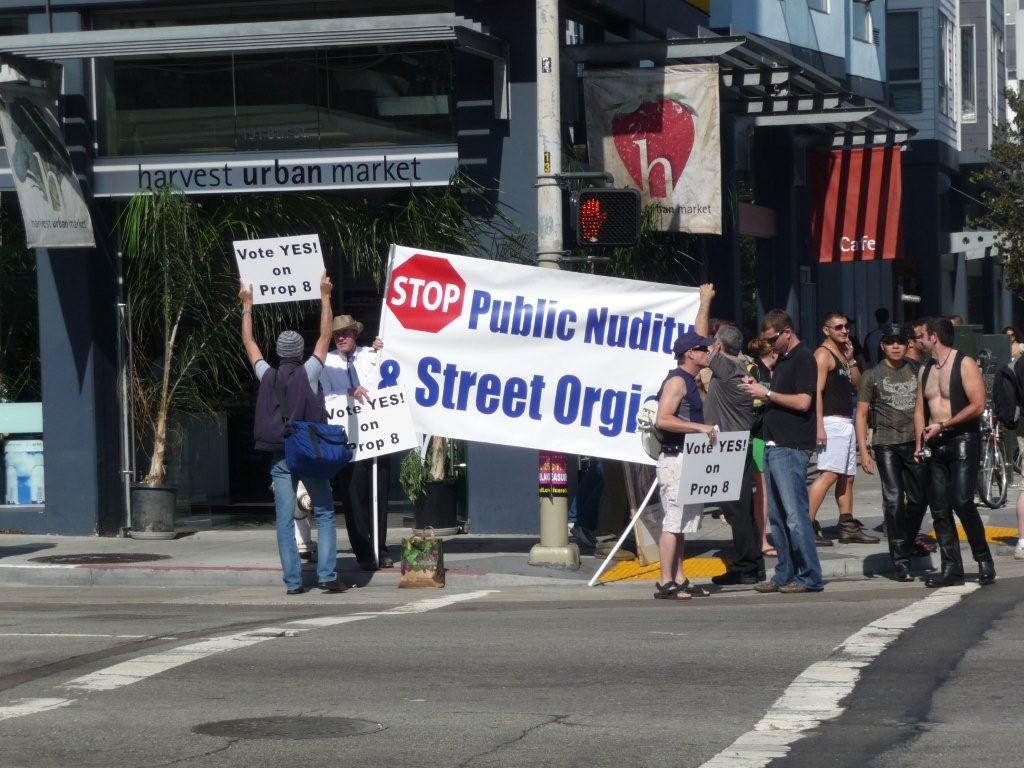 This was also the first year that we worked with other pro-family advocates to protest Folsom: the St. Joseph's Men Society fielded a few men with our sign across the street from one of the busy entrance points to the "fair." (See photo at right; St. Joseph's president Anthony Gonzalez is holding the "Vote YES on Prop 8 sign in his right hand while talking to a reporter.) Thanks to all who helped out at the protest and our coalition press conference — where we were shouted down by intolerant homosexual militants as police stood passively by.
As we've said many times, we find it newsworthy that this and another extreme "leather" event occur annually in the district of House Speaker Nancy Pelosi (D), who is third in line to President of the United States. Over and over we were told by San Franciscans (leather advocates and otherwise) that Folsom is just part of what makes this a uniquely tolerant and quirky city — and if we didn't like it, why don't we just stay away? The answer is that we want people across the USA and the world to understand what "tolerance" has become in this Democratic-led city — and where that "gay agenda" that homosexual activists keep telling us doesn't exist ultimately leads. Here is our friend Diane Gramley's account of what we witnessed. — Peter LaBarbera, www.aftah.org
_________________________________
Is This Headed for a Town Near You?
By Diane Gramley, American Family Association of Pennsylvania
WARNING:   Adult content
How does one put into words what I witnessed on Sunday, September 28th in San Francisco?  How does one explain men walking down city streets totally nude, bare-breasted and bare-bottomed women, public whippings and sex acts?  San Francisco's Folsom Street Fair was just as depraved as reports I'd read of past 'fairs.' Why would a city allow this to happen? We are told it's 'tolerance' that requires them to turn a blind eye to such depravity. Although they do not call it depravity, they call it being 'progressive.'  What new acts will 'tolerance' allow in the future?
Before we even entered the barricaded-off 13-block area we began encountering nude men.  It was somewhat refreshing to see two young men trying to escape the assault on their senses.  As they tried to slip down an alleyway to get away from the Folsom Street Fair area, they encountered a nude man who had just walked passed a San Francisco Police Department mobile command unit and returned to his van parked in the alleyway outside the fair.  One of the guys said, "Another nude dude.  Let's get out of here.  We don't need to be assaulted like this."  At the 'charity whipping' site, I also heard comments such as: "This is wrong."  "This just isn't right."  Not everyone agrees with all that goes on at the Folsom Street Fair.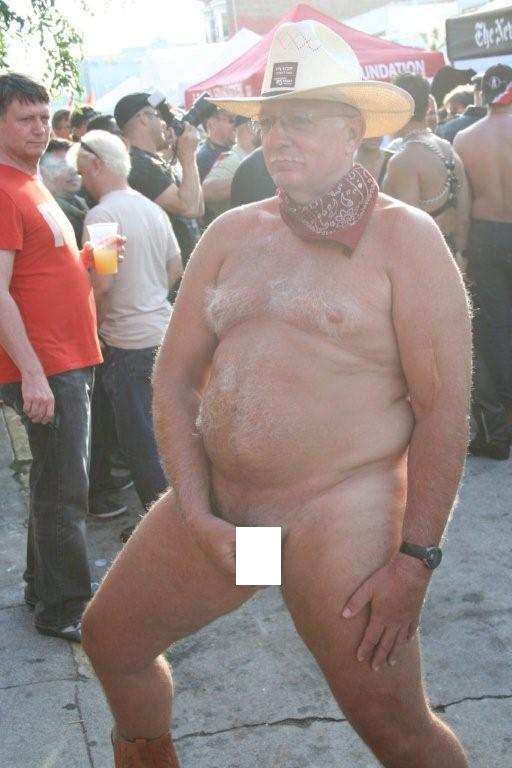 There were many youth at the fair, but also men and women 'who were old enough to know better.' We saw some children and a lot of people with their dogs, even though there was a warning against bringing children or pets because of the adult-oriented themes. I wondered why the organizers equated children and pets. There was also a sign at the main entrances which said "Nudity is Illegal."  Naked individuals walked right by, apparently without noticing the signs.  The San Francisco police stood by and did nothing. One 29-year-veteran of the force said during an interview that they were told to ignore what was going on.  "You don't know the political climate," he told us.
As Peter LaBarbera of Americans for Truth, Linda Harvey of Mission America and I snapped pictures and video footage, we approached the 'Pan's Devils' Horns' booth. That's where trouble began as some asked Peter if he was with the religious right. Peter answered, "Well, I'm not from the left."  At that point one man began following us shouting and pointing "This is the religious right. They've come to take our civil rights away. They are taking pictures. They want to shut down Folsom Street Fair. They want to ban same-sex marriage." He followed us for several blocks shouting and pointing, others were beginning to look our direction.  At one point he shoved Peter and Peter told him not to do that again or he'd call the police. We left the fair at the first exit we came to, then re-entered at another location to once again document the depravity. A side note here:  there were a lot of 'normal looking people' taking pictures.
Many heterosexual couples, both married and unmarried, attended Folsom Street Fair. There were many 'gay couples,' across the spectrum in age.  We were told that many bisexuals were there. Ironically, HIV prevention booths abounded – I guess they haven't read Centers for Disease Control reports which point to men who have sex with men as the category with the largest number of HIV/AIDS cases.  The CDC has also said that bisexuals are the bridge for AIDS into the heterosexual community.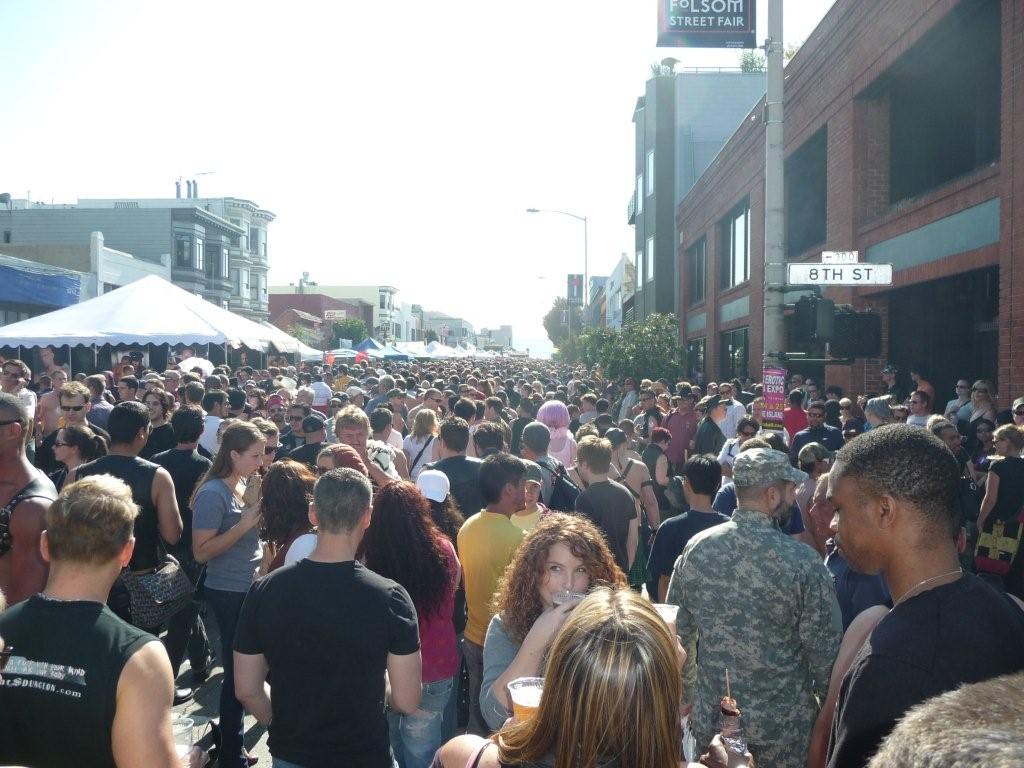 Additional booths included the San Francisco Public Health Department (two large penises were outside the booth and young women were lining up to have their pictures taken with them), there was a booth where one could get free Hepatitis A and Hepatitis B shots, the San Francisco Chronicle and New York Times had booths, PFLAG (Parents, Family and Friends of Lesbian and Gays) was also there.  Peter was able to get a picture of two naked men in front of the PFLAG booth. The San Francisco Police Department also had a recruiting booth right in the middle of all this illegal activity. There was a booth where religious sex toys were for sale.  Some of these were named God's Rod, Jesus' Baby Butt Plug and Jesus on the Cross.
I also noticed several "No on Prop 8" stickers being worn including by the attendant of the PFLAG booth.  Our detractors said there was no way we could connect the opponents of Prop 8 to Folsom Street Fair – I think they made the case for us.  Many Obama shirts and stickers were seen throughout the 'fair.'
Booze flowed freely and the smell of dope was everywhere.
For about the last hour Peter interviewed Susan Wright, the founder of the National Coalition for Sexual Freedom (NCSF) and the spokesperson for Folsom Street Fair. Linda and I both taped the interview.  Susan made the claim that for those involved in BDSM (Bondage, Discipline, Sadism, Masochism) it was their sexual orientation. In the future NCSF will work on getting BDSM added to sexual orientation laws.  (proof that the addition of sexual orientation to laws opens the door to special rights for those involved in more and more bizarre lifestyle choices)  She said that any sexual activity should be allowable between consenting adults. [Editor's note: Wright said that includes people who like to be urinated on and other revolting and unhealthy practices as part of their "consexual" sexual activity.–LaBarbera] Ms. Wright did not believe that those under 18 are able to consent and did not support efforts to lower age of consent laws.  She opposes child pornography, but other forms of pornography and obscenity are okay. Proposition 8 – the Marriage Protection Amendment — is strongly opposed by her.
How quickly America has fallen into this pit.  Susan Wright views today's BDSM movement as where the so-called gay rights movement was twenty years ago.  [A transcript of the Wright interview is forthcoming.] She is predicting that in that time span Bondage, Discipline, Sado Masochism will become a civil right protected by law. Can you imagine the sex ed classes of that day?  School children will be taught that, if your partner consents, it is okay to urinate and defecate on him or her; it's okay to whip or tie up your partner . . . anything goes as long as it is between consenting adults.  If a parent doesn't want their children exposed to those ideas, tough, they are infringing on the civil rights of those engaging in BDSM.
Pray for America.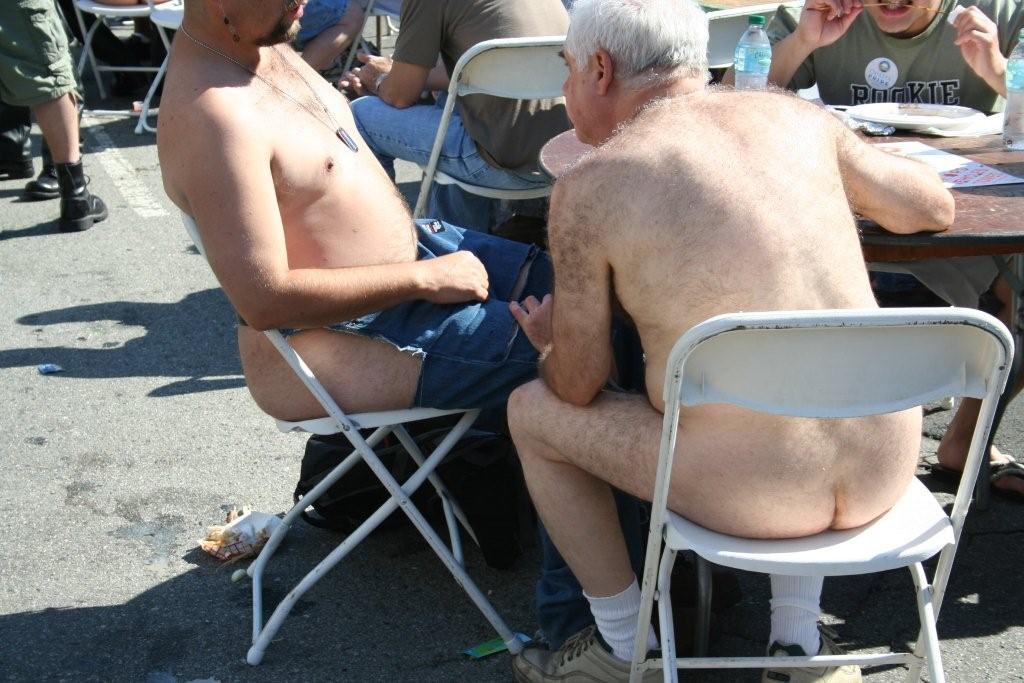 Lunchtime at Folsom.
This article was posted on Thursday, October 9th, 2008 at 1:39 pm and is filed under
A - What does the Bible say about homosexuality?
,
BDSM
,
Homosexual Pride Parades & Festivals
,
Leather
,
News
,
Politicians & Public Officials
,
Pornography
,
Public Indecency
,
Public Sex in Your Neighborhood?
,
San Francisco
,
Sodomy
,
Task Force
. You can follow any updates to this article through the
RSS 2.0
feed.