Special "rights" based on homosexual behavior, cross-dressing defeated by vote of 2,903 to 2,333; all five pro-family ballot measures against homosexual agenda nationwide victorious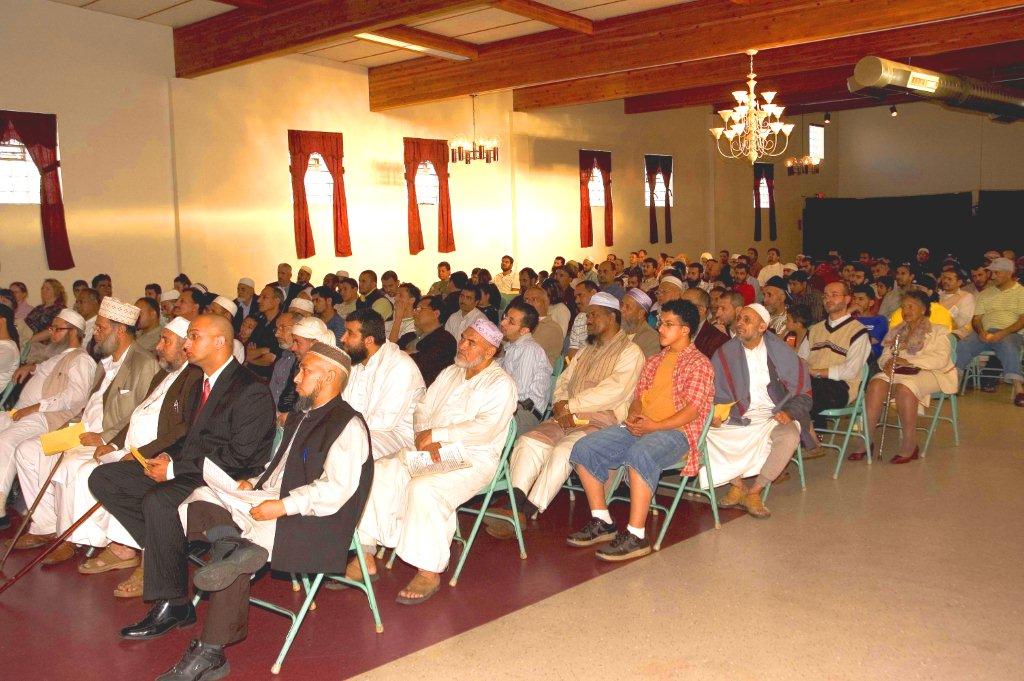 If the GOP or any party wants to reach minority and religious voters, it might consider the defeat of "gay rights" in Hamtramck, Mich. Here, Muslims and Catholics gather for meeting to defeat the Detroit suburb's "sexual oriention/gender identity" law. The multi-ethnic coalition rejected the homosexual measure by 55-45 percent — even though 87 percent of Hamtramck citizens voted for Barack Obama. (Did they know Obama favors enacting a federal version of the "gay/transgender" law?)
Election Results from Hamtramck, Michigan:

President
Obama: 4,945
McCain: 708
Obama wins with 87% of vote
Hamtramck "Gay Rights" Ordinance
YES: 2,333
NO: 2,903
Pro-family coalition defeats "gay" agenda by 55-45%
Dear AFTAH Readers,
Pro-family initiatives swept to victory Tuesday in all five ballot initiatives opposing the homosexual activist agenda: the three marriage-defense amendments in California, Florida and Arizona; a ballot measure in Arkansas banning adoption by unmarried couples; and the grassroots, pro-family rejection of a Hamtramck, Mich. homosexual/transgender ordinance, as reported below.
Said Gary Glenn of American Family Association of Michigan: "California voted overwhelmingly Democratic and at the same time voted to constitutionally protect one-man, one-woman marriage, with minority voters overwhelmingly supporting the Marriage Protection Amendment.  In Hamtramck, Michigan, a Detroit suburb, residents voted nearly 90 percent for Barak Obama, while rejecting a so-called "gay rights" ordinance by a 10-point margin.
"As the Republican Party's braintrust starts casting about for issues consistent with their party's values that appeal to minorities and Democrats, perhaps they'll choose to embrace — rather than keep running away from — the issue of stopping the threat that the homosexual activists' political agenda poses to marriage, traditional family values and religious freedom," Glenn said.
___________________________
FOR IMMEDIATE RELEASE: Tues., Nov. 4, 2008
CONTACT:   Gary Glenn through www.afamichigan.org
Hamtramck voters reject "gay rights" ordinance
HAMTRAMCK, Mich. — A statewide family values organization Tuesday congratulated a multicultural coalition of Hamtramck citizens on their successful campaign to reject a so-called "gay rights" ordinance that would have established special "protected class" status on the basis of homosexual behavior and cross-dressing.
Voters rejected the ordinance by a vote of 2,903 to 2,333, a 55-to-45 percent margin of victory identical to the percentage by which Hamtramck voters approved Michigan's Marriage Protection Amendment in 2004.
Gary Glenn, Midland, co-author of that amendment and president of the American Family Association of Michigan, said Hamtramck voters "once again defeated homosexual activists 'special rights' agenda by soundly rejecting this discriminatory ordinance."
"AFA-Michigan congratulates the diverse and multicultural citizens coalition that stood in defense of traditional family values, religious freedom, and the privacy rights of women and children," Glenn said.
He noted the campaign was highlighted by a rally at which three Catholic priests and six Muslim imams spoke out against the proposed ordinance.
"We salute Father Andy Wesley for his courage and leadership in being the first to stand against this discriminatory ordinance at a time when the city's political establishment and news media were intent on demonizing and caricaturing anyone who dared oppose homosexual activists' fraudulent 'rights' agenda," Glenn said. "In the end, voters had the last word, standing with Fr. Wesley and repudiating the mayor and city council and the local newspaper."
Glenn said in other jurisdictions that have adopted such ordinances, the language has been used to penalize and discriminate against Catholic Charities, the Boy Scouts, the Salvation Army, and other groups and individuals who refuse to endorse homosexual behavior and cross-dressing.  Such ordinances have also been used to allow men who dress as women to use women's restrooms and changing rooms in schools and shopping centes and other public buildings.
AFA-Michigan last summer drafted the citizens petition required to force the ordinance onto the ballot and recruited Wesley and others to launch the successful petition drive which did so.  The group's national affiliate, the American Family Association, donated $5,000 to the local citizens committee that opposed the ordinance, Hamtramck Citizens Voting No to Special Rights Discrimination.
The organization later exposed to the media Hamtramck city officials' attempt to confuse voters by wording the ballot question in such a way that opponents of the ordinance would have been forced to vote 'yes.'  As a result, officials were forced by the secretary of state's office to reverse the ballot question's wording.
Glenn also said the defeat of the ordinance would not have been possible without the efforts of campaign manager Jay McNally, a Catholic activist who commuted from Ypsilanti to manage the winning campaign, and the Thomas More Law Center, which provided legal counsel to the campaign and a regular speaker at campaign rallies, attorney Brian Rooney.
# # #
This article was posted on Friday, November 7th, 2008 at 8:04 am and is filed under
Candidates & Elected Officials
,
Catholic Pro-Family
,
Michigan
,
Muslim opposition to homo'y
,
News
,
Promoting Gender Confusion
,
Republican Party
,
The Bible, Churches, & Homosexuality
. You can follow any updates to this article through the
RSS 2.0
feed.