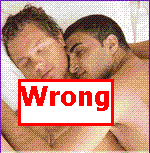 In the United States of America, nobody — Christian or otherwise — should ever be forced to support or subsidize immoral homosexual relationships against their moral beliefs. Religious exemptions may appear to be a short-term solution to the problem of "competing rights" between traditional American liberties and newfangled "gay/transgender rights" laws, but in the long run they will not preserve true freedom in America.

From the Becket Fund website (emphasis added). We've left the word (same-sex) "marriage" without quotation marks, which we would normally insert to clarify the false notion that two people of the same sex can marry. Also, we would note that the issue of "competing liberties" — as stated below — existed with the passage of the first pro-homosexuality "sexual orientation" law — long before same-sex "marriage" became an issue.
Becket Fund is well intentioned in its advocacy of strong religious exemption laws, but Americans For Truth supports the full repeal of all sexual orientation laws as fundamentally incompatible with historic American freedoms. One problem with religious exemptions is that they leave out the non-religious opponents of homosexuality — essentially creating a new set of "special rights" for religious people — the right to live by one's moral beliefs. Secular foes of aberrrant sexual and gender behaviors should not lose that same right.
Another problem is that such exemptions give pastors and (officially) religious organizations an incentive to pull out of the cultural struggle over the normalization of homosexuality — even as Christian and religious businessmen are being forced to violate their own freedom of conscience under pro-"gay" laws. Exemptions may appear to be a short-term solution but they are not the answer; reasserting the primacy of historic, genuine American freedoms over newly-theorized "rights" based on homosexual misbehavior and gender nonconformity is. — Peter LaBarbera, www.aftah.org
_____________________________________
Becket Fund writes Nov. 10, 2008:
Becket Fund Releases Study of Religious Liberty Implications of Same-sex Marriage, Surveys Anti-Discrimination Laws in 50 States
Over 350 separate state anti-discrimination laws would likely be affected by the legal recognition of same-sex marriage, according to a new study by The Becket Fund for Religious Liberty.
The Becket Fund surveyed over 1,000 state anti-discrimination laws — specifically those prohibiting discrimination based on sexual orientation, gender, or marital status — to assess how those laws would affect religious dissenters to same-sex marriage if same-sex marriage were legally recognized.
The study found that all 50 states prohibit gender discrimination in some way, and only 37 states have explicit religious exemptions to these provisions, many of them quite narrow. This lack of robust exemptions could become a problem if (as has happened in some instances) religious objections to same-sex marriage are treated as a kind of gender discrimination. In addition, 33 states prohibit at least some discrimination based on marital status, and only 13 of these states provide religious exemptions, some with a wide latitude of exemption, others with only narrow exemptions. Of the 20 states that prohibit sexual orientation-based discrimination, 18 provide exemptions for religious objection.
Based on the data, The Becket Fund concludes that if same-sex marriage is recognized by courts or legislatures, people and institutions that have conscientious objections to facilitating same-sex marriage will likely be sued under existing anti-discrimination laws—laws never intended for that purpose.
When considering same-sex marriage, both legislatures and the judiciary should recognize the competing religious liberty rights involved. If legislators or judges do recognize same-sex marriage, they should carve out robust religious exemptions for religious dissenters. Additionally, academic institutions and public interest groups should stimulate public discussion on these conflicts and ways to avoid them.
Click HERE to see the full Executive Summary of the study.
Click HERE to see a chart detailing which states have sexual orientation, marital status, or gender anti-discrimination laws and which have religious exemptions.
The Washington-based Becket Fund for Religious Liberty is a nonpartisan, interfaith, public-interest law firm dedicated to protecting the free expression of all religious traditions.
Resources & Documents:
This article was posted on Monday, November 24th, 2008 at 12:36 pm and is filed under
"Civil Unions" & "Gay Marriage"
,
"Civil Unions" & "Gay Marriage"
,
A - What does the Bible say about homosexuality?
,
Christian Persecution
,
Current State Law
,
Freedom Under Fire
,
Gay Rights vs. Others' Rights
,
GLBTQ Lawsuits & Retribution
,
Government Promotion
,
News
,
The Bible, Churches, & Homosexuality
. You can follow any updates to this article through the
RSS 2.0
feed.