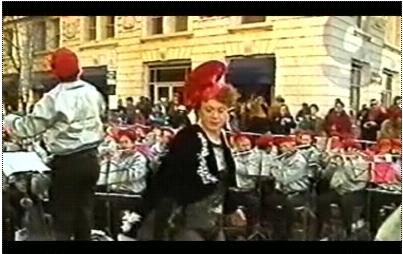 Tranny Twirler? We can't say for certain, but that appears to be a Transvestite Twirler tossing his baton and wearing a covered bikini — in video footage on the Lesbian and Gay Band Association website. Barack Obama will be the first President to have a homosexual band march in his Inaugural Parade (the aberrant-sex band played for President Clinton, but did not march). And we're also pretty confident that this will be the first band ever to march in both an Inaugural Parade and a parade for the debauched "Southern Decadence" homosexual festival in New Orleans — which in past years has seen men engaging in sex acts on the streets.
By Peter LaBarbera
Bob oh boy!  A band created by the Lesbian and Gay Band Association — built around men and women who share disordered sexuality and, for some, gender confusion — is marching in Barack Obama's inaugural parade — the first ever "gay" Inaugural marching band! What a civil rights achievement — the Democrats should be so proud. Despite the enormity of this "progressive" milestone, apparently it is only somewhat of a technical "first": the Aberrant Sex Band played twice for Bill Clinton but reportedly never marched for the … Aberrant Sex President.
In a statement, President-elect Obama said, ""I am honored to invite these talented groups and individuals to participate in the Inaugural Parade … These organizations embody the best of our nation's history, diversity, and commitment to service. Vice President-elect (Joe) Biden and I are proud to have them join us in the parade."

Questions: what deserving, hard-working high school band from Anytown, USA was bumped out by the homosexual marchers in the intense competition to march in the Inaugural Parade? We're also wondering: do the bisexual LGBT band members get to march in any direction they want? (Sorry, couldn't resist.)
Here's a New York Times politics blog report on this historic announcement that narrows the gap between the nation's Inaugural Parade and those baudy "Gay Pride" parades we hear about every June.
In related news, the homosexual band has announced that it will be performing at 2009 Southern Decadence, a New Orleans homosexual festival known for, among other things, men performing sex acts on other men in the street. Liberal and especially gender-bending civil-rights watchers the world over will be watching come January 20 to see if another "diversity" precedent will be accomplished that day: will this be the first Inaugural Parade marching band to be led by openly "transgendered" (male to female) baton twirlers? AFTAH will be on the story …