Hotel official says he is not aware of orgy planned for conference rooms
WARNING: Graphic descriptions of vile behaviors

WARNING: THESE REPULSIVE BEHAVIORS SHOULD NOT OCCUR IN PRIVATE, MUCH LESS IN CONFERENCE ROOMS AT A HOTEL USED BY THE PUBLIC:  At left are images from an e-mail put out by a homosexual sadomasochistic group — showing what it plans to have available at the Doubletree Hotel Washington (1515 Rhode Island Ave. NW, just blocks from the White House) this weekend for a "pig sex" orgy scheduled to begin late Saturday night. At top are "slings" to assist sodomitic acts; in the middle are "rim chairs" to facilitate a "gay" perversion known as "rimming" (oral-anal sodomy: one man lies on the floor with his face pointing up into the other man's rear); at bottom are large wood crosses for flogging and other sadistic punishments. A Doubletree Washington staffer said he was unaware that the conference rooms rented to the homosexual group were to be used for sexual orgies. TAKE ACTION: call the Doubletree Hotel at 202-232-7000  or 800-492-5195 and urge them to cancel this twisted event, which poses a danger to public health. Leave a comment at Doubletree's corporate feedback page. Also call Hilton Hotels — which owns Doubletree — at 310-278-4321 and urge Hilton to get out of the perversion business altogether by no longer booking homosexual "leather" events at all their hotels. Here's Hilton's online corporate PR page with e-mail links. At least one Hilton hotel, the Palmer House Hilton in Chicago, has a long history of enabling and profiting off of the hyper-promiscuous "leather" movement by hosting the annual sadomasochistic "International Mr. Leather" conference.

________________________________
AFTAH Exclusive, by Peter LaBarbera
The swank Doubletree Hotel Washington in the nation's capital, just blocks from the White House, is playing host to a sadomasochistic, homosexual "pig sex" orgy this weekend — days before Barack Obama's Inauguration Day. But the hotel's sales director says Doubletree knew nothing about the perversions planned for the event and that the sodomitic activities advertised by the organizers could not be held in the hotel's conference rooms because it is a "public space."
A source has provided Americans For Truth with a copy of a private e-mail intended only for "sex pigs" — sent out by a group called "Fort Troff" (as in pig troff). The e-mail touts the ultra-promiscuous "pig sex" event at Doubletree called "MAL Maneuvers" — for the purpose of pulling together "hard-core pig players" who want to "[F–K] [sodomize] our brains out."
The "pig" orgy is being held in concert with the annual "Mid-Atlantic Leather Weekend" (MAL) in D.C. — a three-day sadomasochistic celebration attended mostly by homosexual "leathermen."
TAKE ACTION:  Normally, the locations of sadistic sex orgies are kept from the public, as such events have been canceled in the past when pro-family advocates discover they are occurring and expose the hosting hotel. We at Americans For Truth hope that happens in this case, and urge readers to call the Doubletree Hotel Washington in D.C., (1515 Rhode Island Ave. NW) to urge them to cancel this event that seemingly redefines wickedness. Call the Doubletree Washington Hotel at 202-232-7000 or 800-492-5195 and urge them to turn away this uber-perverse "pig sex" event beginning Saturday night; leave a comment at Doubletree's corporate feedback page. And call Hilton Hotels in Los Angeles (which owns Doubletree) at 310-278-4321 and ask them to get out of the perversion business entirely by refusing to host similar SM gatherings. Here's Hilton's online corporate PR page with lots of e-mail links.
The Fort Troff "MAL Maneuvers" e-mail obtained by AFTAH reads in part:
We've now got a KILLER line up of DEMOS, including super skilled rope bondage, sounds play, and flogging. LIVE Music and Sound is gonna be provided by THE BLACK PARTY DJ Rich King. So you can suck, fist, rim, and [f–k] TO THE BEAT. 15 Slings, Piss Tubs, Rimming Stations, a Bondage Cross, and a Flogging Station.

Accomodations

We have just received word that the Doubletree Hotel has a few rooms remaining. Call the hotel at 1-800-492-5195 and ask for the Centaur Mid-Atlantic Leather room block. [Centaur is a D.C.-based homosexual sadistic group]

Maneuvers Location

This Maneuvers is a PRIVATE and INVITATION-ONLY event. It will be held at the nearby Doubletree Hotel, located at 1515 Rhode Island Avenue NW. Go to the Second Floor, which is where all the Convention Rooms are.
We are the only event on this floor and our desk is in view of the elevators.

Door Times

The Maneuvers will be held on Saturday, Jan 17. Doors open at 10pm and will close at 12 midnight. No admission after 12. Play continues until 4am. …

Attitude Code

Masculine, friendly, and ready to play. Spectators who wanna run their
mouths and socialize are not welcome at this event. We are here to
enjoy the company of MEN and to [F–K] our brains out. …

Invitation Only

All pigs must be on our email list and pre-approved to receive an Invitation….
Americans For Truth has confirmed that MAL Maneuvers did indeed book three second-floor conference rooms at the Doubletree for three days, the duration of the "Mid-Atlantic Leather" event. The hotel also offered cheaper room rates for those going to "MAL Maneuvers." To define some of the terms above [WARNING: VERY DISTURBING]:
"fisting" — refers to a ghastly hand-anal perversion in which one man inserts his hand and forearm up another man's rectum and into his colon;
"rimming stations" — "rim chairs" to facilitate "rimming" (oral-anal sodomy/licking the anus); see middle photo above of "rim chairs": one man sits naked on the chair that has a bottom like a toilet seat (how appropriate), while the other man lies underneath him, looking up at the fellow's anus to perform this revolting act (which causes Hepatitis A; see THIS item and THIS item — both pro-homosexual sources);
"piss tubs" — these are for yet another obscene perversion in "gay" male SM circles known as "watersports" in which one man or several men urinate on another man; the receiving man drinks urine as part of this horrifyingly vile fetish; apparently the tub is for keeping the urine off the floor (sorry for these descriptions: we couldn't make up such evil if we tried);
"flogging stations" — areas in the room where men are whipped, beaten and humiliated as part of the sadistic "play" scene.
Hotel official claims ignorance about event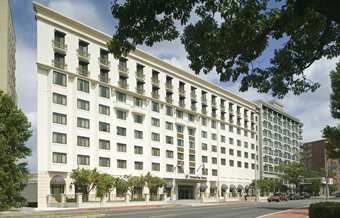 AFTAH spoke this morning with Felix Barreras, Sales Director for the Doubletree Hotel Washington. Barreras confirmed that the hotel has a "legal, binding contract" with the "Maneuvers" group for three "meeting rooms" on the second floor of the hotel, but said the hotel had no idea that an orgy was planned for the rooms. He said the contract was "handled like any other piece of business," but he conceded that the Fort Troff group could simply have not informed him of its planned activities when it booked the space.
Regarding the orgy described in the above email, he said he "doesn't see that happening" because the rooms are small (400-500 square feet, with eight-foot ceilings) and it would be difficult to bring in and set up the sadistic devices there. "It would be impossible to bring that kind of equipment in there," he said.
Barreras did not want to hear the unpleasant descriptions of the orgiastic perversions planned for his hotel, and said he would contact the group regarding its intentions and call AFTAH back to clarify the situation, but as of 3:30 PM Central Time, he had not called back, and had not returned another call placed to his office.
The Doubletree sale director said that sex is not allowed in a "public space" like a conference room, and that it would pose a health hazard to the other guests. He said that under the unique circumstances of inauguration festivities in Washington, alcohol will be served until 4:00 AM at the hotel, and many bars and restaurants in D.C., will be open 24 hours a day. He said the hotel's general manager, Rodney Bernard, is out of town.
Asked if the hotel would cancel the contract if it was shown that an orgy was planned for its conference rooms, he reiterated that the hotel has a contract with the MAL-Maneuvers group but said the matter would be taken up with the hotel attorneys. Americans For Truth sent a copy of its Fort Troff e-mail to Barreras.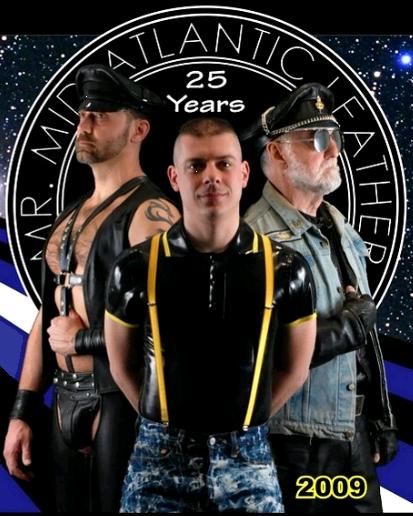 The "pig sex" orgy at the Doubletree Hotel Washington is being held in concert with the "Mid-Atlantic Leather Weekend," an annual homosexual sadomasochistic celebration, which is being held this weekend at the Washington Plaza Hotel in D.C.

MORE COMING ON THIS STORY.
This article was posted on Wednesday, January 14th, 2009 at 4:39 pm and is filed under
BDSM
,
Gay Culture
,
Hilton
,
Homosexual Pride Parades & Festivals
,
Leather
,
NCSF
,
News
,
Physical Health
,
Pornography
,
Sexual Revolution
,
Sodomy
. You can follow any updates to this article through the
RSS 2.0
feed.