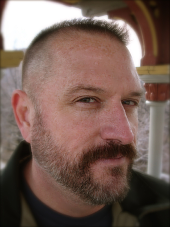 P.R. NIGHTMARE: "Joe" of the homosexual activist blog "Joe. My. God" (at left) wants to make it more difficult for Americans For Truth to expose twisted homosexual events like the sadomasochistic, über-perverse Mid-America Leather Weekend currently (and annually) hosted by the Washington Plaza Hotel (call them 202-842-1300) in D.C.  After AFTAH's exposé led to the cancellation of a related homosexual "pig sex" orgy scheduled for the nearby Doubletree Hotel Washington, homosexual activists whined about the timing and location of the orgy, and how it hurts the image of the "gay rights" movement — but few condemned the perversion-fest altogether. The National Gay and Lesbian Task Force, a prominent homosexual group, celebrates sadomasochism with its annual "Leather Leadership Award."

In the wake of Americans For Truth about Homosexuality's successful campaign to stop a sadistic homosexual "pig sex" orgy at the Doubletree Hotel Washington, just blocks from the White House, one homosexual blogger is urging followers to "out" AFTAH president Peter LaBarbera to stymie our attempts to expose perverse homosexual events and celebrations.
Apparently fearing that LaBarbera is observing the perversions at the "Mid-Atlantic Leather" (MAL) event currently being hosted by the Washington Plaza Hotel (phone: 202-842-1300), Joe of the "Joe. My. God" blog wrote:
Again, please take a good look at LaBarbera's photo at the top of this post if you are in DC. Print it out, pass it around, put in on flyers. Do not let him photograph you or your friends. If you see him, announce his presence LOUDLY to everybody around you. Alert the conference organizers and hotel security immediately. Take HIS photo and email it from your phone to me here at JoeMyGod@gmail.com and I'll put it up at once so everybody knows his outfit and which direction his comb-over hangs today.
Joe's post shows the hypocrisy of "gay" activists who, despite all the talk about about being "out and proud," understand that the average American would be shocked and put off by the excesses of their movement — so they try to hide them. Back in the day when Americans For Truth attempted to expose the extreme agendas promoted at the annual conferences of the National Gay and Lesbian Task Force, staffers policing the event would routinely expel our writers. The Task Force, by the way, promotes the acceptance of sadomasochism, giving out an annual "Leather Leadership Award."
Hating AFTAH
WorldNetDaily, in its story about the cancelled "pig" orgy, writes:
The issue already has generated hate mail for LaBarbera.

"I know that when you die, you'll be going to the farthest pit of hell, and no matter how much you beg, I'll never forgive you. … When you play with fire, you get burned. And sometimes, the flames don't get put out in time," one message said.
On the homosexual activist website "Pam's House Blend," this comment typified the ongoing homosexual activist canard that says that because we expose perversion and oppose homosexual activism, we must have some prurient interest in these vile activities:
Peter & Matt  (4.00 / 1)
Good lord, Babs [LaBarbera] now has Matt Barber hooked on S&M, piss, fetishes, leather and whips.

And nasty fetishes are like crack to a fiend when it comes to Peter and Matt.
by: bluegrassfool @ Sat Jan 17, 2009 at 16:20:40 PM CST
Through the AFTAH website, "fc" sent the following hate-message with the same theme:
you [f–king], filthy heteros do millions of more despicable, filthy, disgusting, revolting, [repugnant] acts than the number of gay men who even EXIST. ANY man who is so obsessively focused on [gay] men and what they do with their bodies is more gay than the gayest of men.
Gabriel Roybal sent this e-mail to Peter LaBarbera:
does it hurt being so stupid?   why don't you fight poverty?
violence?  the crumbling educational system?
must be fun to live in your dark and dirty little world.
We've cleaned up this particularly hateful and vulgar missive, sent to AFTAH by James Colson with the e-mail subject header, "Stop your hateful organization at once!!!!":
To Peter Le [LaBarbera] whatever the hell your name is, you need to stop your prejudiced, anti-gay organization. You bastard are the real devil, you go around preaching that garbage in the Bible which in case you [assh—s] did not know was written by man and therefore will contain his prejudices. You all have nothing better to do than to target gays and others that are different, I do not care who you are I am affiliated with several high profile civil rights organizations as well as gay-rights groups and plan and intend to do everything in my power to put you bitches out of business. I do not care bout you perceiving this letter as anything other than what it is: a challenge. I am sick and tired of your type. You need a good [penis] up your ass, and then I hope some convict [vulgar oral sodomy reference]. You bastard dog, go to hell. How dare you try to deny someone because of their sexual orientation. Im gonna teach you to [f–k] with the sissies, Trust me, your organization will be exposed for the hateful garbage that it is. I ain't scared of you, if you got any comments bitch come see me, I hope someone [f–ks] you up. I am mad that that Lesbian did not whip your ass, then you had the nerve to call the police like the little bitch that you are. I hope someone [f–ks] your [s–t] up. Let me give you [assh—s] a few words of advice, your organization will never be as strong or as many as ours cause yours is hate, I have crossed to the other side, before and died and have come back I have been a psychic ever since, I know the truth! Ha Ha, No one decides their sexuality bitch and I think you know that too. So get a [f–king] life, maybe some [vulgar sodomy reference] and hey you just might like it. Any one who aint got nothing better to do than to go around preaching and spreading hate needs their [f–king] head examined. Get a life Alright Bitch!!!
Despite the attacks on Americans For Truth, the more common discussion among those posting comments on homosexual blogs was criticism of the homosexual orgy organizers for hurting the image of the "gay" movement — and questioning the orgy organizers for picking a prominent hotel conference room for their event.
Wrote "yo mamma's bama" on "JoeMyGod" blog:
great timing guys… Just when gay rights are really out in the open, the president is talking about it, everything's going in the right direction, and you have to throw something called a "Pig Sex Orgy"? Can't you just label it a "Rainbow Brite Social" or something a little less innocuous? Seriously… I've never heard of any hotel hosting a "straight" orgy. Even in Vegas where the hotels host adult conferences all the damn time, they would never ever hurt their reputation by hosting something called a "Pig Sex Orgy".

Rent a warehouse to have the orgy or something, but don't give the right wing wackos more ammunition! I can just see some family staying at the Doubletree, and the little kids going "mommy what's all that sound coming from behind the conference doors???"

Regardless, this is going to set back gay rights once again. Good Job whoever put this on. Retarded.
yo mamma's bama | 01.19.09 – 12:54 pm | #