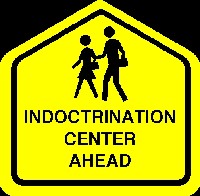 I had almost forgotten to post this story by my friend Laurie Higgins of Illinois Family Institute, but was reminded of it by Linda Harvey's Mission America. Below is Linda's summation of Higgin's important article. — Peter LaBarbera
Political Indoctrination Replaces Education in Wisconsin English Class
1/14/2009 7:22:00 AM
By Laurie Higgins, DSA Director –Illinois Family Institute
I'm speechless. I'm also beginning to understand how a homosexuality-affirming middle school was by default approved by the Milwaukee Board of Education. Wisconsin public schools are permitting radical ideologues to use public money to promote their subversive, unproven moral conclusions and political goals about homosexuality. These propagandists, who should be teaching history or literature or writing, are instead pursuing their illegitimate goals of transforming the views of other people's children on the contentious issue of homosexuality.
Here is the most recent manifestation of educational malpractice:
Sarah Arnold who teaches 11th grade English in the Elkhorn, Wisconsin area, generously shares with readers of Teaching Tolerance, a publication of the social justice organization Southern Poverty Law Center, her grand sexual re-education scheme. Disturbed that her students "cracked jokes about anything that defied gender stereotypes," she embarked on a 37-day indoctrination program to transform her students' views on homosexuality — a 37-day unit. The average school year is 180 days, and she spent 37 of them on homosexuality.
Here are some of the activities from the unit she titled, "Exposing Hidden Homophobia":
Students "conducted an in-depth exploration of depictions of the GLBTQ community in the mass media"
Students "watched the film Trevor (about the struggle of a gay teen in the Bible Belt in the 1970s)"
Students "viewed a PBS special about the anti-gay murder of Billy Jack Gaither"
Students "did Internet research on the nature of homophobia"
Students "selected and read a book from a short list of young adult works about gay issues" (including Rainbow Boys, Rainbow High, Rainbow Road, Getting It, A Tale of Two Summers, The Laramie Project, So Hard to Say, Geography Club, Alone in the Trenches)
ARTICLE continues at: http://www.illinoisfamily.org/news/contentview.asp?c=34214
This article was posted on Monday, January 19th, 2009 at 10:28 pm and is filed under
Boards, Administrators, Teachers, Counselors
,
Books & Required Reading in Public Schools
,
Christian Persecution
,
Diversity & Tolerance Propaganda
,
Diversity Propaganda
,
GLBTQ Targeting Youth and Schools
,
Government Promotion
,
Homophobia-casting a wide net
,
News
. You can follow any updates to this article through the
RSS 2.0
feed.