Task Force director Rea Carey calls Bush administration "evil empire';  group is closely allied with Obama administration and funded Prop 8

Leather Leadership, "Moral Leadership"? At its annual "Creating Change" conference for grassroots homosexual and transsexual activists, the National Gay and Lesbian Task Force gave its "Leather Leadership Award" to Graylin Thornton, co-owner of a homosexual hard-core pornographic video company (see covered-up covers of videos below). Above is announcement in the Creating Change program. At the same conference in Denver, Task Force director Rea Carey extolled the "gay" movement's "moral leadership." The Task Force is heavily involved in promoting homosexuality and other deviancies to youth in the name of "sexual freedom." Click on graphics to enlarge. 
By Peter LaBarbera
Homosexual activist "morality" is a strange concept indeed. At the same "Creating Change" conference where the National Gay and Lesbian Task Force (NGLTF) presented a homosexual S&M pornographer with its "Leather Leadership Award," Task Force Exective Director Rea Carey extolled the "moral leadership" of her  movement.

The Task Force presented Graylin Thornton, the co-owner of a company that sells homosexual porn videos, with its "leather" award at Creating Change, an annual conference for grassroots activists advocating the following sexual misbehaviors: male homosexuality; lesbianism; bisexuality; transsexuality; sadomasochism and other fetishes; prostitutes ("sex workers"); and "polyamory/nonmonogamy" (multiple-partner and open relationships).
Thornton runs Grey Rose Video Productions, which states on its website: "As active members of the BEAR, LEATHER, and AFRICAN AMERICAN communities, both Graylin and [business partner Chris Meister] are dedicated to continuing a standard of excellence in the production of videos featuring the hot, hung, hunky and hairy 'real men' that represent those communities."
The porn company is selling videos with the following titles:
Jake Mitchell's [F–k] Buddies;

JC Carter's Sex Tape;

This Bear Likes em Black;

Beefy Boyz on the Road;

Skin Tight and Busters Rubber Romp;

Semenhole, Texas;

Black, White and Hot

In her "State of the Movement" address Friday at Creating Change — which this year featured the innuendo-laden slogans "Power Is Sexy" and "Action Is Hot" — Carey touted the homosexual movement's "moral leadership" (emphasis added):
We have much to offer this country.

So, now it is our time to contribute again — to express moral leadership and creative fortitude. … We are leaders in what is good and right and just in this country. When we insist that LGBT people be involved in the policy conversations about the economy, about health benefits, about tax policy, about immigration — as we have been doing with the Obama transition team and administration — we assert our community's moral leadership.

When we win marriage equality [homosexual "marriage"] in Maine, Iowa, New Jersey and other states — and we will — we assert our community's moral leadership.

When we pass a gender identity [transsexual]-inclusive ENDA — and we will — we assert our community's moral leadership.

When we continue to work to get rid of useless abstinence only education, we assert our community's moral leadership….
George Bush's "Evil Empire"?
By giving a "leader leadership" award for "social justice" work to a homosexual porn entrepreneur, the National Gay and Lesbian Task Force is continuing its tradition of pushing the envelope as the most radical and leftist major homosexual organization. And not just on sexual issues: Carey jokingly referred to the George Bush administration as the "evil empire" — the words Ronald Reagan famously used to describe expansionist Soviet Communism. (Meanwhile, Iraqi citizens, benefiting from the American liberation of their country from despot Saddam Hussein, were preparing to vote in an another free election the day after Carey's speech.)
Last year, Americans For Truth reported how the Task Force's 2008 "Leather Leadership Award" recipient, Guy Baldwin, was an advocate of (consensual) "master-slave" sexual relationships — one of the bizarre subcategories within the BDSM ("bondage/discipline, dominance/submission, sadism/masochism") movement. One year, the NGLTF conference featured as a workshop speaker the webmaster of a "Cruising for Sex" website that lists places where men find anonymous homosexual "public sex."
The trend towards ever greater perversions and gender radicalism continues. The Denver "Creating Change" conference featured the following workshops and caucuses:
Fostering Communication with the Fetish Community;
Sex Worker [prostitutes] Caucus;
What a Pisser! The Politics of Transgender Bathroom Use
Sexuality Education as a Tool for the Movement
Even so, the Task Force draws major corporate givers and political supporters, including the Democratic National Committee. Several Colorado VIPs including Senator Mark Udall (D) wrote welcoming letters that appear in the front of the Creating Change program.
Talking Sex with Youth
The conference also included workshops directed at youth, including some focused directly on sex:
Gaydar 101: a Queer Teens guied to dating;
A Dialog with Youth: Talking about Sex and Sexual Freedom;
Mentoring Queer Youth
Quit Passing Notes: Let's Talk about Sex … in the Classroom
AFTAH will be writing more about the Task Force's extreme agenda, especially that part of it that involves confused GLBT youth.
Honoree's Perverse Press Release
Task Force "Leather Leadership Award" honoree Thorton's pornographic company posted this perverted press release on its website. Note the sex allusions:
Grey Rose Productions Teams With Mack Studios

Gay Porn Titans Jake Mitchell And Mack Manus Hook Up … Literally

Great teams aren't just born, they are formed. Take Abbott & Costello. Laurel & Hardy. Martin & Lewis. Perhaps the funniest of all, McCain and Palin. Okay, scratch the last one, but still — the point is two talented people coming together can form an unbeatable, winning combination.

Just such a combination — the meeting of two of gay porn's most popular actors-turned-producers — has been established to take two strong entities, namely Grey Rose Productions and Mack Studios, to create an even stronger product.

Jake Mitchell is beyond excited about the new business arrangement. "I couldn't be more thrilled to be working with Mack Manus. He is a visionary; he knows how to make a truly hot product. We share a similar style." Plus Mitchell adds, with a laugh, "He is one [f–king] hot stud!"

That Mack is a hot stud aside, and one of the hottest commodities in European porn, the business arrangement makes complete sense. The studios have similar audiences. And their videos are similar in that they can feature scenes that range from rape to romance, without skipping a beat. Or [an erection]. Guys who like hot, sweaty, tough, hard core, dominant, passionate man-on-man action … daddy scenes, leather, body hair, bears. Both of these companies, of course, are considered at the top of their genres, Mitchell Stateside and Manus across Europe.

To that end, a great teaming is born. Says Mitchell, "We are going to start selling the terrific and very hot Mack Studios videos on the Grey Rose web site and we are also going to have his scenes available for members on my Jake Mitchell site, too."

Mack Manus is equally happy to be working with Jake Mitchell. Through a translation of his sexy French accent with traces of his native German tossed in, he says: "I've watched and enjoyed the Grey Rose brand for some time. Jake and I both started our companies about the same time. We share a very similar philosophy about the men we hire."

True that. Both companies have earned praise from critics and fans alike for not hesitating to hire hot men, regardless of age or physical appearance. No wussy, fem, straight, gay-for-pretend guys for these studios. Manus says he does not hesitate to cast actors of any age or physical appearance for a role. That was one of the reasons Mitchell also created his company in 2002: more diversity in porn.

Mitchell met Manus, this being the Internet age, via the Web. They started chatting (which is kind of difficult because Mitchell's French is rusty and Manus doesn't speak much English.) Still, a little language barrier can't keep a great team from coming together. Mitchell was planning a trip to Paris and decided they should meet. Mitchell says, "Once he arrived at my flat — and I saw his sexy smile and eyes, wavy hair and beefy body — I knew that we would be able to get past our language barrier."

Sounds like Mitchell and Manus did more than discuss business. Laughs Mitchell "Well, let's just say before we signed on the dotted line we had to see if we were compatible in all ways!" That sounds pretty hot. "Me trying to speak French, and him trying to speak English, well, it's also hysterical at times! But, definitely hot."

Not only do Mitchell & Manus have similar styles, studios and video product, they also have similar taste in men. Look for their first scene together (they tag team hunky J.C. Carter) soon.

Mitchell & Manus did a meet-and-greet together at the recent IML [International Mr. Leather] in Chicago. Their respective fans are already salivating at the possibilities. It's truly a great partnership…and just getting started!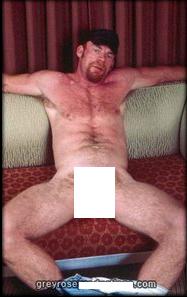 We've covered up the photo of this fellow — apparently one of Gay Task Force honoree Graylin Thornton's porn actors — found in the "gallery" section of his company's website. How this for "moral leadership"?
This article was posted on Saturday, January 31st, 2009 at 9:45 pm and is filed under
04 - Gender Confusion (Transgender)
,
Bathroom Controversies
,
BDSM
,
Gay Culture
,
Homosexual Pornography & Film Festivals
,
Leather
,
Mental Health
,
News
,
Nonmonogamy
,
Physical Health
,
Polyamory-Polygamy-NonMonogamy
,
Pornography
,
Promoting Gender Confusion
,
Sex Work
,
Sexual Revolution
,
Sodomy
,
Task Force
,
The Agenda: GLBTQ & Activist Groups
. You can follow any updates to this article through the
RSS 2.0
feed.