[UPDATE ON THIS STORY — MORE JOURNALISTIC MALFEASANCE: we heard back from "Stephanie," one of the protesters against "Winter Wickedness," who told us that 'The Other Paper" reporter Kitty McConnell subjectively miscast them as hateful and made some key errors in her reporting on their counter-protest. One factual error was McConnell's observation that she saw "a small group of protesters lined up outside of the Holiday Inn on Wilson Bridge Road waving 'God Hates Fags' signs." To the contrary, Stephanie says that her group never held "God Hates Fags" signs. Moreover, Stephanie said she opposes Phelps' "God Hates Fags" slogan and once almost joined a local protest against him when he came to hold one of his clan's patented "God Hates Fags" protests against a murdered Marine. (Stephanie's group had no connection to Americans For Truth, and she called us after reading our account (below) repeating McConnell's false report tying the protesters to the "God Hates Fags" message.)
Strangely, in a phone conversation yesterday with McConnell, even after I brought up her egregious reporting errors, she said she had "pegged it" regarding the protesters' alleged hatefulness.
Her first, skewed piece ran in "The Other Paper" blog, but McConnell is doing an article for the The Other Paper's print edition on the actual Wicked Wickedness deviant-sex event and controversy. We won't hold our breath waiting for an accurate account of assorted perversions such as "Electric Stapling Sensation Play." To give you an indication of McConnell's bigoted agenda, here is an excerpt of her snide hit piece against the protesters on The Other Paper's blog:
[Stephanie being quoted:] "This kind of behavior will bring a civilization to its knees–with the baby killing and the sodomy!" she said, quoting scripture verses and shaking her head at me. She cited the current economic crises as proof that "the homos" were single-handedly responsible for the near-collapse of Capitalism and the global economic system.

Jesus.


Again, completely hilarious, except religious fundamentalists are always so gosh-darned fond of IEDs and pipe bombs when things don't go their way.
Sorry, Kitty, the people espousing violence (albeit "consensual") were inside the Holiday Inn, not outside. — Peter LaBarbera, Feb. 10, 2009]
___________________________________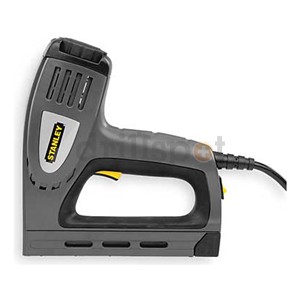 Electric staple guns like this one made by Stanley are used in housing construction — and apparently also to penetrate human skin by sadomasochistic "kink" enthusiasts, who relish the mixing of pain and pleasure in their twisted S&M "scenes." The recent "Winter Wickedness" deviant-sex conference at a Holiday Inn in Worthington, Ohio, advertised a session on "Electric Stapling Sensation Play," among other perverse offerings. But an ace reporter at the alternative weekly "The Other Paper" in Columbus found the real story surrounding "Winter Wickedness": the protesters outside. 
Leave it to Columbus' "alternative" press to find that the most controversial thing to report on at the "Winter Wickedness" deviant-sex conference held Friday and Saturday at a Holiday Inn Hotel in nearby Worthington, Ohio, was the small group of protesters outside. I submitted this letter to "The Other Paper," a Columbus weekly newspaper, in response to their online Feb. 7 article, "Fundamentalists Picket Worthington Sex Conference." — Peter LaBarbera
________________________________
Note: the article below was written on Feb. 8, before we knew the full extent of Kitty McConnell's false reporting:]
Letter by Peter LaBarbera responding to article in the Columbus weekly, "The Other Paper" — "Fundamentalists Picket Worthington Sex Conference" — by reporter Kitty McConnell: 
A correction is in order: My organization, Americans for Truth about Homosexuality (AFTAH; www.americansfortruth.com), helped expose this truly bizarre and depraved "Winter Wickedness" event through our website, but we had nothing to do with any protests at the event. AFTAH has long ago repudiated the "God Hates Fags" message. [NOTE: as you can read above, it turns out the protesters never held "God Hates Fags signs.] Also, the conference was not solely for homosexuals but was geared to sadomasochists in general.
We understand why The Other Paper would want to focus on the protesters rather than the "Wickedness" conference itself, because if you just scraped the surface and summarized a few of the "educational" presentations, it might undermine reporter Kitty McConnell's thesis about who the real extremists were in Worthington. Here's one of the seminar descriptions, taken from Winter Wickedness' own website:
"Electric Stapling Sensation Play ~ Markher & The pennygurl"

"This is a staple gun demo.  Not medical staples, but an electric staple gun, using the same staples that we use to hang insulation in the rafters in the house.  Yes, you will hear the sound of the staple gun as the trigger is pulled and watch the pennygurl as she jumps at the bite of the first staple.  Yes, you will see the staple gun reloaded, maybe more than once, as staple after staple is shot into her lovely body.  But that is only half the fun; just wait until you see how those staples are removed.  And the sounds that come from her are just wonderful. So, if you want a new and different scene, one with a different power tool and the resulting impact play, make sure you take in this class.  We will walk you though each and every step in the process, taking you from the safety aspects, the prep work, the actual scene, and finally the clean up.  Who knows, you may even volunteer to be the next demo dolly…"
Yikes! Maybe it's just this "Staple-phobe," but it seems that even the "alternative" press might benefit from a little less pandering to the deviant fetish crowd and some honest reporting. Had McConnell done some easy checking, she might have learned that city health inspectors and the police — alerted to the twisted affair after phone calls had been pouring in from all over the country — actually tightened their watch over the event, e.g., informing WW organizers that body piercing was not allowed on premises without a license. This surely made the perverse event "safer" than it would have been had the protest calls not come in  — although I'm not really sure if "safe and sane body-stapling" is a goal worth pursuing.
What other conference imaginable would have to issue this bizarre warning to its participants:
"17) Gun Play, Golden showers (urine), Brown Showers (Feces) or Rainbow/Roman showers (Vomit) are not allowed in this venue."
Now that you've exposed the freelance protesters outside the hotel, how about doing a follow-up on the actual wackiness that went on at "Winter Wickedness" under the auspices of "sexual freedom"?  Here's our original article exposing the uber-perverse event: http://americansfortruth.com/news/breaking-columbus-ohio-holiday-inn-hotel-hosts-winter-wickedness-perversion-fest.html.
Sincerely,
Peter LaBarbera
President, Americans For Truth
www.aftah.org
Naperville, Illinois
E-mail: [email protected]
This article was posted on Sunday, February 8th, 2009 at 8:56 pm and is filed under
BDSM
,
Health & Science
,
Leather
,
Media Promotion
,
Media's Liberal Bias (General)
,
Mental Health
,
News
,
Physical Health
,
Sexual Revolution
. You can follow any updates to this article through the
RSS 2.0
feed.