Popular mega-church pastor says protecting the definition of marriage "very low" on his list of priorities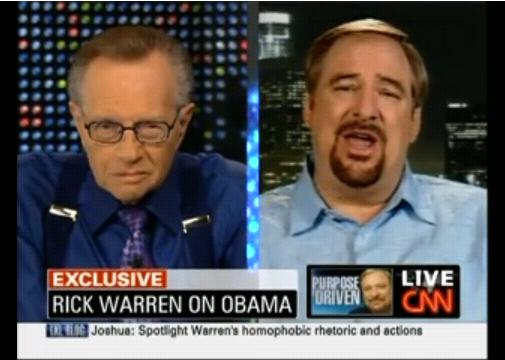 MEGA-PANDERING MEGA-PASTOR: "Purpose-Driven" Rick Warren sells out defense-of-marriage movement, telling CNN's Larry King that he "apologized" to his homosexual friends for his role in supporting Prop 8, which reinstated the historic definition of marriage in California. Warren said he was "oblivious" to the Iowa supreme court's ruling imposing "same-sex marriage." Go to end of article to watch the YouTube video of Warren's stunning CNN interview.
The following is excerpted from Saddleback Church  pastor Rick Warren's interview with Larry King on CNN April 7 (emphasis added). Following that is a YouTube video of that segment of the interview (except the last few comments and questions from the transcript):
LARRY KING: … How did you handle all the controversy that resulted [from] the President selecting you [to deliver the invocation at Barack Obama's inauguration]:
RICK WARREN: You know, Larry, there was a story within a story that never got told. In the first place, I am not an anti-gay- or anti-gay-marriage activist. [I] Never have been, never will be. During the whole Proposition 8 thing, I never once went to a meeting, never once issued a statement, never—never once even gave an endorsement in the two years Prop 8 was going.
The week before the—the vote, somebody in my church said, 'Pastor Rick, what—what do you think about this?' And I sent a note to my own members that said, I actually believe that marriage is—really should be defined, that that definition should be saved—between a man and a woman.
And then all of a sudden out of it, they made me, you know, something that I really wasn't. And I actually—there were a number of things that were put out. I wrote to all my gay friends—the leaders that I knew—and actually apologized to them. That never got out . . . .
Not a single criticism came from any gay leader who knows me and knows that for years we've been working together on AIDS issues and all these other things.
LARRY KING: All right. Do you, therefore, criticize or not comment on the Iowa court decision to permit gay marriage?
WARREN: Yes. I'm—I'm totally oblivious to—to what—that's not even my agenda. My agenda is two things. One, today is the 15th anniversary of the genocide in Rwanda. It's the national day of mourning, which I—as you know, I've been heavily involved in—in Rwanda and helping rebuild that nation and I'm very concerned about that.
And the second thing is, I'm interested in what the recession is doing to the spiritual climate of our nation. And as we start Easter week and Passover week, which is a really big week for those of us who are Jews or Christians, Passover and Easter, it's our biggest week of the year. And it actually was the—the week that I started Saddleback Church 30 years ago this Easter Sunday. . . .
KING: One other thing in the gay issue, while you said you were not an activist at all . . . did you not encourage your flock to vote yes on Proposition 8?
WARREN: Oh, yes. You know, I don't think that the definition of marriage should be changed.
KING: So you did ask your people who worship with you to vote that way?
WARREN: Yes. I just never campaigned. . . .
KING: It's not high on your road of issues?
WARREN: No, no, it's very low. In fact, I am working with a number of gay organizations on issues that we care about, in saving lives.
__________________________________
This article was posted on Friday, April 10th, 2009 at 9:44 am and is filed under
"Civil Unions" & "Gay Marriage"
,
"Civil Unions" & "Gay Marriage"
,
Christian Left
,
Conservative and Chrisian sellouts
,
Evangelicals
,
News
,
The Bible, Churches, & Homosexuality
. You can follow any updates to this article through the
RSS 2.0
feed.